Where the world gathers for
plating, anodizing, & finishing Q&As since 1989
-----
Safe to grind aluminum, or not?
2004
Q. This question is safety oriented subject, which I feel is very important. I am a Product/Lab Technician in a production facility. Product/Lab meaning: Required to perform all necessary testing on the product I support. I was a 472X3 in the USAF for four years, which required classes in welding, (MIG, TIG, electric arc and oxy-acetylene) soldering, glass cutting and replacement, gas tank and radiator repair and auto body repair. My primary function during my time in service became welding.
I sure hope I recall this correctly, but I'm sure that we were taught not to grind aluminum on a stone type grinding wheel. We were taught that a non-ferrous metal would clog a wheel and become explosive. My question is, is it a safe practice to grind aluminum on a stone type grinding wheel? The reason I would like to post this question is I found a grinding wheel totally clogged with aluminum in the Lab in which I work on a daily basis. I sure would like to better educate my fellow employees and myself for their and my safety. Any information would be greatly appreciated.
Randy Hamrick
- Fenwick, West Virginia, USA
---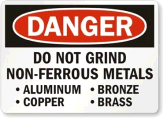 (Courtesy of
Grinder Safety Signs - MySafetySign.com )
2004
A. Aluminum powder or grinding swarf is potentially dangerous if it is mixed with iron or steel grinding wastes and is wet. These are the basic ingredients of a thermite bomb, and there is a very real risk of a fire due to the reaction between the aluminum and the iron. However, if the aluminum and iron wastes are kept separate, then there is little risk.
Lyle Kirman
consultant - Cleveland Heights, Ohio
---
2004
A. Lyle has answered a different question from what was asked. I have often heard that the force generated by the aluminium compressed between the grains is dangerous, but you might expect it to be very dependent on type of wheel bonding. The wheel supplier or manufacturer should best be able to advise.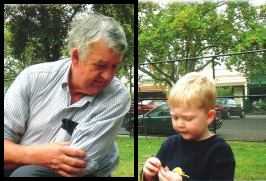 Bill Reynolds
[deceased]
consultant metallurgist - Ballarat, Victoria, Australia
We sadly relate the news that Bill passed away on Jan. 29, 2010.
---
2004
A. It is not cost effective to grind aluminum, even skim passes, as it clogs the wheel so much and so fast that it does not "cut". Going to a larger grit size and a very frangible resin will allow it to cut better, but you will go thru wheels very fast. My thought is that you found it in a hand grinder with a 1/4" thick cutoff wheel. This has no cutting fluid and will clog extremely fast. Other than safety as explained, it is not cost effective and they are learning bad habits.
James Watts
- Navarre, Florida
---
2004
A. Hi Randy,
I couldn't help 'throwing my oar in' so to speak.
Why, why, why don't you go to a fireworks manufacturer ... now they use oodles of super finely ground aluminum AND tungsten, etc., in the 5 to 20 micron range.
They, of all people, would be able to tell you how and how NOT to do it, eh?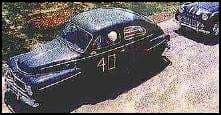 Freeman Newton
[deceased]
(It is our sad duty to advise that Freeman passed away
April 21, 2012. R.I.P. old friend).
---
2004
A. My experience is the bonded abrasive (grinding wheel) composition may be compromised by the heat generated by a "clogged" wheel. The heat is usually carried away from the wheel in the metal it removes, but a clogged wheel becomes a heat generator and the metal adhered to the wheel seals the heat in, therefore you could see a wheel explosion when the material is in contact with the wheel. We use coated abrasives (sanding belts) with cubic zirconia grit and putting regular old beeswax .
or a moisturizing facial soap on the belt keeps it from clogging. Contact the abrasive supplier for the best answer. If you don't want to do that, go get a belt sander or disc sander and put in the lab. Also get a BAGLESS vacuum cleaner and hook it up to keep the dust under control.
Randy Wolf
- Sawyerville, Alabama
---
September 11, 2009
A. I worked for two years in an aircraft manufacturing company, and I spent a lot of time grinding aluminum parts. The only wheels we used on aluminum were rubber. We had soft rubber and hard rubber wheels, and they did a great job of grinding and polishing aluminum edges. They look just like stone wheels, but are made of a reddish-orange rubber compound, similar to pencil erasers. I hope this helps.
Jody Hill
- Boca Raton, Florida
---
January 5, 2012
A. I'm just working with a stone wheel and aluminum. I stop and clean out the wheel very often as my experience with this was very bad. One of my friends loaded a stone wheel with aluminum and it shattered while running at speed and really wrecked his hand. He said that he had heard that it could happen but didn't give it a thought.
Sam Dodge
- Home, Washington State, USA
---
January 28, 2012
Folks, grinding aluminum is okay if you use the correct tools! Here is an example: www.buyweld.com/61333.html
Note that this specifically is designed to prevent loading up of the wheel. If you don't use the correct tools, then grinding Al is dangerous and (as posted above) can cause injury.

Please be safe!
Jason Winters
- Pittsburgh, Pennsylvania, USA
---
December 11, 2013
A. Hi, I am only a humble firefighter. Previously an electrical and instrument fitter. During my time as a tradie I was told never to grind brass or other soft metals on the grinding wheels designed for ferrous metals because the partials which clog the wheel can expand when they become heated during grinding, (especially when grinding steel and similar metals after it has been clogged). The expanding soft metal can apparently force the composite particles of the wheel apart in an explosive manner. This post is a little late, but these things stay on line for years until someone searching for information stumbles across the post as I have. So in the interest of safety please consider this post. This may not be correct, so be cautious and do more searching.
Greg Thornton
- Adelaide, South Australia, Australia
---
May 19, 2016
A. I've been a CNC machinist for about 10 years. I was always taught that aluminum clogs the pores and can cause the wheel to shatter resulting in potential death.
Charles Oldham-Fifer
- Everett Washington USA
---
November 30, 2016
I am an abrasive engr/sales for Saint-Gobain. Grinding aluminum is best done with Coated abrasives.
If you want to surface grind Aluminum with a wheel, I recommend you use a Silicon Carbide wheel such as 37C60-JVK. If you want to utilize a segment on a blanchard grinder you have 2 choices: A vitrified bond such as 37C46-IV or a resin bond such as 32AC60-JB18 You should be able to achieve a 50 Ra or better.
The BEST way to finish aluminum is to utilize a diamond tool on a Milling cutter. I have seen Mirror finishes done this way.
Mark Frat
Saint-Gobain/ Norton Abrasives - McCordsville, Indiana
---
January 14, 2017

Yay! Another 472 in da house! Although the 472 designation changed to 2T3. I grew up as an A shred, loved it.
Good question by the way. Good answers as well. This was, as you said taught in the AF for years -- still holds true.
Ralph Lockeby
- Las Vegas, Nevada