Where the world gathers for
plating, anodizing, & finishing Q&As since 1989
-----
PVC dipping thickness control
2004
Q. I have a product of steel rod with PVC dipping. The product is dipped in PVC tank after heating up, the thickness of the PVC is ± 1 mm while my customer asks for ± 0.5mm. It is difficult to control the thickness as the production goes on, as the PVC tank is heated up by the parts dipped into it.
Is there a way for controlling it? I need help there.
Thanks,
Francis Lee
Callisto - Hong Kong, Guangdong, China
---
2004
A. Hi Francis,
Surely, surely your supplier of the PVC Plastisol can give you some advice, eh ?
l. Lower the heat in the plastisol tank
2. Dip in that part more quickly, ie. reduce immersion time
3. Reduce the heated parts' temperature
4. Chill, perhaps, those parts before immersion
Normally, the thickness depends on the MASS of the object ... the greater the mass, the thicker will be the build-up ON the PREHEATED part.
But, as said, goest thou to thy supplier. He should be able to give you better advice ...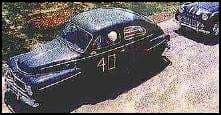 Freeman Newton
[deceased]
(It is our sad duty to advise that Freeman passed away
April 21, 2012. R.I.P. old friend).
---
March 9, 2012
A. Hi Francis, you need to make sure your preheat oven is heating to within a few degrees. I don't know much about ovens, except that this is critical. Secondly, the dip has to be controlled so you are doing it exactly the same every time. If you don't have issues with runs or drips, you probably have that under control. The third thing is controlling the PVC temperature. It must be controlled just like the oven temp. There are heater/chillers available for this application. The fourth thing is doing all of these things on a timed cycle, so EVERYTHING is heated the same way, dipped the same way EACH time. As soon as there is a disruption in the cycle, thicknesses will change. I have been doing this same thing for 26 years.
Jim Bergeron
- Isanti, Minnesota
---
March 10, 2012
A. Hi Francis,

A couple more things....as Freeman said, the speed of the vinyl dip is important. The faster you travel into and out of the PVC, the more uniform the thickness from top to bottom. And then, about your preheat. You need to make sure it is preheating the parts uniformly. There are temperature remote reading units you can place in different parts of the oven to check this.
Jim Bergeron
- Isanti, Minnesota, USA