Where the world gathers for
plating, anodizing, & finishing Q&As since 1989
"Eliminate Pin Holes on Painted Wheels"
-----
A. @Batummalai Rather than hiding the pin hole we have to control it in melting degassing process and ensure the density is achieved after metal treatment.
Hiding the pin holes is very difficult.
If it is vey minor only it can be hidden in paint clear process.
Kishore Chandra
Foundry Executive - India
June 27, 2022
---
---
↓ Closely related postings, oldest first ↓
---
---
Q. Dear Sir,
We are producing Diamond cut Alloy rims and coated with Clear Coat. Our Main Problem is Pin Holes. This holes appears after Pre Treatment Chrome and Clear Coat.
Question No.1 How to hide the Pin holes during Painting Clear Coat.
Question No.2 How to Salvage the Wheels because the reject is about 50%
Question No.3 How to Polish the wheels to reduce the appearance of the Pin Holes.
Question No.4 How to prevent the Oxidation after Diamond Cut Polish.
Thank You,
Yours Sincerely,
Batummalai Vellayan
manufacturing alloy wheels - Seremban, Malaysia
2004
A. Although surface prep is very important, I think most pinhole defects come either from improper painting/powder coating or from "outgassing" from the substrate. You didn't mention whether you are doing wet painting or powder coating, or any details about it. May we assume that the wheels are not vacuum impregnated against outgassing?
When your rejects are in the 50 percent range from an obvious defect in the process, you must (in my opinion) concentrate on fixing the cause of that defect -- not be diverted into how to hide it, salvage half your wheels, or improve your polishing technique.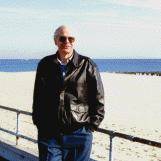 Ted Mooney
, P.E.
Striving to live Aloha
finishing.com - Pine Beach, New Jersey
---
A. Just from the information that you give, I'd have to guess a pretreatment problem. It sounds like you have a dip line and the cutting oils (and maybe chemicals) aren't being removed (rinsed) as well as with a spray washer -- can I guess that the pinholes appear in the same area of each rim? If you're not real detail oriented, clear coats can be a pain in the tail. I have an answer to question #2, sell the rejects as seconds, or paint them and sell them. If you can make your cost, at least you're not losing money.
P.S.: If you are using any powder coating (not just clear coat), overspray from aerosol cans (spray paint cans) between paint booth and oven will cause pinholeing. Make sure that there isn't anybody even close to these parts as they are going into the oven that is using spray paint.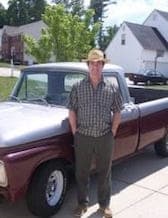 Sheldon Taylor
supply chain electronics
Wake Forest, North Carolina
---
A. Dear Sirs,
As Ted has already stated we have to presume that the pinholing is due to out-gassing during the final processing of the wheels (baking).
This is a problem that ALL mfgrs. of alloy wheels have to contend with.
The answer to your problem is to preheat the wheel to eliminate the trapped air (80 °C). Before the wheel cools apply your powder -- a tip ... apply the powder to the wheel face which should be pointing down towards the floor -this will eliminate defects due to dust settlement.
Terry Hickling
Birmingham, United Kingdom
---
A. Are the wheels being made from machined billet aluminum? If they are, there should not be an outgassing problem, outgassing comes from a material that has porosity. I have to disagree with the outgassing theory and say that machined billet aluminum is not a porous material. Based on my experience, outgassing looks different than pinholes, so there could be some confusion in the descriptions that are being used. Outgassing looks like a little moon crater, pinholing looks like somebody might have stuck a sewing pin or needle into the finish. Pinholes are usually caused by a cleaning, airborne or cross contamination problem (like not cleaning the epoxy powder out of the hopper before putting the polyurethane in), or spraying incompatible materials in close proximity of each other.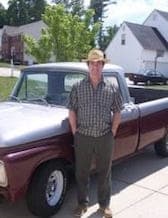 Sheldon Taylor
supply chain electronics
Wake Forest, North Carolina
---
Q. We are doing a Diamond Cut Wheels (Mirror Finish appearance). This wheel is Washed Pretreated, Chromed in Spray System and Wet Sprayed With Clear Coat 180 °C. The Pin Holes Appear obviously very bad the moment the Wet Paint Clear Coat is Applied. Wet Paint is done by experienced Painters. The Casting method is Gravity Casting and no vacuum process is used. The Nitrogen Gas is used as Degasser.
Thank You,
Yours Sincerely,
Batummalai Vellayan
[returning]
manufacturing alloy wheels - Seremban, Malaysia
2004
---
---
Q. Hello everyone,

I'm a management trainee at one of the leading OEM Wheel & Tire manufacturing companies. Currently I'm facing a trouble of having pinholes on the powder painted wheel surface. I have done lots of tests for find a solution regarding this but still I'm in the same position. For further details:

We have used following process to paint a wheel --

- degrease to remove heavy oil
- steel shot blast
- zinc phosphate treatment
- powder application
- curing

We have some issues at the degrease unit as well. Sometimes wheels are not fully cleaned. So I'm looking for some solutions for both the degrease unit and for the pinholes.

If anyone can give good idea for this I'd highly appreciate it.
Isurinda Seram
- Colombo, Sri Lanka
June 30, 2014
A. The degreaser is most likely your entire problem: either it's not taking all the oil off, it's ineffective, or it has contaminants.
Be sure to do the 'water break' test after rinsing twice following the degreasing step to ensure the material is perfectly clean.
Fauna Tester
- Seattle, Washington USA
---
A. You didn't mention what metal you're coating. Using Zn Phosphate I assume its steel?
Do you rinse between stages?
Are they dip stages or spray?
What drying time and temp?

We're just concluding some research on pinholeing and find that there are many causes. The grease could easily be one (as mentioned), but ineffective drying could also be.

Geoff Crowley
Crithwood Ltd.
Westfield, Scotland, UK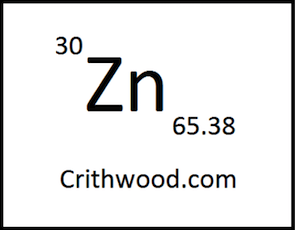 ---
---
Q. I have a similar problem to this, we cast a highly cosmetic part, the parts are polished, drag finished, chromated, washed, dried, primered and then painted. The paint is a wet paint. We are having 30%+ customer returns and it has started recently, before we had minimal returns (2%). The OEM does the painting, and it is done in the above manner. It looks like outgassing what we are seeing shows up during the paint cycle, what should the process be for applying wet paint? I am running my casting parameters so tight that production is close to impossible, so variation of 70% good to 30% not good does not make sense. Really need help.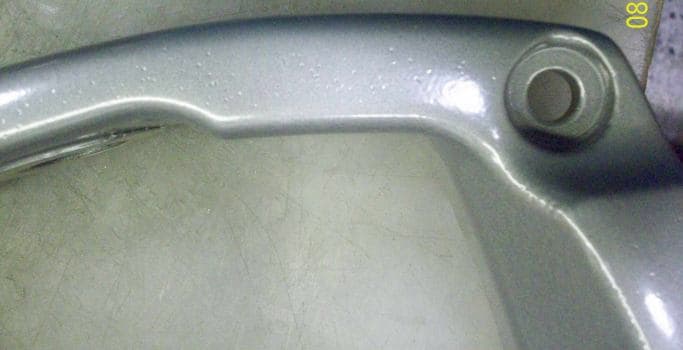 Steve Zimmerman
- Bettendorf, Iowa USA
August 21, 2014
---
---
Q. As quality control at our plant, it is my job to oversee and correct problems exactly like this one. At this point I have boiled the problem down to either not washing thoroughly enough, not blasting thoroughly enough, or a combination of both. We also are having a problem with one particular type of Part not holding charge well enough to make it from the booth to the oven. Worst part is I have inspected parts before painting and by all appearances they look to be blasted almost to white and also no water breaks. I am about to pull my hair out over this -- please help.
Brandon Moseley
- Rock Hill, South Carolina, USA
September 9, 2014