Where the world gathers for
plating, anodizing, & finishing Q&As since 1989
"Chromed piston rod squeals. Will better finish silence it?"
-----
2004
Q. Dear Sir,
I am working in Gabriel India ltd.,Dewas as Sr.Engineer R & D . We are using piston rod which is buffed after hard chrome plating (surface finish of rod is 0.7 Rz).
The piston rod is continuously in rubbing action with a multileap rubber seal at about 0.5 m/s . Actually this action is creating a noise .
I want to know,if surface finish of rod is improved,then will this noise be reduced ?
Regards,
Abhijeet Joshi
Gabriel India Ltd. - Indore, MP, India
---
2004
A. Piston rods are commonly ground not buffed to provide micro roughness to serve as oil reservoirs. Improving the surface finish can make the problem worse. Try with a little roughness instead.
Guillermo Marrufo
Monterrey, NL, Mexico
---
2004
A. The finishing could play a major part in this application. Actually hard chrome plating followed by grinding and burnishing could help in reducing the friction between seal ID and chrome. Better still look into the material of the seal. What is the seal material? I could advise a coating or even try nitriding the rod for wear resistance.
Jaishankar K. Nair
- Dubai, U.A.E.
---
2004
Q. We are an automobile hydraulic shock absorber manufacturer. In shock absorbers the piston rod is in continuous rubbing action with Nitrile / Viton multilip oil seal in hydraulic oil medium . We do hard chrome plating (plating thickness ~ 10 microns) on rod & then it is buffed / ground to about 0.7 Rz (plating is done on ground rod of 0.7 Rz).
We are not facing any problem with wear resistance of rod. The problem is the rubbing noise created by sliding action between rod & multi lip seal.
I want to know is there any relation between surface roughness & noise level ?
Regards,
Abhijeet Joshi
[returning]
Gabriel India Ltd. - Indore, MP, India
---
2004
A. Dear Mr Abhijeet Joshi,
This is probably a problem with your motorcycle front fork ass'y; There is nothing the plating has to do with this, it's a normal phenomenon when rubber meets metal. Maybe you need to look at applying a kind of dry lubricating product with companies specialising in such products that will help reduce the noise level.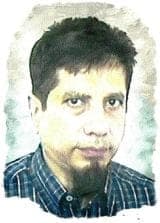 Khozem Vahaanwala
Saify Ind

Bengaluru, Karnataka, India