Where the world gathers for
plating, anodizing, & finishing Q&As since 1989
-----
A 'satin' electropolish?
2004
We've been trying to achieve a satin finish (think of a #4/180 grit without grain) on 304 stainless using a combination of beadblasting and electropolishing, and hopefully your collective expertise can help guide us in the right direction. This is a decorative finish, not subject to any particular spec other than aesthetics (often the toughest spec of all due to its subjectivity).
We're starting with 304 bar stock and square tubing, mill finish. rough stuff, indeed. joints are welded and ground flush.
The first samples got a #8 glass beadblast, a pickling, and then spent 8 minutes in the electropolish bath. the electropolishing, as it's supposed to, did a wonderful job of brightening up the pieces: so much so that every mill mark, pit, and grinding mark was clear as day - and way too bright to fall under my broad definition of 'satin.' the effects of the beadblasting were almost entirely washed away.
The electropolisher suggested halving the time in the bath … makes sense to me. A more aggressive bead blasting also strikes me as appropriate. Before I burden my blaster and my electropolisher (both incredibly nice and trying to be as helpful as they can) with more experiments, I thoughtIi would solicit advice from a wider audience. Any experience, advice, or theoretical musings will be greatly appreciated, but bear in mind that I am not now nor have I ever been a professional electropolisher. Any highly specific technical details on the setup he's running will largely be lost on me.
Or are we just attempting the impossible?
Many thanks,
Carson Maddox
furniture design - Chicago, IL, US of A
2004
A. An electropolishing operation seems to be a contradiction of a satin finish. It is primarily used for brightening. Satin, to me, means a dull, flat finish. Electropolishing will not give you that appearance. You must either blast the parts and leave it like that or try a mass finishing operation. One will give you a dull dimpled texture using glass beads and the other a flat brushed look using an abrasive dry organic media.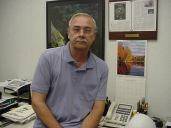 AF Kenton
retired business owner - Hatboro, Pennsylvania