Where the world gathers for
plating, anodizing, & finishing Q&As since 1989
-----
How to stop rust on large concrete forms
2004
I work for a precast concrete facility that is outdoors year around. We produce stadiums, multi-level parking decks, office buildings, etc. All of our product is made on steel forms of many shapes and sizes. These forms are 90' long all the way up to 500' long. And they are from 2' wide up to 15' wide. The forms are steam heated everyday up to 160 degrees so the concrete that has been poured in them can cure over night. Many of these steel forms are many years old and any type of bluing that was on the steel is long gone, and that leaves us with "surface rusting" as a common problem. We are looking for fast, cost effective ways of coating and caring for these forms. In a perfect world this coating would never rust, be able to have concrete poured on it every day, and be able to weld on it. We have tried many things, but they all have there down falls. Many form oils stay wet, then they collect dirt and dust, then the product looks dirty. We have had ok results with a product called "tank coat" but trying to weld through it is very trouble some. Also some products are water based so when it rains we are back to square one. If you have any ideas or comments please let me know.
Thank you for your time....
Tom Lamprecht
concrete laborer- form repair - Burlington, WI, U.S.
---
2004
You have a tough set of requirements. The only one that I can think of would be a thermal spray. HVOF is a very good way, but it is a high initial start up cost and it requires a good level of operator skill. Less demanding but SLOWER is a dual wire Spray. It gives a laminar coating that is not as rough as regular flame or plasma spray, is more operator friendly and a lot cheaper. Grit blast the form with a carbide abrasive and spray immediately. A high nickel wire would be my choice. Miller thermal has a large rig that they spray aircraft carrier decks as an anti skid. I personally do not like the rougher surface that it gives. It can be brought down to a less rough surface, but not what I would call smooth. Food for thought and investigation.
James Watts
- Navarre, Florida
---
2004
Thank you for the reply James. Do you have any web addresses for these systems ? We are looking for the form finish to be as smooth as possible, even shiny. Because concrete will make an exact copy of what it is poured on and even the shine on the form will show on the product.. Thank you for your time...
Tom Lamprecht
- Burlington, Wisconsin
---
2004
You should look at brush plating the form with nickel.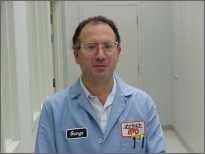 George Shahin
Atotech - Rock Hill, South Carolina