Where the world gathers for
plating, anodizing, & finishing Q&As since 1989
-----
Design of Fume Hood for Perchloric Acid
2004
We need to design uPVC Fume Scubber for removal perchloric acid fumes. Unit is to be installed in the structure of Lab Fume Hood.It should work manually or automatic when experiment is performed on material like perchloric acid I need your expert opinion.
Shakil Ahmad
Technico Scientific Supply - Lahore, Punjab, Pakistan
---
2004
Perchloric acid is an extremely strong oxidizer. PVC is an organic material. organics + oxidixers = fire and or explosions. Think stainless steel.
James Watts
- Navarre, Florida
---
2004
Hi Shakil !
Well, well, well ... James says use stainless ... and he's right but only for pure Perchloric. Also the U.S. plating industry is scared WITLESS of Perchloric because of some idiots back in the 40's who blew up a building ... see # 9408 in the archives, please.
Secondly, I LOVE Perchloric! I have Perchloric hoods all over the world ... and made of PVC ... but the Assayers (i.e., the chemists as they are called in the mining industry) will virtually ALWAYS use Perchloric but, but, but ALL the predigestions are done with acids such as nitric, aqua regia, sulphuric, HF and HCl in order to remove any traces of any organics ... and stainless steel or Hastelloy C or Carpenter 20 or Titanium will fail in short order in these hoods under these conditions. These being multi-acid fumehoods, the PER.LABs as I call them. None in India but some in Africa, New Guinea, Indonesia and all over the Americas. Some are now coming on for 25 years of service with NARY a problem (Placer Research in Vancouver, for one)
Yes, you could use stainless if, if, if Perchloric were the only acid.
Currently a large gold mine in Peru has only these PER.LAB fumehoods specified (along with LMITS all-PVC horizontal scrubbers)
There's a Mark Lewis who runs the ALCHEMIST magazine, this is devoted to Assayers. Ask him or Jack Stanley of Analytical Labs in Princeton, B.C. who is a world expert on Assay laboratory systems.
Re James' assertions about fire and explosions a) uPVC doesn't burn ...not until you hit over 550 F ... secondly it is far more inert than stainless ... thirdly, explosions have occured in the distant past where Perchloric has dripped onto wood or combustibles, normally due to corroded ducting (eg. stainless, stone etc)
... the PER.LAB hood where the prefix PER stands for good old PERCHLORIC !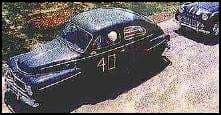 Freeman Newton
[deceased]
(It is our sad duty to advise that Freeman passed away
April 21, 2012. R.I.P. old friend).