Where the world gathers for
plating, anodizing, & finishing Q&As since 1989
-----
Zinc plating raw material problem
2004
I am a quality engineer assigned to the purchasing department of a OEM company with sale of $525 million annually. We have experienced a recent problem with zinc plating with clear chromate on 12 series cold drawn bar stock. A severe discoloration of the zinc coating occurs on the areas of the parts we do not machine (areas left as raw stock) The plating supplier states it is due to the porous "skin" left on the raw areas of the part trapping the cleaning solution of the plating process. After a relatively short period (Hours to a couple of days) the cleaning solution leaches out of the pores and attacks the zinc. Our material supplier states that in order to guarentee a acceptable surface finish we must remove what is called "machine stock cleanup allowance".
We have this problem on parts that we have produced for many years without seeing this. Our internal manufacturing people are getting frustrated and our plating supplier will not absorb the rework cost stating it due to the ares left in the raw state. Our material supplier will not accept charges for the rework stating the "machine stock clean up allowance".
We have had success switching to electroless nickel plating but that is more expensive and we do not want to incur this cost increase for approximately 1800 different parts with the above specifications.
Do you know of any solutions short of machining all raw areas?
Thomas J. Luniewski
Original Equipment Manufacturer - Minneapolis , Minnesota, United States Of America
---
2004
My first thought is: If you have not had this problem for many past years with the same part, what has changed? Address this and you solve your problem.
From the plating side, I would think the answer lies somewhere between what everyone is telling you. If the surface of the part is porous you will not get quality plating without some additional operations either mechanical (grinding, polishing, blasting) or chemical (extensive acid pickling).
As for responsiblity for rework, it gets back to the old problem: What did the specification call for? If the plating specification did not call for additional processes to address poor substrate the plater did his job. It is necessary to have specific quality and process standards not just "industrial zinc plating" etc.
Gene Packman
process supplier - Great Neck, New York
---
First of two simultaneous responses -- 2004

Change material suppliers. And/or buy to a material spec that states your surface requirements.
Tom Gallant
- Long Beach, California USA
---
Second of two simultaneous responses -- 2004

Send sample parts out to every job shop in your area and evaluate the results. Proper surface preparation, in this case, better "pickling", is the simple answer. However, let the job shop know whether the drawn bar stock contains lead, and if so , come back and let us tell you how to prepare the surface.

Robert H Probert
Robert H Probert Technical Services

Garner, North Carolina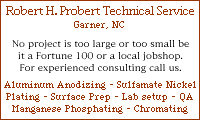 ---
2004
The only single change we can attribute to this is the recent instability of the steel industry. Our raw material supplier has had to scramble to keep us in material. World wide searches have kept us supplied but the quality of mill runs, while still within industry standards are not what we are used to seeing.
We can't be the only manufacturer that applies zinc to a raw material surface. What are some of the surface preparations that are available short of actually machining the raw areas?
Thomas J Luniewski
- Mpls, MN, USA
---
2004
Introduce a conveyorised oven after cleaning and water rinsing the parts. Temperature can be ~ 150 degrees for 15 ~ 20 minutes so that the parts are completely dry. Then follow your normal process of zinc plating and chromating. Once successful , you can apply the same idea to all similar parts.
Motivate your suppliers to be problem solvers as they are closest to the process.
Regards
SHARAD GUPTA
- FARIDABAD , Haryana , INDIA