Where the world gathers for
plating, anodizing, & finishing Q&As since 1989
-----
What etches steel armor?
2004
I am a member of a medievil re-enactment society. My particular interest lies in recreating armor used by the knights of that period. Many of the suits featured intricately etched armor. Prior to the 1500's it was done similar to a wood cut using special tools to scrape or chisel out these designs. During the 1500's they switched to chemical etching. I work with 14 & 16 gauge mild steel and 16 & 18 gauge stainless steel. Can anyone recommend an acid or process to etch patterns in the surface or even deep etch (14g down to 16g thickness)? I have several resist options. Muriatic Acid was recommended by another hobbist like myself. I am also a commercial photographer and am quite capable of handling simple chemical processes with respect and caution.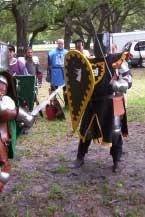 Eston S Mansfield
Armorer hobbist - Miami, Florida, US of A
---
2004
You can use 46o gm iron(III)chloride/1 lit water solution,cca 5o >C temp.!Good luck
Goran Budija
- Zagreb , Croatia
---
2004
Sorry I haven't reposted. Been climbing out from under 4 hurricanes. I am assuming that mild steel will etch faster than stainless. Do you know approximate times and optimum temperature? I also plan on using an amonia water stop bath. Does anyone know a good dilution ratio?
Eston S Mansfield III
- Miami, Florida
---
2006
Fellow armour enthusiast

I read your inquiry about armour and wanted to pass along a project some armourers recently did for a film I am writing and directing. The film is called Shroud and is set in the Old West. During the story a suit of medieval plate mail is found.

I retained two very talented armourers by the name of Patrick Thaden (Denton, Texas) and Ugo Serrano (Los Angeles, California). I was very impressed with their craft in creating a suit of plate mail for a woman. I believe it took them 4 Ô days to fully forge the suit. There are no legs as the bottom of the suit will be a battle dress of studded black leather.

The below links will show you what they were able to do in 18-guage aluminum. The armour was not made in heavier metals as to grant the actress combat flexibility and mobility. They also made an Irish-style sword out of aluminum as well. There are several flourishes in the armour that might be of interest to you.

They really did a great job, and I am confident either of them would be able to answer your specific question.

The armor:

http://www.jetrefilm.com/shroud1_lo-res.jpg
http://www.jetrefilm.com/shroud2_lo-res.jpg
http://www.jetrefilm.com/shroud3_lo-res.jpg

More pictures of the armor can be found at our website http://www.jetrefilm.com under the little gallery boxes on the home page, or under the Production > Gallery / Sketchbook tabs.

Patrick Thaden
http://www.thadenarmory.com

Ugo Serrano
http://www.ugoserrano.com

David Jetre
- Dallas, Texas
adv.: