Where the world gathers for
plating, anodizing, & finishing Q&As since 1989
-----
Filtering the Electrocleaning Tank?
2004
Q. Is filtration of the electrocleaner a necessity or beneficial to plating quality?
Is anyone performing this and with what success?
Specific application is electroless nickel plating.
Robert
[last name deleted for privacy by Editor]
Dental Burs - Morrisburg, Ontario, Canada
---
2004
A. Hi Robert. Yes, it can be beneficial to plating quality, but is probably more typically to save cleanout labor. Yes, a few shops do it, but the overwhelming majority do not. The major filter manufacturers can offer case studies though (I've seen them).
More typically, the tanks have a grease trap to try to float standing oil off of them, or polypropylene grease gathering belts; but solids usually just sink to the bottom and the tank is periodically cleaned out. Good luck.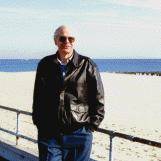 Ted Mooney
, P.E.
Striving to live Aloha
finishing.com - Pine Beach, New Jersey
---
2004
A. We just put in a brand new Nickel plating line that cost our company 1 million dollars. Our electrocleaner is 850 gallons. We also do this with our soak cleaner (using a filtration system on both of them that is). Anyway ... we use just your basic Penguin filter, that uses four 20-inch filter tubes. I don't know the size of the filter itself and how many times it turns the tank over, but I could get it for you. Now we have this vendor that comes into our shop, and he asked us to try these new filter tubes (brand new on the market, we were actually one of the first to try them). They are specifically made to draw oil out of the tanks. Now much to our amazement, they worked excellently, and it also is extending our tank life. We usually dump it every three months, now we are only doing it every six -- so this saved us money on chemicals. I would say we change the four filters approximately once a month. This product works great!
Brian Gaylets
- Scranton, Pennsylvania, U.S.A.
---
2004
Sounds like a pleated polypropylene filter with a relatively small pore size. They used to require a shell to contain the coaleasced oil until the cartridge change time. Always nice to find a better part than the one you had.
James Watts
- Navarre, Florida
---
---
Electrocleaner lifespan and testing
2006
Q. I am trying to get a handle on the electrocleaners we have in the shop. We had a schedule of when we would regularly test and then dump/make up a new bath. Lately our projection for when these cleaners become essentially ineffective has been way off although the workload through the tanks has not changed dramatically.
With our current in-house testing we can only really test for the concentration of the actual cleaner agent in the solution and I suspect other contaminants such as iron or organics are the main cause for the bath to perform poorly.
Is there any way to test, without using an AA, for iron contamination and are there other things getting into these tanks I should be worried about (organic breakdowns)? Also has anyone had much success in filtering these solutions to extend their life?
J. Giddings
Plating Shop - Hbg, Pennsylvania
---
2006
A. I certainly am not an expert in metal cleaning, but I have learned some things working in this industry for several years. If you aren't already doing this, it would be helpful to titrate for ratio of free to total alkalinity in your electrocleaner along with total cleaner strength. This ratio changes as your cleaner ages (contamination level increases) even if you keep total cleaner conc. constant. You should be able to get this technique and information about relating results to cleaning performance from handbooks or your electrocleaner supplier. Other general ideas which you probably are aware of include using a soak cleaner before electrocleaning, skimming free oils from the solution surface. Hope this helps.
Thomas Kemp
- Erie, Pennsylvania, USA
---
---
December 7, 2013
Q. Hey Everyone,

I am planning for a relatively large nickel plating line. I am wondering if electrodegreasing bath needs to be filtered continuously? How many turn overs is needed per hour? I read about skimming device here, can anyone help me to know more about it?
Mary Ma
- Iran
---
December 18, 2013
A. Hi Mary Ma. We appended your inquiry to a thread which discusses the proposition. Continuous filtration of the electrocleaning bath is very rarely required for quality purposes, but it may extend the life of the cleaning solution and reduce the cost of labor and lost production in dumping and cleaning out the tank.
Most soak clean and electroclean tanks are equipped with grease skimmer/grease trap arrangements. This consists of a separate overflow compartment with a pump which returns the solution to a perforated pipe which skims floating grease into the trap.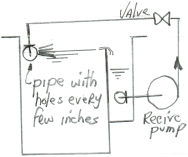 Regards,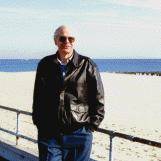 Ted Mooney
, P.E.
Striving to live Aloha
finishing.com - Pine Beach, New Jersey
---
December 26, 2013

Ted, thank you so much for your attention. Yeah, now I've got it! We are using rinsing tanks with a running flow that is same as your schematic plan. I will consider continuous filtration for degreasing tank! ;)
Mary Ma
- Tehran, Iran