Where the world gathers for
plating, anodizing, & finishing Q&As since 1989
"Deburring of coated master printing plates"
-----
2004
I work for a large mfg of product marking and coding equipment. One of our products is master plates for pad printing operations. The plates are sold as blanks, as part supply portion of our business, and are engraved by the customer with their logo or information to be printed. The plate material is C1010 sheet stock, .063 in thickness and is painted with a specialized product by a subcontractor. The material is processed in roll from, painted both sides, cured then re-rolled. The rolls are then slit into the required widths.
The next operation is a punch op. were the individual plates are produced. Here's where the burr problem lies. The punch shop holds a .001 or less burr per plate, but because of the application, the burr must be fully removed from all four edges of the plate. In the past, plates were deburred by hand, some 500,000 or so each year, which created more than a few ergonomic issues. In response to this we designed and built an automated machine to deburr each plate. The machine uses vacuum chucks to hold the product and fiber wheels to deburr. The machine has two stations, each deburring two edges of the plate. However, the unit has been less than reliable, with numerous brake downs, causing missed shipments, late work and massive overtime etc. In the mean time we have started our Continuous Improvement Journey (Lean Mfg). With this in mind, we are looking to change the way in which we deburr, do it one piece at a time, and only produce whats need, when needed, current Takt Time is 6 plates per minute. The plates also have some fairly ridged specs, the deburring operation must not remove more .032 of the coating from the edge of the plate, plates must be scratch free (within the print area, which is different with each size plate) and flat within .005. Lastly the bottom side must be also useable, even though we not sell them as two sided.
Michael Keating
Mfg of printing - Keene, New Hampshire, USA
---
2004
Have you consulted with a company who makes flat sheet metal deburring/polishing machines? There are a couple of manufacturers who have been around a long time who probably can help you.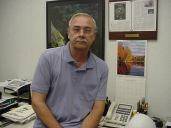 AF Kenton
retired business owner - Hatboro, Pennsylvania