Where the world gathers for
plating, anodizing, & finishing Q&As since 1989
-----
Impact aluminum causing Chromate Conversion Problems
2004
We process a number of parts to MIL-C-5541 [affil link] (Chromate Conversion) We recently had a supplier change who they used to "impact" their aluminum. These new "impacts" are hard to plate. In the past we never used a Etch Cleaner, but now we have to use one to get the parts to accept the coating. The impacter says this is normal, but we are struggling to believe that. We have not etched parts in 10+ years and suddenly had to add a new tank. The problem we are seeing is a poor finish. The finish is not smooth after etching and does not have a "clean" gold finish. Any ideas other than dumping the Impacter
Robert Davis
Plating Shop - Texarkana, Texas
---
2004
A work hardened surface of aluminum will not take chromate conversion to the same color, or to the same degree of corrosion protection. A part that has been tumbled or sanded, or blasted in any way with media containing iron or any other non-aluminum tramp left behinds will have those impurities embedded into the surface of the soft (Kleenex-like) aluminum. Embedded impurities do not chromate, and worse , they set up galvanic cells to promote corrosion. The blasting media must be designated for aluminum only, and contain no iron, copper, etc...

Robert H Probert
Robert H Probert Technical Services

Garner, North Carolina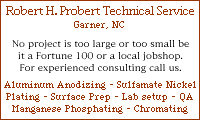 ---
2004
Mr. Davis,
If you have had conversation with the new impactor, why don't you make contact and get some information from the previous impactor? He must have done something different and possibly he could shed some light on the situation. Even if you were able to tell the new impactor he is doing something wrong, I doubt he would change his process just because YOU have new out of pocket cost. Sounds like the only choices you've given yourself are eat the cost or pass them on to the next guy in line.(why can't you dump the new impactor)?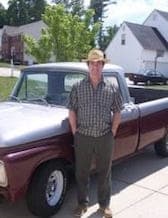 Sheldon Taylor
supply chain electronics
Wake Forest, North Carolina