60,000 Q&A topics -- Education, Aloha, & Fun
topic 31153
Galvanic Reaction between zinc plated bolts and S.S. washers
A discussion started in 2004 but continuing through 2019
2004
Q. We are currently doing a Liquefied Natural Gas Subcontract on shore. Part of our scope is providing Cold supports for Gas lines. These are usually heavy density foam around a pipe clamped by saddles onto a beam or base. Original specs requires Bolts with Bright Zinc plated finishing to 25 microns with stainless steel washers. We would like to inquire if there will be galvanic reaction when this two different metals come in contact. The bolts will have to be torqued so any corrosion in the future would affect the design principle. Also, is there any remedy for this should we have the least option of changing the materials. Otherwise, please advise so.
Ver Chavez
Insulation - Kuala Belait, Brunei
---
---
Corrosion potential: stainless equipment outdoors w/ galvanized anchors
April 22, 2008
Q. My company makes a product that is installed on side walks and in parking lots. The installation base is a galvanized mild steel plate affixed to the ground by either wedge anchors or J bolts set in concrete. Onto this galvanized plate is a piece of equipment that has a 316 stainless steel base. Both parts come into contact over a wide surface area. Will there be any galvanic corrosion problems between the galvanized plate and the stainless plate? If so, what can be used between the two plates? The installation sites see varying weather conditions in various climates.
Todd Magness
product designer - Harrison, Arkansas
---
---
April 19, 2012
Q. Much of the topics related to the Zinc/SS are about clamps and sea locations.

We have a project where we are placing 3" L 1/4-20 countersunk zinc plated steel screws through a post and attaching with stainless steel washers, lock washers and nuts. Would there be a concern for the dissimilar metals? This is an outdoor product nowhere near an ocean.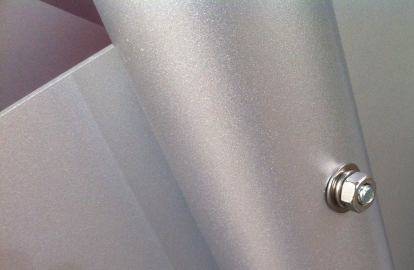 Matt Robinson
Manufacturer - Reading, Pennsylvania, USA
---
---
January 17, 2013
Q. I am simply a homeowner attempting to do a job correctly and prevent future issues.

We recently purchased a basketball system which utilizes a large and very heavy main pole that will attach to a concrete pier. Most all hardware that shipped with the system is stainless steel with the exception of the 4 "J" bolts that are sunken into the concrete pier. The J bolts aren't quite as dull as I would have expected them to be if galvanized and aren't quite as shiny as I would have expected for zinc coated. Anyway, I'm assuming they are simply zinc coated as I really do not feel they are galvanized.

Since the main pole is heavy and I do not wish to remove it later to replace any hardware, I was thinking of using stainless steel nuts and washers underneath the main pole's mounting plate. The nuts are used for adjusting the level and the large washers simply offer more surface area support. Since the J bolts are zinc coated, will it be acceptable to mount the stainless steel nuts and washers on the J bolts underneath the pole? Or would it be recommended that I stick with only zinc coated hardware? My main concern is having to remove the pole in later years just to replace badly rusted washers or nuts. But, on the other-hand, the use of stainless steel hardware may cause the J bolts to deteriorate at a much faster rate causing more serious issues ... am I thinking correctly?

We are located in South Carolina and not near the coast, but since this hardware will be very near ground level, it will be wet at times. Thanks so much for your help!
Tony Lunn
- Lugoff, South Carolina, USA
---
---
---
Can I use Stainless steel washer for A193 GrB7 bolts
June 17, 2017
Q. I've got a requirement for stainless steel washers for carbon steel bolts and nuts. Am afraid to use this as there may be corrosion if I use dissimilar metals. Please advise.
Abdul Hakeem
Buyer - Dubai, United Arab Emirates
---
---
February 4, 2019
Q. Scenario:
- 1/4" stainless flat head screws
- 1/4" stainless floating nutplate bonded to painted aluminum plate
- countersunk holes in a painted aluminum plate
- all installed on an indoor piece of machinery located in central Florida with regular exposure to outdoor humidity, but no direct exposure to rain
Questions:
1. Galvanic corrosion concerns given the small surface areas?
2. Galvanic corrosion concerns if I switch to a black zinc plated screw, again given the small surfaces areas?

Pam Capers
- Orlando, Florida, USA
finishing.com is possible thanks to our supporting advertisers, including this shop: