Where the world gathers for
plating, anodizing, & finishing Q&As since 1989
-----
Problem with silver plating brass (high temp adhesion test)
2004
Q. We have for some time been successfully silver plating brass components which were adhesion tested at 200 °C. However recently this has been upgraded to 350 °C, and subsequently we have been experiencing a considerably higher amount of blistering requiring reworks.
Our process is as follows:
1. Soak degrease
2. Rinse
3. Anodic clean
4. Rinse
5. 10% sulphuric
6. Rinse
7. Cu strike
8. Rinse
9. Silver strike
10. Silver plate
11. Final rinses, etc.
 
Any suggestions as to cause/possible remedies?
John Reid
Plating Shop - Brisbane, Queensland, Australia
---
2004




A. Simplest way to increase adherence is to increase surface roughness of your object.Very short immersion in dead dipping solution must be sufficient.Second possibility is to decrease inner tension in silver plate,but that is not so simple.

Good luck!

Goran Budija




- Cerovski vrh Croatia






---

2004




A. Hi John,

Do degreasing cathodic or first anodic and then cathodic. It is not advisable to pass anodic current on copper based articles. Also check your peel off its from base or its coming from copper . If its coming off from base concentrate on pretreatment and if its coming off from copper work out on copper activation before entering silver and current on when entering silver.

Good luck

Qutub Saify




- Ajman, United Arab Emirates






---

2004




A. Hey down there. If it is leaded brass then change the 10% Sulfuric to 50% Fluoboric Acid (Not Fluoride but Fluoboric) then change the copper strike to Copper Fluoborate. Lead forms insoluble salts with sulfates and chlorides, but in fluoborates it does not form a salt and the lead washes away. If you plate (or bridge over) smeared lead, then you will blister at high temperatures and fall off.

Zinc,Copper,and Silver migrate together at room temperature, faster at 200 °C, and extremely fast at 350 °C, so that in the end what you have on top is an alloy of silver/copper/zinc/(and maybe lead), which may not withstand 350 °C without popping off. If tests show this, then we need a nickel diffusion barrier between the copper and the silver.

While I have your attention, please tell me whatever happened to Rolly Douglas who was involved as a precious metal vendor in the 1960's.

Bob Probert




Robert H Probert




Robert H Probert Technical Services





Garner, North Carolina






---
"Electroplating Engineering Handbook"
by Larry Durney
from Abe Books
or

Affil. Link
Your purchases make finishing.com possible
2004
Q. The peeling is coming between the Cu and the brass, so I'm fairly sure it must be in the pretreatment that the problem is happening.
I will try changing the electroclean to cathodic as per Qutub Saify's instructions.
Also Bob Probert, we are not permitted to use any nickel in this process as per the customer's specification. I'm also not familiar with Rolly Douglas as I have only been in this industry for about 7 years, and I wasn't even alive in the 1960's. I'll ask my employer about it if you like - he has been around a bit longer.
John Reid
[returning]
- Brisbane, Queensland, Australia
---
2004
A. I will put my nickel with Robert, you are using a leaded brass. If so, follow his suggestions and your problem will be very greatly reduced without the nickel barrier layer. On unleaded parts, you may have a problem of too much cleaning or too much activation (yes, that is possible).
James Watts
- Navarre, Florida
---
2004
A. You did not address whether the brass is "leaded" which when machined would leave lead smears. The surface prep must be addressed before we go on to a diffusion barrier. My previous message said how to treat lead smears.
So you cannot use nickel, but at that temperature you definitely need a diffusion barrier. That leaves palladium, platinum, or rhodium.

Robert H Probert
Robert H Probert Technical Services

Garner, North Carolina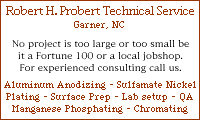 ---
2004

I have changed the cleaning to anodic then cathodic, as recommended, and the problem has been resolved. The brass is not leaded, so that was not causing the problem. The parts are now passing both the 200 °C and 350 °C treatment without issue, therefore it seems the barrier of nickel is unnecessary. Thank you everyone for your help with this matter, it has been much appreciated.
John Reid
[returning]
- Brisbane, Queensland, Australia