Where the world gathers for
plating, anodizing, & finishing Q&As since 1989
"Rusting Pickled 316 Stainless Steel"
-----
2004
I have castings out of 316 ss material which have been pickled post heat treatment, which are said to be rusting on the field. There's also an observation that pickled castings are being tested by immersing them in water in glass containers which are said to be rusting after 8 hours in the water. the castings are small weighing less than 1# what could be causing this? I never ran into this problem before. I have not changed my process, I have taken care not to contaminate these castings with any sort of iron or carbon base material. I have done no further processing after pickling them. Any suggestions or ideas of what can be causing this? I fully trust my pickling source. Thank you.
Mr. Manuel Gutierrez
Steel Foundry - Los Angeles, California, USA
---
2004
What chemisty is being used to pickle the parts? Some people use HCl for this, which is very bad for the stainless steel.
When you make castings of 316ss you will end up with alloy changes on the surface. Sometimes it takes a lot of passivation to get the surface corrosion resistant.


Lee Kremer
Stellar Solutions, Inc.

McHenry, Illinois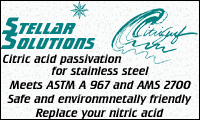 ---
2006
While solution annealing pl.use as much as possible argon atmosphere to reduce Cr depletion from the surface which will reduce the pickling load.

Check the contamination of iron particle in the complete processing.(shot blasting,brashing grinding etc)
Even while casting you can try rinsing the mold by argon gas which will reduce the CR depletion from the casting surface.
Youcan try this by grinding by proper tool the existing casting surface to a depth to ensure the depleted layer and subject such groud surface to test for rusting.
Best of Luck
N.N.Jena
NANDA NANDAN JENA
S S tubes & castings - Ahemadabad, Gujarat, India