Where the world gathers for
plating, anodizing, & finishing Q&As since 1989
-----
In need of expert Metallurgical help ASAP
2004
I have run into a situation regarding Stainless Steel and Passivation that I am trying to resolve and would like to talk to a metallurgist about. I have some stainless steel that is welded to carbon steel that was passivated and then the tank around it was blasted with steel grit and coated. I now have some pitting and corrosion and would like to find out possible causes.
David Keehan
Manufacturer - Dallas, Texas
---
2004
Can you provide a picture. Some times after grit blasting we immerse the part in 50% nitric acid or disimilar metal corrosion or so many reasons. Would you please provide more information.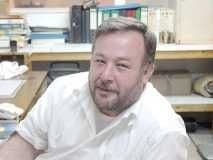 Khair Shishani
aircraft maintenance - Al Ain, UAE
---
2004
David, did you write that you are passivating the carbon steel? That might explain some of the corrosion, as carbon steels are attacked by most passivation solutions. We certainly know it immediately when a material mixup causes us to put some alloy steel in the passivation tanks!

Lee Gearhart
metallurgist - E. Aurora, New York
---
2004
If the corrosion is along the weld and up to maybe a couple of inches away you most likely have galvanic corrosion from mating the dissimilar metals.
If the rust is general, blotchy, is on the stainless, and lesser on the carbon steel it may be iron contamination embedded into the material from blasting. Passivation does fix this but only if sufficient time is given.
If the corrosion is almost all on the carbon steel then it's probably either the pickle or environmental.
What is the environment? If this is a tank is the stainless above or below the liquid level? What is the temperature?

Jeff Watson
- Pearland, Texas
---
2004
Lots of possible answers here. All of the carbon steel (passivated?) in the system, the weld heat affected zone, the steel grit blast all could cause your problem. Passivation may not be easy with an assembly of this type. A picture would help. If the unit is in a water solution of any kind you can expect corrosion.


Lee Kremer
Stellar Solutions, Inc.

McHenry, Illinois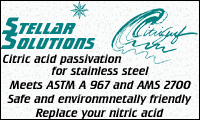 www.finishing.com is made possible by supporting advertisers like ...
this text gets replaced with bannerText