Where the world gathers for
plating, anodizing, & finishing Q&As since 1989
-----
Blistering of chloride zinc after baking
2004
I manage a large plating facility where we, among many other processes, plate with an acid-chloride zinc. Lately we have begun to have problems with adhesion (blistering) of the zinc.
I know the immediate question will be about our cleaning process. We use chelating cleaners and a 50% HCl pickle, with counterflow rinses that run constantly. The substrates in question are too many to list, but primarily C1117, 4340, 4140, 12L14, 1010, 8620..... We have amp-hour meters that control the feed of brighteners and carriers.
I have noticed that the problem is most noticeable after baking for hydrogen embrittlement relief. The thickness of the plating that is experiencing blisters ranges from 0.5-1 mil.
Am I experiencing residual stress failures at the interface due to too high of brightener additions? Some have told me that high carbon alloys will form a "smut" after pickling that will hinder adhesion. True? We have conducted several six sigma experiments on voltage settings, chloride concentrations, etc. to no avail.
Please help.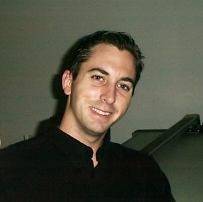 Luke Chassereau
industrial plating - Florence, South Carolina
---
2004
The first consideration is the iron content. Peroxide and filter out the iron which is co-depositing and causing stress.
The 1010 had to be a surface prep problem and/or too much dwell time in transfer. If you cannot plate 1010 you cannot plate anything.
The 4340 and the 4140 needs a Nickel Chloride strike, 2 #/gal Nickel Chloride and 1 quart per gallon HCl. The nickel in the surface has to be plated with a low efficiency (strike by definition). The high efficiency acid zinc is covering up the nickel oxide on the surface before the HCl can eat it off. When you plate over nickel oxide it does not bond.
The 12L4 is covered with smeared lead. Lead forms insoluble compounds in chlorides and sulfates and when you plate over these salts the plating does not bond. A 50% Fluoboric Acid must be the acid dip prior to plating, and enter "hot". I did not say HF and I did not say Ammonium Bifluoride - it must be Fluoboric Acid.
I have no comment for 8620.

Robert H Probert
Robert H Probert Technical Services

Garner, North Carolina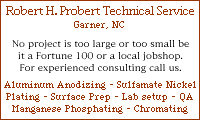 ---
2004
Hi Robert,
Q 1 . Why won't you use sulphamic acid?
Q 2 . When you mean 'hot' do you want a hot water rinse before the plating bath or did you infer a live current entry?
Best regards,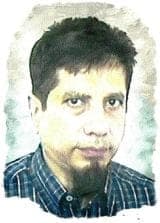 Khozem Vahaanwala
Saify Ind

Bengaluru, Karnataka, India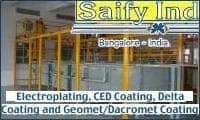 ---
2004
High stress from acid zinc plating solution is the usual cause for blisterilng, either delayed or during or after heat treating. High brightener, break down products oils, and other contaminants contribute to blistering, assuming the cleaning is proper. You may have to carbon-treat the solution and adjust the brightener content. The thicker the deposit the more tendency to blister. Use the lowest thickness that will pass corrosion tests.

Don Baudrand
Consultant - Poulsbo, Washington
(Don is co-author of
"Plating on Plastics"
[affil link to the book on: Amazon or AbeBooks ])