Live! From beautiful Pine Beach New Jersey: Welcome to the world's most popular metal finishing website
topic 3197
Organics (oil?) accumulating in caustic cleaner tank on rack plating line
1999
Another problem has surfaced in our rack system. We are having organics growing along the walls of our Caustic cleaner tanks. The only drag in would be the smallest amount of rust inhibitor (light oil). We use METEX E-1726 and 103 caustic cleaner. Could the temperature or oil have something to do with this? We have been told these may be the cause, could you help with a solution? Could this be part of our sludge problem in Waste Water Treatment? Again thanks for all your advice, it is a big help. I also submitted a question about using another kind of rust inhibitor to possibly avoid using the oil in a previous letter.
James D. Browning
- Oxford, Mississippi
---
1999
Hi, James.
The 'smallest amount' on each of 10 loads per hour, 8 hours per day or more, pretty soon becomes 'a pretty fair amount'. I think that's the most likely source of the issue, and that you need to remove the oil with a skimmer (small ones with a stainless or polymer belt cost but a few hundred dollars).
I don't know about Metex specifically, but if the cleaner is a good emulsifier, it may also be necessary to periodically (probably weekly) add an emulsion breaker to remove the oil.
Ted Mooney, P.E.
finishing.com
Pine Beach, New Jersey
Striving to live "Aloha"
---
---
---
March 28, 2011
We are looking at different options to skim the oil from our hot de-greasing bath. How effective is a belt skimmer for such application? Is there any better alternative?
Jothi Ramalingam
- Chennai
---
March 30, 2011
Many cleaners use a pump to circulate the cleaner from an overflow sump so that it overflows to the sump over a weir. In this way the floating oils accumulate in the side sump and are not re-deposited on the work when it is withdrawn from the cleaner.

There are also adsorbent medias that will remove free and emulsified oils from the degreaser bath.
Lyle Kirman
consultant - Cleveland, Ohio
---
April 4, 2011
What appears to be oil in caustic cleaner baths often turns out to be separation of the surface active agent due to excess concentration. Trying to dissolve the oil by adding more cleaner makes the matter worse (and is very expensive)
Take a small amount of the "oil" and see if it will dissolve in a large excess of water. If it does, the solution is to dilute the cleaner; more is not always better.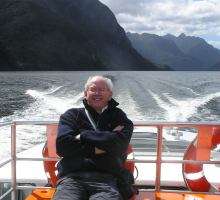 Geoff Smith
Hampshire, England


If you have a question in mind which seems off topic, please Search the Site