Where the world gathers for
plating, anodizing, & finishing Q&As since 1989
Chem filmed panels fail salt spray test

-----
May 24, 2022
Q. Hi to all,

Do you know why 2024-T3 and 6061-T6 Test panels are recommended to run salt spray test on MIL-DTL-5541?

Why other tempers or even other alloys are not suggested?

I already know that specifications allow the use of the alloys and tempers used on current fabrication, but I'm looking for why those alloys and tempers are preferable.

Thanks in advance
Alejandra González
- Queretaro, Mexico
---
May 2022
A. Hi Alejandra. I think the specifications *require* the test panels to be the same material as the actual parts rather than just "allowing" it.
Luck & Regards,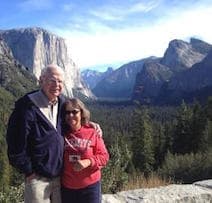 Ted Mooney
, P.E. RET
Striving to live Aloha
finishing.com - Pine Beach, New Jersey
---
May 30, 2022
A. There are two classes of testing called out in this spec, process control testing (at least once a month), and conformance testing (every single lot). Corrosion testing is defined here as part of process control - it is being used to check that the system conforms, not that a given lot of parts conforms.

Now, why define only two alloys as optional substitutes for testing? Well, to me, one benefit of defining these alloys and tempers is that it gives you a nice benchmark between suppliers.

As to why these alloys, they're both fairly standard and probably were considered "representative". Also, 2024-T3 is more likely to fail salt spray than 6061-T6, hence the two-tier system where you can only use 6061-T6 for Class 3, but 2024-T3 for any of the testing.
Jenna Tong
- Melbourne, Australia
---
May 2022

Great answer, Jenna. Thanks!
Luck & Regards,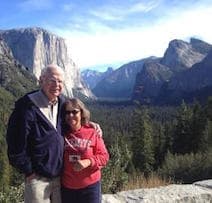 Ted Mooney
, P.E. RET
Striving to live Aloha
finishing.com - Pine Beach, New Jersey
---
May 30, 2022
Ted: Per MIL- DTL-5541 , both options are equal alternatives

Use of alloys of the material currently processed or 2024-T3 for type 1A and 6061-T6 for Class 3.
Also 2024 T3 can be used in lieu of 6061 T6 on class 3 materials
-----


Thanks Jenna, I appreciate your support on this. I understand that 2024 T3 is more susceptible for corrosion, but I don't think that 6061 alloy be more representative of the suppliers, because is a alloy used in No-structural applications. In that case I will think that 7075 can be more representative for material.

My questing coming from for a particular situation , I pass 2024 , and 6061 salt spray test , but I fail on 7075. Based in one of the options of the standard the process is controlled, but I think I should pass all the alloys.

Thanks again for your feedback
Alejandra González
[returning]
- Queretaro, Mexico
---
---
---
Closely related Q&A's, oldest first:
2002
Q. I work for a finishing shop. We currently plate for the aerospace industry with cyanide cad, nickel, copper, passivate, prime & paint, and penetrant inspection as our primary processes.
We have recently setup a new process line for aluminum finishing which will include anodize ( types I,II,&III ) and chromate conversion coating.
Have been able to certify the anodize process to mil spec but I'm having problems with the chromate conversion process. Cannot pass the 168 hr salt spray test on the 2024 aluminum alloy.
Aluminum process for chromate is, 1. aqueous degrease ( 5 min ), 2. alkaline clean ( 5 min ), 3. acid deoxidize ( 5 min ), and 4. chromate ( 3 to 6 min ). Rinsing between each step shows a water-break-free surface. Supplier of the chromate chemical has suggested higher concentrations and long times but nothing has worked.
Are there any additional pre- or post-treatment methods that will help the 2024 alloy pass the 168 hr salt spray test? Would appreciate any help on this problem.
Lee Blanton
- Denton, Texas
---
2002




? Are you allowing 24 hrs. drying time?

Bill Grayson




- Santa Cruz, California, USA





---

2002




A. The single most frequent cause of failing salt spray is the quality of the panels. Look at your panels with a 10X magnifying glass and look for pits. Tiny pits in = corrosion failure out ! Now for the rest. The cleaner should be non-silicated, the deox should be an air agitated proprietary product (plain nitric acid will not do it). The chromate should be listed on the Mil Spec Qualified Products List, about 1.8 oz/gal, pH 1.8, time 1.8 minutes. After forming the film, do not try to completely rinse off all the chromate - leave a little yellow water to dry on, drip dry, do not heat., wait 24 hours before wrapping, wrap in sulfur free paper, Pray! Take two aspirin and call me in the morning,




Robert H Probert




Robert H Probert Technical Services





Garner, North Carolina






---

2002




A. Hi Lee,

Getting a passing result on Al 2024 is tough, even for chromated panels. The copper in this alloy is a big factor in its corrosion behavior.

Your pretreatment process looks sound. Maybe your chemical supplier could produce some test panels (using your substrate) in the lab, with all conditions "ideal." Run these panels in salt spray side-by-side with panels from your line and see if they corrode differently.

I would also check the corrosiveness of your salt spray chamber. (I assume that the chamber is in spec.) Have you sent test panels to an outside lab for verification of your results?

George Gorecki




- Naperville, Illinois




---
2002
A. Dear Lee,
There are several variables that may be potential causes of failure that may have been overlooked. First, I would look at the surface finish/condition of the test parts/coupons. Scratches or hidden occlusions will likely be a source of failure. Another place I would suggest looking is in the final rinse and drying steps. If your rinse is above 140F, you may be degrading your coating. If you are drying with heat, the same rule applies. Not over 140 °F. If compressed air is being used to dry, make sure the air is clean, dry, and oil-free. Lastly, do not place your panels in the salt spray cabinet directly after processing. Allow at least 24-48 hours to allow the conversion coating to "set."
Best of Luck.
Ira Donovan, M.S.F.
Kansas City, Missouri
---
---
To minimize searching & thrashing, multiple threads were merged; please forgive repetition, chronology errors, or disrespect of other responses (they probably weren't there) :-)
---
---
2004
Q. Test panels to qualify chem film process to MIL-C-5541 [Techstreet affil. link or from DLA]E, Class 3 have failed corrosion resistance testing several times (aluminum sheet, standard size per spec). The panels were salt spray tested in accordance with ASTM ASTM B117 [Techstreet affil. link] (except that the panels were angled at 6 degrees from the vertical, per customer's requirements) for 168 hours.
These panels were mechanically cleaned to remove any pits and corrosion prior to processing and packaged in plastic bags to prevent any paper residue attack of the coating when submitting the specimens to laboratory, which is a thousand miles away, via UPS/DHL. Need advise as of possible trouble shooting options.
All process parameters seem to be under control (i.e. solution concentration, temperatures, etc.) Water used is de-ionized and purchased in big containers (not processed in-house). Any orientation is appreciated, some of you might have any advise and/or recommendation in our process.
Aldo Rodriguez
Manufacturing of aluminum components - Monterrey, Nuevo Leon, Mexico
---
2004
A. The single most frequent reason for failing salt spray is the quality of the panel itself. Use a 10X loop and inspect for pits on the raw panel. Even if no pits are there, in the case of 2024, age of the panel can affect salt resistance. Finally, order some more panels from a different source.

Robert H Probert
Robert H Probert Technical Services

Garner, North Carolina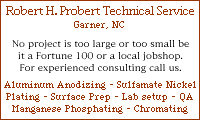 ---
2004
A. It is true that the age of 2024 T3-T6 has a detrimental effect for a good conversion coat. However, a few things should be discussed: Using a phosphate alkali bath or baths for initial cleaning? Are they at 135 to 150 °F? Is the pH high or low? Keep it high. We use Oakite 160 and 164 [Chemetall]--these are very strong aluminum cleaners, the pH high for the 160 etchant is 13.6 and the pH high for the 164 cleaner is 12.5. Submerge for 2 to 3 minutes each bath, rinse for 3 minutes between each bath using clean running water.
Next, submerge in a deoxidizer (de-smutter). We use Deoxidizer LNC (also from Chemetall Oakite) for 3 minutes and rinse again. The pH for LNC is .8 to 1.0 (strong acid, keep it low toward .8).
Next, into the Chromicoat for 15 to 45 seconds for class 3 and 45 seconds to 3 minutes for class 1A (times vary depending on the product in use). Try to set the pH for chem film to the high (chromicoat is used at 1.5 to 1.7 pH and I try to put it at 1.650 to 1.700). I can do this using a model 69 pH meter from Engineered Systems and Design (accurate to 0.005 pH). Many physicians use this model to test for blood gas in humans).
Continuing, Dry thoroughly and don't handle while drying. Roughing the panels up mechanically (sanding essentially) helps. Also, you know, I got as good results when I cleaned the panels in nothing more than lacquer thinner [affil. link to info/product on Amazon] ! True. MEK / methyl ethyl ketone would do the same. No other pre-cleaning treatment was done. We simply wiped them with lacquer thinner and submerged in the chromicoat bath and the results were very good indeed.
Good luck!
Bill Workman
- Phoenix, Arizona, USA
---
2004
A. The problem could very well be the method of packaging the panels. You mentioned that the panels are traveling about 1000 miles to be tested, and they are shipped via UPS. With that distance, I envision at least two, and perhaps three or four days of transit if not shipped overnight. During their trip, the panels are subjected to various temperatures and humidity levels. They could be in the back of delivery truck at 100 degrees for several hours, then in an air-conditioned freight terminal overnight, then back onto the hot truck again tomorrow. This scenario could be repeated two or three times.
To make a long story short, moisture could be collecting in the plastic bags and attacking the panels before the test ever begins.
Reggie Catlett
small parts mfg. - Lynchburg, Virginia, USA
---
---
July 9, 2009
Q. You mention age of 2024 T3 test coupon has a detrimental effect for a good conversion coat.
Do you have a recommendation on how old is acceptable. (6 months, 12 months, 18 months, 24 months ? )
Doug Weisent
I am a quality engineer supporting a plating line - Orlando, Florida
---
July 13, 2009
A. I found that 1 year was a normal max. It depends how long it set in warehouses before I bought that sheet.
We did our own salt spray and when we started to see the number of pits start to grow, we got new panels.

I do not remember anything in the 6 month range, but the norm to get rid of it was 9 - 15 months. Nothing absolute.

We DA sanded with 240 grit, blew it off, rinsed and dried and then checked for pits of bad spots. We threw away about 1 in ten panels that never made it to the process tank.
James Watts
- Navarre, Florida
---
July 16, 2009
! OK. I'll go along with the practice of using coupons that are not old for periodic salt spray testing for chem film on aluminum. But why sand or scotchbrite your coupons if you are not going to do the same to production parts. If you ran witness coupons with your 2024-T3 parts, will the coupons pass without the mechanical prep?
Willie Alexander
- Colorado Springs, Colorado
---
July 23, 2009
A. We ran a lot of machined parts and they required a bit less etch time than sheet aluminum to get clean.
Initially, we were cheap and were trying to get some old panels that were in poor shape to look OK before processing.
For information purposes, we frequently would run a "virgin" panel in with the sanded ones. They frequently would have a couple more spots than the sanded ones, but would pass. We did panels on both 6061 and 2024.
James Watts
- Navarre, Florida
---
August 4, 2009
A. What is the surface finish of the test panels? The surface should be mirror polished and panel's surface should be smooth and no pits/ scratches.

Which chemical is used for Chemical conversion coating? Bath parameters (pH, temperature, time and Concentration) plays critical role in salt spray life of test panel. Take trials for increasing bath concentration for 2 gm/lt and 4 gm/lt and maintaining other parameters same for 2024 and/ or 6061 panels. These will give you good results in SST life.
T.Chandra Sekhar Reddy
plating shop employee - Mumbai, Maharashtra, India
---
---
December 28, 2011
Q. I have had no success with passing my monthly TCP trivalent chromate panels on 2024 alloy. I have tried a 5-7 minute immersion time and also no etching at all. I am passing my 6061 and my yellow 2024 ? Please help ! Thanks. Joe
Joe Aleci
- Methuen Massachusetts
---
---
April 1, 2016
Q. Hi

I have a query regarding the salt spray testing hours:

How the specification (MIL-DTL-5541 F) specifies 168 hrs of salt spray testing for chemical conversion coating.
-- what if panels pass for 168 hrs and fail after 192 hrs?

Regards,
PRAKASH GOVINDRAJAN
LAB - Bangalore INDIA
---
A. Hi Prakash. You can search the site for many other threads about salt spray testing of chromate conversion coated aluminum to get second opinions, but this doesn't sound like a problem to me: your test panels passed the test, and "nothing lasts forever but the earth and sky" --'Dust in the Wind' by Kansas.
In general, the purpose of salt spray testing is to give you early warning that your established process is getting out of control; unfortunately in the specific case of chromate conversion coating on aluminum, the test tells you nothing about your actual substrates and not very much about your process, but a great deal about the age & condition of the test panels. So, please 'take the "yes" for your answer' -- if you pass the test, STOP :-)
Regards,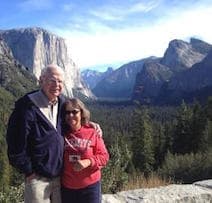 Ted Mooney
, P.E. RET
Striving to live Aloha
finishing.com - Pine Beach, New Jersey
---
---
Quality Salt Spray Panel Vendors?
September 12, 2017
Q. Hey Everyone, I've been with a plating company for 15+ yrs. I've seen salt spray passes and failures. While I feel this test is bogus, it's a requirement for the MTL-DTL-5541. I seem to think I've recently been getting pitted panels. So I'm starting with problems from the get-go. Problem is that I have to buy 100 panels to meet the company's smallest quantity. Can anyone shed some light on where you get your panels from? Good experiences with. I'd like to try different vendors. Thanks.
Dave Jr.
[last name deleted for privacy by Editor]
plating shop employee - Wilmington, Delaware

Ed. note: When in Rome ...
Since 1989 this site has been striving to build a legacy of aloha, camaraderie, & mutual help which we feel is incompatible with anonymity -- readers are requested to post with their real name & town :-)
---
September 13, 2017
A. Dave

We had success having a local sheet metal fab shop (they were a customer also) order the material and cut to size. They were able to provide the material certs as well. A 4' x 8' sheet provided a year's worth of coupons although we were running anodize panels as well. We had chem film panel failures early on until we figured out the cleaning steps. Soap and deox only; no etch.
Willie Alexander
- Green Mountain Falls, Colorado
---
---
February 9, 2019
Q. I am an aluminum anodizer and am required to perform salt spray testing to demonstrate corrosion resistance. Is there a difference between using an AL clad test coupon instead of a Bare one? vc
Mary Angelicola
Industrial Compliance Solutions, LLC - Plymouth, Connecticut USA
---
"Surface Treatment & Finishing of Aluminium and Its Alloys"
Wernick, Pinner & Sheasby
from Abe Books
or

Affiliate Link
(your purchases make finishing.com possible)
February 2019
A. Hi Mary. Failure of aluminum test coupons has been a perennial topic of discussion here, and one of the beefs is that the salt spray test demonstrates the quality of the test coupons more surely than the quality of your processes.
Alclad panels have a coating of pure aluminum on them which is more corrosion resistant than the aluminum alloy, and which anodizes/chromates better as well. Using Alclad test panels would definitely be cheating :-)
Regards,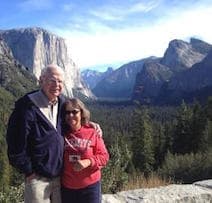 Ted Mooney
, P.E. RET
Striving to live Aloha
finishing.com - Pine Beach, New Jersey
---
February 20, 2019
A. Since the intent of the testing is to mimic the performance of your process on parts of the specified alloy- hence the requirement to process identically right down to running panels alongside parts on a 'live' load, which an auditor will check. And since Alclad will have different behavior during processing than bare, you might not be able to process them together at all, depending what the process is.
Ultimately, it tells you nothing about your process success on the given alloy. So it's even more of a waste of money than the testing is already; as Ted and others have noted for years, test coupon material is often inconsistent or poorly stored and handled and those failures are frustrating for all of us.
Luckily this site is here to help you troubleshoot and pass tests legitimately so if you have problems passing on 2xxx bare, come on back for some advice! :)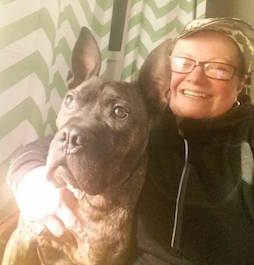 Rachel Mackintosh
Lab Rat and some other things - Greenfield, Vermont