Where the world gathers for
plating, anodizing, & finishing Q&As since 1989
-----
Resin floor tile Q&A's. Is white possible?
2000
Q. Sir
Please send for me some information about the formulation of LUSTRE GLAZE (LUSTROUS GLAZE FOR TILE) and methods of production of it (especially metal resinate). I will want information about reduction glaze (lustre glaze) that uses metal resin at (metal oxide-organic resin-...) and I don't use reduction kiln.
I am student of chemical engineering in IRAN.
Very thanks.
aliakbar heydari
tehran, iran
---
---
Q. Dear helper,
We are interested in manufacturing floor tiles for low to med wear applications
We need to coat the top of our tiles with a very hard clear substance that will resist wear and scratching.
BUT! the tiles are made of polyester resin, most have inlays of beads,w ood and fancy fabrics. I thought of using a high impact 2mm piece of clear carbon (acrylic) sheeting on top and then coating this top sheet or just coating the rezine tile. Average size 300mm x300mm 12mm
What about carbon silicon carbide coating or any other coating? please help and advice would be appreciated.
Gary Flax
- jhb South Africa
---
A. Hi Gary,
I hate to say this but I think that you are up a Gum Tree!
May I suggest you consider your FRP artistic tiles are used for walls or ceilings but not for floors because I know of no suitable 'clear and abrasion resistant and long lasting UV stabilized coating'!
You could perhaps consider the pure 2-component Urethane. Very abrasion resistant! Expensive! Clear? UV resistant? But it has one major drawback ... drop some water on it and it becomes like an ice skating rink! I tried some on a Garage floor once... wish I hadn't! But what a superb finish of ultra gloss it gave! Whiter than arctic snow.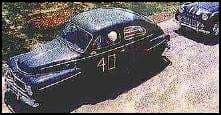 Freeman Newton
[deceased]
(It is our sad duty to advise that Freeman passed away
April 21, 2012. R.I.P. old friend).
---
---
Defect in resin tiles: air bubbles
2002
Q. Recently I have bought resin tiles for my house. After the polishing process 80% of the tiles were defected with different stained shapes of which 3 to 4 tiles contain exactly the same stain. Each stain contains very small air bubbles. Please tell me how this happened.
Yosef Scerri
- Malta
---
A. Hi, Yosef. Sorry, but my own expertise is in metal finishing rather than resin tiles.
Are these transparent tiles with some background material in them? You speak of a "polishing process", and it seems to me that overheating will cause stains and outgassing. Maybe the polisher let the buffs run dry or get too hot?
Hopefully a reader who is experienced in resin finishing can offer you some help. Good luck.
Regards,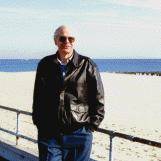 Ted Mooney
, P.E.
Striving to live Aloha
finishing.com - Pine Beach, New Jersey
---
---
Is white resin floor possible
2004
Q. Is a white resin floor possible? I want to put a brilliant white resin floor in an apartment in Miami. But I have been advised that the when the pigment is exposed to the sun it will turn yellow. Is there anything I can do to stop this happening ?
Denise P
[last name deleted for privacy by Editor]
interior designer - London, Regents Park, UK
---
2004
A. Hi Denise,
Well, what the man (woman?) said about the white fading sounds pretty right on.
I guess you are talking about a polyester or vinylester floor covering ... but going by memory, there was a Swiss Company which had an expensive U.V. stabilizer. Another disadvantage of a 'resin' floor is that is should be dead smooth, i.e., a topcoat ... but that would be quite slippery when wet.
You could try a Urethane 2-component paint ... but again, over the long term will white fade? Anyhow, the Urethane would be easier to apply than the above resins but again damnably slippery when wet ... on the plus side, you'd get an ultra smooth finish which is very scratch and wear resistant.
Goest thou to the manufacturers, whoever they are, and check with the 'horse's mouth' rather than the 'other end'.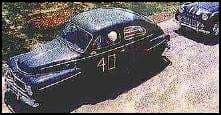 Freeman Newton
[deceased]
(It is our sad duty to advise that Freeman passed away
April 21, 2012. R.I.P. old friend).
---
2004
A. Well said Freeman! However, may I suggest you stay C&T and use stone? Marble looks really good and is cool in both senses of the word. If marble isn't to your taste, I'm sure there are other suitable stones.

Trevor Crichton
R&D practical scientist
Chesham, Bucks, UK
---
2005
A. I have covered my apartment, 7 years ago, with a resin floor. In the living area I've made it white and black. All colors remain the same. There has not been any change with the colors in all the years. Also here in São Paulo, there is a building which they have covered all the external walls with a resin that is usually used in floors.
Anton K
[last name deleted for privacy by Editor]
- São Paulo, SP, Brazil
---
2005
A. Hi,
Resin floors are very beautiful and make any ugly furniture gain its value. You should use Epoxy self-leveling floor. It's beautiful, UVH resistant, and makes a very nice visual effect when correctly applied. As a protection to your resin floor, you must use Polyurethane varnish, cause it will prevent your floor from gaining shoe dust print, which will cause you a lot of head ache and turn your beautiful white floor into artistically colorful abstract dirt. If you leave dirt from one day to another, it will penetrate unprotected resin floors. Heavy cleansing on unprotected resin floors may cause loss of glow. However, polyurethane or epoxy varnishes make it more resistant and smooth its surface, making its life longer and easier to clean. I have experience installing PU floors (Polyurethane) and I must tell you, that the best method is the following one:
1- Apply polymeric cement on your old substrate.(Spill it on the floor, and then use a 2.5 mm spatula to spread it). It will self-level in seconds.
2- After 5 days of cure, you must apply the resin on the floor (you may use epoxy or polyurethane resin). I've heard there's a new epoxy-urethane composite that unites their best features: PU is flexible, it won't crack if suddenly heavy objects fall on the floor. And Epoxy won't allow dust penetration.
3- You must wait 7 days for its complete cure. However, you will be able to carefully move your furniture and walk around after 1 day.
4- Apply PU or Epoxy Varnish the next day after the application of your resin floor has completed.

Here's how a resin floor must be applied:
Polyurethane Self Leveling Floor:
1) Prepare the substrate, applying a Polymeric cement so that you won't loose resin inside its pores.
2) Apply one layer of resin in order to regulate the surface imperfections, by spilling it on the substrate, and using a 2.5 mm spatula in order to equally spread it in each corner of your room;
3) Await until it's completely dry and and you are able to step on it. (1 day recommended)
4) A second self leveling resin layer may be applied in order to guarantee a smoother and more resistant self-leveling floor. Most resins present its color in sand; I'm not sure there's white PU Pure resin;
5) Await until it's completely dry and and you are able to step on it. (1 day recommended)
6) Apply 2 coats of solvent based PU, using a 5 mm lamb wool roller.
7) Await until it's completely dry and and you are able to step on it. (1 day recommended)
8) Apply 2 coats of brilliant solvent based PU or epoxy varnish
9) Await until it's completely dry and and you are able to step on it. (1 day recommended)

Be aware of its right Mixture percentage. Mixing them in wrong percentages may cause stickiness.

Good luck with it. And never give up on your beautiful self leveling resin floor. Modern and fancy people must always search for perfection.
Noel O
[last name deleted for privacy by Editor]
- Sao Paulo, SP, Brazil
----
Ed. note: GREAT posting, Noel. Thanks!
---
---
Resin coating for shower floor
2006
Q. I have river rock in my shower floor. I want to cover them with resin to make it look like the bottom of the river. I cannot get it to cure, any suggestions? I have heard moisture is a problem, and tried heat, but it cracked? Please help me!
Jennifer L
[last name deleted for privacy by Editor]
- Coral Springs, Florida, United States
---
2006
A. I think you got a very good idea. Fusion is one of the finest things that PU can promote. If you wish to topcoat your stone floor with PU resin floor, you must be sure its totally water free. Many resin floor appliers recommend that one floor must be totally humidity free. In fact, you must avoid coating your floor of walls during humidity weather conditions. Air bubbles may emerge and this may cause you a head ache. If you wish to topcoat your bathroom floor, you must ensure it has been resting (no bath) for at least 30 days. Then, you may start like this, from bottom to top:

- Roll over a coat of Primer for better resin adhesion
- In small spaces, using an indented spatula (2,5 mm of height maximum) and performing smooth and curve movements, apply the PU resin (PU resin usually have a sand color)
- Roll over two coats of PU ink (Use a 5 mm lamb roller if you wish to achieve a smooth finishing)
- You may also use some equipments if you intend to apply it on larger areas

Good luck with it.
Noel O
[last name deleted for privacy by Editor]
- São Paulo, SP - Brazil
---
---
2006
Q. Hi, I live in Panama City, Panama, and I have recently been in Italy, where I saw some beautiful resin floors in apartments. I would like to do it in my home here but I don't think there would be anyone here capable of doing it. So my questions are: it is difficult to do it? it is possible to apply in my existing floor (tiles)? can I do it in any color I choose?
Thank you.
Sandra R
[last name deleted for privacy by Editor]
- Panama
---
2007
Q. I am also in Panama and would like to know if you were able to find out anything about resin floors here. I would like to put one down in apartment and I am looking for someone in Panama who sells resin and or is able to install the floor for me.
James D
[last name deleted for privacy by Editor]
- Panama City, Panama
----
Ed. note: Apologies, James, but the only way to keep this thread and the great technical responses from being drowned in spam, is to decline to post testimonials & company names. Sorry that's not quite what you want, and wish we could do otherwise.
Naturally, suppliers are welcome to advertise here, or on google, or anywhere they wish.
---
2007
A. I'm a decorator, so I have already made contacts to have more information from Italy and the States. The problem lies not in buying the material, but in finding the right person to do the job.
Sandra R
[returning]
- Panama
---
---
2007
Q. Hi I have a beautiful white resin floor throughout the ground floor of a large house in Umbria. Unfortunately, close up it is less beautiful because it has a few cracks in it, uneven finishing in some places and around the edges it is badly finished with a slight yellow tint.

Incidentally, the floor has been down about a year and a half in a bright room with lots of doors and windows and shows no yellowing.

The floor was commissioned by an incompetent architect who won't tell me who laid it!


Does anyone know if local repairs could be made to the surface of floor - e.g., where it has cracked - and/or whether the whole thing needs relaying.

NB There is heating underneath the floor

Any suggestions much appreciated.
Sally B
[last name deleted for privacy by Editor]
- London, UK
---
2007
A. I have had a white resin floor that has not faded. It is a polyurethane resin that is totally UV stable. Only downside is that it has to be a matte finish.
Paul Doughty
- Sheffield, UK
---
---
February 8, 2008
Q. Hi Noel,
It seems you have had a lot of experience with resin floors. I am a home appraiser in New York City and experienced my first resin floor earlier this week. Part of our job is to determine costs for certain construction materials. I am wondering if you have any pricing information on these materials, including installation. It would appear that installation is a hefty price considering all the steps that need to be taken and the length of time. Any information you can give me on costs for these types of floors would be greatly appreciated. Thank You.
Jeanne Kalafatic
- NYC, New York
Ed. note: Noel is welcome and encouraged to reply, of course, Jeanne, but this is a long running public forum and odds are he doesn't monitor it often.
---
February 2, 2009
A. A white resin floor is not impossible to achieve. There are special resins with UV blocks that keep your white based self-leveling resins pure white for years. I've seen something similar
The white floor looks spic to me. I have been in contact about a white floor for a client.
Hope this helps.
Marco M
[last name deleted for privacy by Editor]
- Italy
---
August 10, 2009
A. A white resin flooring is available essentially as described above you have a flow applied polyurethane sealed with a UV stable top coat. Another good thing about this system is that it is elastomeric, we installed it in an old property with a very springy timber floor there was still a lot of movement even after we sheeted it with ply, but the system coped well.

Regards
Derek Scott
- Auchterarder, Perthshire, United Kingdom
---
October 8, 2009
A. Hey guys, I don't know how old this thread is but I hope I can help shed some light on white epoxy floors.

We have been installing seamless white resin floors in New York and New Jersey for years. If it's over an existing concrete, it first and foremost needs to be diamond ground or shot blasted. Then address any cracks, divots or major flaws with the proper patching or repair materials.

We then pour 100% solids epoxy at a rate of 100 sq ft per gallon. We gauge it with a notched trowel or squeegee.The only time we pour a self leveling cement first is if we are going over wood or if the floor is heavily damaged or deteriorated.

We then like to offer our clients a choice of sealers. They can choose either a high solids polyurethane or polyaspartic sealer. We suggest polyaspartic since it eliminates yellowing or ambering and has a higher scratch and stain resistance. I like to explain to my clients that a polyurethane or polyaspartic is like a clear coat on a new car. You can paint your car with the most expensive paint on the market but without a clear coat sealer, it would fade, stain and get dingy. Same goes with resin floors.

So to answer the original question is yes, white resin floors can be installed without the fear of staining and or yellowing.
Fernando Franco
- Englewood, New Jersey