Live! From beautiful Pine Beach New Jersey: Welcome to the world's most popular metal finishing website
topic 30406
Pits on Chrome-plated ABS parts
A discussion started in 2003 but continuing through 2018
2003
Q. We are doing copper nickel chrome plating on ABS plastics, we use copper brightener-leveler-wetter and make up as per the recommendations of the supplier. We have installed double dome filters of 18 plates each, plus a filter cartridge also of 5 microns to get the copper bath absolutely clean. All other things like CuSO4, chloride, anodes, sulphuric are as per the recommendations -- but still the bath does not run ABS okay even for three days continuously, temperature is also between 22 - 25 °C. Can you suggest to me something to run it smoothly?
Thanks,
MANISH JAIN
- DELHI, INDIA
---
2003
A. Manish,
It is likely you are using cheap Phosphorous Copper anodes. Check an anode from the bath. If there are holes and sockets, this indicates casting defects; and please note, that's the copper powder from the holes in the anode which is walking all over producing roughness.
Change the anodes and use standard Phosphorous Cu anodes from a reputed supplier. Pitting is caused by a lack of Carrier. Or Nitric acid in solution. Or poor air agitation.
Electroless Ni faults also show up like pitting.
An Acid Copper Dull 3 minute strike is highly recommended after EN before Bright acid Copper.
You need a chiller in summer or the brightener breakdown products can affect leveling and LCD. Run copper at 25 to 30 °C. Delhi is usually 40 °C in the shade at 11 am. So the chiller is the savior.
Give your father my regards. Hope this helps.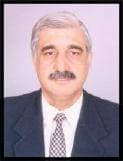 Asif Nurie
- New Delhi, India

With deep regret we
sadly advise that
Asif passed away
on Jan 24, 2016
---
2005
A. Sorry this response is late! But it still may help manufacturers in the future!

1st of all, when trouble shooting, do not assume that the defect is automatically the result of your process.
As a QA Engineer, a few years ago I had an inner front grill (automotive) that was molded of ABS plastic then was chromed. We found many dirt-like defects in the chrome as well as pitted defects. When I started my investigation, I would cut out a 1 inch to two inch square around the defect with sharp hand cutters. I would then take the cutters and peel back the Chrome, To my surprise, The defect was 85% of the time in the plastic telegraphing through the chrome. When ABS PLASTIC is molded it is hot or warm coming out of the molding machine; when laid on a table top or other abrasive surface to be trimmed, it can be scuffed up -- and after plating or chroming, the defect will look to be in the chrome! Same with pitting in the plastic. These defects in the plastic may or may not be seen with the naked eye!

Good luck to you all!

Sincerely,
Dave Myers
- Cleves, Ohio
---
---
To minimize your searching efforts and to offer multiple viewpoints, we've combined some threads into the dialog you're viewing. Please forgive any resultant repetition or failures of chronological order.
---
---
2004
Q. We are currently launching an electronic audio product with high cosmetic requirements. Namely, there are 2 finger-sized, flat chrome trim pieces made from ABS.
Following a normal electroless Ni/Copper/Bright Ni/Chrome plastic plating process we can't shake annoying pits on the mirror-finished parts.
After verifying all plating baths (filtering, chemical composition, check for the usual contaminants) we now have it traced down to the plastic part itself. Under a microscope, the polished plastic surface shows a myriad of small pits. After electroless Nickel, these pits are still visible. After 20 um of acid copper, they are still visible. After 15 µm of bright Nickel, the same.
Although the smaller pits eventually get plated, some remain visible.
We have tried to extend the chemical roughening to 15 min which improved the pitting ... but resulted in flow marks. With 10 minutes of roughening, the pits are still visible.
We tried increasing the copper to 30 µm but to no avail.
Mechanical buffing/polishing is not possible so I am hoping for some helpful alternative approaches. We are trying to improve the substrate through the molding process.
I have to say though that I expected these microscopic pits to easily get covered. Is it possible that a pit of a certain size simply will not get plated due to a Faraday-like effect?
Any help is much appreciated
Daniel Kissel
electronics manufacturer - Northrige, California
---
2004
A. It does sound like a molding issue, but I don't have much experience in that. As for the plating, I can only suggest that you consider lengthening the nickel plating time rather than the copper time because nickel offers some self-leveling in a way that copper doesn't.
Ted Mooney, P.E. RET
finishing.com
Pine Beach, New Jersey
Striving to live "Aloha"
---
2004
A. The usual way of plating ABS is to etch the surface to remove the butadiene and leave micropits. These pits act as a key to hold the subsequent metallising layers. From your description it sounds like two possible problems. The first one is that you are not using electroplating grade ABS, so there is too much "B" in the blend. Secondly, if the ABS is the correct grade, the moulding conditions could be wrong, as Ted says. This can result in the outer "skin" of the moulding having a different composition to the bulk polymer. Usually this is not a problem, but clearly in this case it could be! I am not a moulding expert, so I would suggest you ask someone who is how to reduce the amount of butadiene in the outer layer. I suspect it will be simply to do with mould temperatures and cooling rates, but as I say ...

Trevor Crichton
R&D practical scientist
Chesham, Bucks, UK
---
2004
Q. Dear Ted,
I would like to attach some pictures to illustrate the situation better.
One shows the plastic resin w/o treatment (at 40x magnification), the others show various stages and errors during the plating process.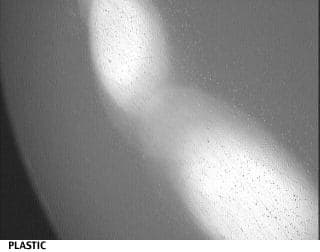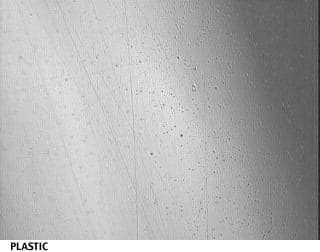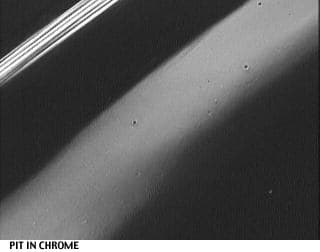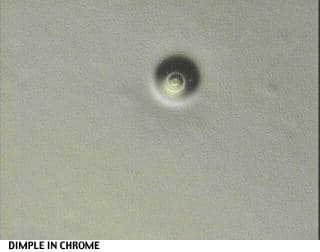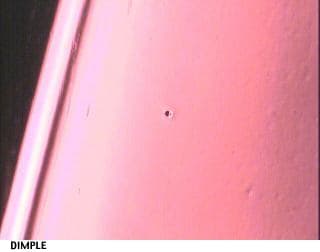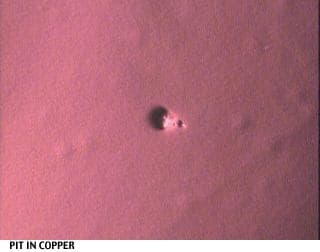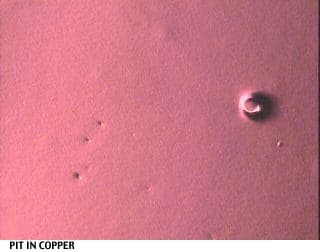 Regards,
Daniel Kissel
[returning]
electronics manufacturer - Northrige, California
---
2004
A. Looks like the pits may be due to gas bubbles. Could be due to inadequate agitation and/or inadequate wetting.

Trevor Crichton
R&D practical scientist
Chesham, Bucks, UK
---
2004
A. YES, MOULDING PROBLEM. FOR GOOD QUALITY PLATING, SPECIAL PLATING GRADE ABS MOULDING COMPOUNDS ARE PREFERRED. PROCESS SEQUENCE WHICH I HAVE OBSERVED.
BUFFING
ALKALINE CLEANING
W.R
ACID DIP SULPHURIC ACID.
W.R
ETCHING , CHROMIC ACID + SULPHURIC ACID, AIR AGITATION, TEMPERATURE 55 TO 70 °C.
W.R
W.R
W.R
HCl DIP
W.R
PRE ACTIVATION
ACTIVATION palladium + TIN
W.R
POST ACTIVATION
W.R
ELECTROLESS NICKEL
W.R
JIGGING
ACTIVATION ACID
W.R
COPPER PLATING, ETC.,
NOTE: ETCHING STAGE IS VERY IMPORTANT, 80% OF PROBLEMS GET SOLVED IF THIS STAGE IS DONE PROPERLY. DURING MOULDING GAS BUBBLES GETS TRAPPED IN ETCHING THEY BECAME PIN HOLES. SO BUFFING SOLVES THIS PROBLEM.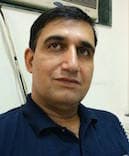 Ajay Raina
Ludhiana, Punjab, India
---
September 25, 2011
Q. I'd like to thank you about your answers, but I need to ask you about the Process sequence which you have observed.
I couldn't understand that Jigging step after Electroless Nickel, and to know how many percent of acid in Activation Acid tank before the Copper Plating process?

Best regards
Feras Sroujieh
- Gaziantep, Turkey
---
A. Hi Feras. In some cases the platers rack the parts only once and convey them through all the steps without re-jigging. But in other cases (which you and I are less familiar with) platers rack the parts for electroless nickel plating, and then re-rack them in a different fashion for the electrolytic processes. Presumably, Ajay is describing the latter case.
Regards,
Ted Mooney, P.E. RET
finishing.com
Pine Beach, New Jersey
Striving to live "Aloha"
---
---
Stardust, pitting, and bubbles in chrome plating of ABS
June 26, 2015
Q. Respected sir,

Problems in ABS plating we are facing:
- fine star dust, pitting and bubbles

Note:
After moulding we are doing acetic acid test; our part's surface area totally white spot so that in which reason pitting, star dust and bubbles?

Please advise me. Thanks a lot.
Muhammad Amir
automotive - Karachi Pakistan
---
---
Defects in chrome plating on plastics, and pass/fail criteria
January 18, 2016
Q. Dear Sirs,
I'm working on a Quality Standard document where any type of Chrome Defects in Plastic parts for the automotive industry would be reflected.
Question:
Can someone help me to identify which are the common Chrome defects on a substrate part?
And admissive measurement areas if applicable for each one of the defects?

Thank you for your understanding.

Kind Regards,
Ricardo S
[last name deleted for privacy by Editor]
- Birmingham , UK
---
January 2016

Hi Ricardo. Readers are encouraged to help you, and I hope they do. Still, with all the Q & A's on this page, and dozens of similar pages here which deal with defects in chrome plating of plastics as an introduction to the breadth of the subject, I don't think you'll get that book written short of retaining a consultant to do it :-)
Just in the first 20 seconds of thinking about it, we have blisters and peeling, stardusting, whitewash, pitting, incomplete plating coverage, nickel show, rack marks, staining ... and hopefully folks will remind me of a few others :-)
Luck and Regards,
Ted Mooney, P.E. RET
finishing.com
Pine Beach, New Jersey
Striving to live "Aloha"
---
---
June 22, 2017
Q. About the plastic ABS plating I know the surface quality is very important in acid copper plating (pitting, roughness, matt finish ,etc.)
I have no problem in plastic pretreatment and I saw defect or good surface after copper plating. I used good PP bagged anodes; I did 3 A/dm2 for current density; I have two filter cartridges for filtration; I don't know the chloride concentration in tank.
A person said to me use a disk filter. My solution colour is blue; I think there is no organic contamination. The concentration of copper sulfate is 200 gr/litre and sulfuric acid is 70 gr/litre.
The plastic surface is okay, there is no pitting. I see pitting in copper plating.
Carbon treatment in cartridge system can help me and afterwards I have a Hull Cell for solution regulation.
Please tell me all the parameters that help me, the best condition for production, and control of solution, and the condition of anode copper-phosphor. Thanks a lot. Best regards.
asghar norouzi
- tehran,iran
---
July 10, 2017
A. Hi Asghar,

Common causes of acid copper pitting are high current density, air entrapment in filtration, improper cleaning or residue remaining on surface, organic contamination. You may reduce current density, release air entrapment inside circulation/filtration system, check or re-makeup pretreatment chemical (e.g. cleaner) and monitor organic contamination from time to time (e.g. TOC analysis).

Regards,
David

David Shiu
- Singapore
---
---
Acid copper pitting in HCD areas even at low current
December 18, 2018
-- this entry appended to this thread by editor in lieu of spawning a duplicative thread
Q. I am facing problem of pitting on high current density area in acid copper. I have done carbon 2/3 times but no improvements. I have tried plating in low amps also. Please give me solution.


Yogesh Bapat
Piyush Enterprises - PUNE, MAHARASHTRA, INDIA
---
December 2018
A. Hi Yogesh. We appended your question to one of several threads about pitting in acid copper plating. David has just answered, but your situation is not clear to me, so please clarify it --
You say you get pitting in the high current density area even when you plate at low current. In other words the pitting occurs only at corners (where current density is highest), but the problem is actually unrelated to the current density?
Have you plated any Hull Cell panels? Do you know your chloride content? Do we understand your parts to be plastic? Thanks.
Regards,
Ted Mooney, P.E. RET
finishing.com
Pine Beach, New Jersey
Striving to live "Aloha"


If you have a question in mind which seems off topic, please Search the Site