topic 30351
Want list of RoHS compliant metals and finishes
(2004)
Q. Is there a website somewhere I can look for a list of metals and metal finishes that would tell me whether or not they are RoHS (Reduction of Hazardous Substances) compliant (do not contain lead, mercury, cadmium, hexavalent chromium, PBB or PBDE?)
Ari Ito
manufacturer - San Carlos, California, USA
---
(2004)
A. The following sites provide some guidance.
https://bomdetail.services.ibm.com/matcodes/matcodes.nsf/pages/mat41.htm
https://bomdetail.services.ibm.com/matcodes/matcodes.nsf/pages/mat06.htm
Michael Young
Quantum - Colorado Springs, Colorado
----
Ed. note: As often happens, these links are not working some years later :-(
May we ask that when leaving future links, readers please try to briefly summarize them, or include Titles of the articles? We are trying to build a permanent reference archive, but most sites aren't, so the links are often a problem :-)
---
March 6, 2014
A. Ted: In case anybody's interested, the links from the old 2004 post can still be viewed via the wayback machine at archive.org
Although I suspect with the constantly changing finishing world, all such "master lists" fall out of date rapidly anyway. As you said in your recent post, it's not terribly difficult to determine if a given coating process meets RoHS or not.

Ray Kremer
Stellar Solutions, Inc.
McHenry, Illinois
---
March 2014

Thanks Ray. Great point about the Wayback Machine! I enjoy the nostalgia of looking at the early days of my own site there, but often forget to look for outdated documents there.
Heeding my own advice, those documents are entitled "Platings, Anodizings, Coatings" and "Carbon Steels" and they summarize the RoHS compatibility of IBM codes and specifications.
Regards,
Ted Mooney, P.E. RET
finishing.com
Pine Beach, New Jersey
---
---
February 28, 2014
-- this entry appended to this thread by editor in lieu of spawning a duplicative thread
Q. I would like to know RoHS compliant finishes on fasteners and also the materials that can be used for making fasteners.
Is there a website somewhere I can look for a list of metals and metal finishes that would tell me whether or not they are RoHS (Reduction of Hazardous Substances) compliant (do not contain lead, mercury, cadmium, hexavalent chromium, PBB or PBDE?)
Sridharan Kathiravan
- Chennai,Tamil Nadu,India
---
February 2014
A. Hi Sridharan. Up to a point, RoHS requirements are easily applied in process-of-elimination fashion:
- Lead is a problem, so most tin-lead solder plating is problematic, and leaded brass material and other "free cutting" materials that include lead can be a problem.
- Mercury is a problem but isn't often found to my knowledge in fasteners or coatings for fasteners.
- Cadmium is a problem, so cadmium plated fasteners are out.
- Hexavalent chrome is a problem, so chrome-bearing conversion coatings on aluminum and on zinc alloys must be trivalent chrome.
Where it gets trickier is with coatings that may have trace ingredients that exceed RoHS standards. A few years ago electroless nickel platings could be a problem because they contained small amounts of lead and or cadmium. So today one has to be careful to specify that the electroless nickel coatings must be RoHS-compliant. Some galvanized coatings might have excessive lead beyond what is permissible.
After you limit yourself to materials that are not "obviously" out of compliance, careful checking plus specific assurances from the provider are required. Good luck.
Regards,
Ted Mooney, P.E. RET
finishing.com
Pine Beach, New Jersey
---
---
April 2, 2014
Q. Is PASSIVATE PER MIL-S-5002 C, TYPE 1 finish RoHS compliant? If it is not then what would make it RoHS compliant?
Please reply for this question.
Trevor Athayde
- Goa,India
---
April 2014
A. Hi Trevor. If I am correct, that spec was superceded in 1989 by Revision D, so you probably ought to try to update to a recent spec if possible, but at least its 1989 replacement, MIL-S-5002 [link by ed. to spec at TechStreet].
But the thing is, the spec you are referencing, "Surface Treatments and Inorganic Coatings For Metal Surfaces of Weapons Systems", is more about general metal finishing methodology than specific finishes. In fact, it covers at least "passivation" of zinc platings with chromate conversion coatings and "passivation" of stainless steel. So it really isn't possible to answer your question of whether the passivation that you have in mind is RoHS compatible. Please explain your situation and we can probably help you. Good luck.
Regards,
Ted Mooney, P.E. RET
finishing.com
Pine Beach, New Jersey
---
May 22, 2014
A. When I look up standards with the number 5002 at ASSIST Quicksearch (http://quicksearch.dla.mil) it gives me MIL-DTL-5002 rather than MIL-S-5002. I'm not sure what the distinction is, they seem to both have the same title.

It's actually up to revision E in 2011.

If we are talking about stainless steel here, all it does is refer to QQ-P-35 (rev D and earlier) or ASTM A967/AMS 2700 (rev E). So stainless passivation per MIL-S-5002C TYPE 1 is really asking for passivation per QQ-P-35 Type I.

All stainless passivation is RoHS compliant, because it is not an additive process. The chemical bath does not add anything to the surface, much less any of the substances on the RoHS "naughty list". Stainless passivation is a process of removing surface iron to allow a chromium oxide layer to form.

Ray Kremer
Stellar Solutions, Inc.
McHenry, Illinois
---
---
February 26, 2015
Q. Is CADMIUM PLATING PER SPEC QQ-P-416, TY II, CL2 finish RoHS compliant? Please suggest some alternate RoHS compliant finishes for the Cadmium plating mentioned.
Sridharan Kathiravan
- Chennai, Tamil Nadu, India
---
February 2015
A. Hi Sridharan. That plating is surely not RoHS compliant both due to the presence of cadmium and hexavalent chromium. The spec suggests many potential alternatives: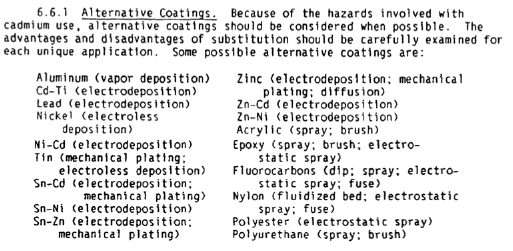 The thing is, there is no "general" alternative to cadmium plating because it offers corrosion protection, sacrificial protection to steel, low stick-slip qualities on torquing, galvanic compatibility with aluminum, no bulky or sticky corrosion products, fungus resistance, and more ...
So what has to be done is to determine which of the qualities of cadmium plating are vital to the particular application, and select an alternative which will offer those qualities. If you tell us the exact application, we may be able to help. Good luck.
Regards,
Ted Mooney, P.E. RET
finishing.com
Pine Beach, New Jersey
---
December 20, 2016
A. Cadmium is a banned substance, but please read the RoHS standard, there are many exclusions. This is a European Directive, if the product will not be shipped into the EU you may have regulatory problems but not with RoHS.

The EU allows exemptions and exclusions for Large Scale Industrial Tools (LSIT's), Large Scale Fixed Installations (LFI's), military and defense hardware, and space based equipment among other categories. There are also mass percentage thresholds on all these materials. The directive is available online, a lot of legalese but is helpful.
Charles Vice
- Irvine, California USA


This public forum has 60,000 threads. If you have a question in mind which seems off topic to this thread, you might prefer to Search the Site