Live! From Pine Beach NJ: The world's most popular metal finishing website, and the internet's friendliest corner
topic 30186, p. 2 of 3
Lime-Away destroyed stainless steel sink
A discussion started in 2004 but continuing through 2019
---
---
March 19, 2009
Q. I have a polished stainless steel sink and there are workers in my home that have made scratches on it. The scratches go in a circular motion. I have received numerous tips on products. They all say to go in the direction of the grain. Does that mean go in the direction of the scratches? Or against the scratches?
Jean Cavallari
- Brooklyn, New York
---
March 24, 2009
Q. I NOTICED SOME BODY/FACE PAINT ON MY STAINLESS STEEL COUNTER TOP & WHEN I WENT TO WIPE IT UP WITH WATER, I WAS LEFT WITH A DISCOLORED SPOT THAT APPEARS BRIGHTER, AS THOUGH I BLEACHED IT. IS THERE A WAY TO REPAIR THIS?
EVA HICKEY
DESIGNER, HOMEOWNER - METAIRIE, Louisiana
---
---
February 25, 2010
Q. Last year we put up tile in our kitchen as a backsplash and the grout residue was cleaned off the sponges in my stainless steel sink. After this I noticed that the side that was used to clean the grout filled sponge has a film/haze on it. Can you tell me if there is a product or way for me to remove this film from my sink?
Lisa Sides
homeowner - Maryland Heights, Missouri
---
April 5, 2010

Your commercial showing a parent lying in front of her child shows poor judgment.

Kay Benjamin

,

Los Angeles, California

---

Ed. note: Hi, Kay. Google serves ads based on geography, bids, the reader's profile, and other factors, so I can't see that ad. Was the parent "telling a falsehood" or "in a prone position" (immodestly clothed?)
Students visit this site, so we block all ads of a sexual nature and keep the site child-friendly. If you can tell us the advertiser or any further info, we can block them; otherwise we're kind of stuck on what to do. Thanks.

---
June 30, 2010
Q. I used Lime-Away on my fridge water/ice dispenser and it dripped down the front and left drip stains on my stainless steel. Can I use Car Polish to get rid of it?
Vanessa Gionis
- Sugar Land, Texas, USA
---
---
November 22, 2011
Q. I have been finding small black spots on my new stainless steel sink. They are surrounded by a brown stain which gets bigger the longer the brown stains remain. I have scrubbed off the brown (frankly it looks like rust but is smooth) and the black spots remain. I thought I did something but last night I found more black dots with the brown rusty rings. I didn't do anything but put water in a dog bowl.

Does anyone know what causes these spots?
Eileen Mckenna
new home owner - Gardiner, New York
---
February 8, 2012
Q. I spilt limescale remove on my stainless steel sink and Brasso wadding got rid of the black marks. Takes a bit of elbow grease - have to keep using the wadding to polish the stainless steel (until it goes black) then wipe the surface clear and start again with a fresh piece of wadding. No sign of any black marks now and I've got a very shiny sink!!
Deb Flynn
- Sunderland, Tyne and \'Wear, UK
---
April 21, 2012
Q. I have a bathroom vanity with a "brass" colored metal sink and faucets. Because of the hard water, the sink how has some green spots, and hard water deposits.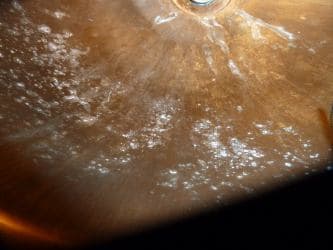 Click thumbnail for high resolution photo
What can I use to first, clean the spots and second, "finish" it so this will not occur in the future? Thanks.
Cynthia Edwards
- Houston, Texas
---
---
June 26, 2012
Q. I just purchased a house and the ring around the drain in the stainless steel sink where is shows the brand name of the sink was blackened/ dark in color so I used Bar cleaner for stainless steel and now it's turned blueish. Any ideas as to why and what I can do? Have I ruined the stainless steel? Thanks. Cindy
Cindy Greenslade
- Long Beach, California, USA
---
December 6, 2012
Q. I used Lime-A-way on my tile floor grout and some got on the tile and left a sticky film. How do I get it off?
Audrey Maes
- Antelope, California
---
---
March 17, 2013
Q. I have tried 5 popular stainless steel cleaners, lime away, fantastic ,vinegar water and vinegar baking soda mix for my drip stains from the ice maker on my new stainless steel fridge . . . nothing has worked. Would silver polish be an option? Very stubborn . . . not even a little better after spending so much on these possible solutions. Thanks for any thoughts.
Celeste Fasone
- Woodland Park, New Jersey, USA
---
August 4, 2013
Q. I spilled powdered pool shock on my stainless steel sink
now it is badly discolored with what looks like giant bleach spots. is there any help for this sink

It is a double undermount sink with a granite countertop
replacing it would be a lot of work and money.
Lisa Nueberg
- Freehold, New Jersey, USA
---
---


If you have a question in mind which seems off topic, please Search the Site