Live! From beautiful Pine Beach New Jersey: Welcome to the world's most popular metal finishing website
topic 30186, p2
Lime-Away destroyed stainless steel sink
A discussion started in 2004 but continuing through 2018
---
1 2
---
March 19, 2009
Q. I have a polished stainless steel sink and there are workers in my home that have made scratches on it. The scratches go in a circular motion. I have received numerous tips on products. They all say to go in the direction of the grain. Does that mean go in the direction of the scratches? Or against the scratches?
Jean Cavallari
- Brooklyn, New York
---
March 24, 2009
Q. I NOTICED SOME BODY/FACE PAINT ON MY STAINLESS STEEL COUNTER TOP & WHEN I WENT TO WIPE IT UP WITH WATER, I WAS LEFT WITH A DISCOLORED SPOT THAT APPEARS BRIGHTER, AS THOUGH I BLEACHED IT. IS THERE A WAY TO REPAIR THIS?
EVA HICKEY
DESIGNER, HOMEOWNER - METAIRIE, Louisiana
---
July 22, 2009
A. I went out and bought car polish tonight after googling "black stain from Lime-away." It doesn't take the stain completely away, but enough so that it's not noticeable. I used it just on my faucet in the kitchen to get rid of the build-up from the hard water.

By the way, I looked all over the bottle and saw nothing about a problem with stainless steel. Oi.
laverne Defazio
- Santa Barbara, California
---
July 11, 2009
A. My wife used bleach to clean the sink but left it to soak in, when she came back to it the sink was badly stained. We tried many cleaning products to remove the stains and failed. I was fixing a scratch on my Toyota with T-Cut compound and decided to try it on the sink, it worked a treat. The sink was completely stain free with the best shine we had ever seen on it even when new. While using T-Cut I also tried some Brasso [linked by editor to product info at Amazon], this also worked well.
I hope this helps someone. T-Cut or Brasso.
Derry O'Keeffe
- Ennis, Ireland
---
November 13, 2009
A. The problem with all the concerns with the stain in the stainless steel sinks are this. They are a low grade stainless and will not take kindly to harsh cleaners like Lime away. The elkays and Briggs sinks are low grade bought in bulk from overseas. The good grade stainless is very expensive $400 to $800. It is the thickness covering the sink. Even a new house will have a low grade sink in it unless you pay for the upgrade.
Chuck Crivella
- Reading, Pennsylvania
---
December 6, 2009
A. All these cleaning ideas are fine (especially the Simple Green [linked by editor to product info at Amazon], which is a great product), but when the problem is fine nuisance scratches where they should not be, we need an abrasive that will obliterate them.

Note the original finish on these sinks was very likely put there by use of a Scotchbrite pad on an industrial polisher. Scotchbrite is THE commercial stainless polishing medium. Virtually all "brushed" stainless is finished with Scotchbrite. It is polished in one direction to give it a grain effect.

Get a fine Scotchbrite pad and polish only in the direction of the grain. Go GENTLY at first until you see it is the right grit. If you think it scratches or tears up the surface, you're using too coarse a grit, so to fix it just go to a finer grit.
Bill Kincaid
St. Louis, Missouri
---
January 24, 2010
A. Just had this problem of a limescale-removing bleach spilling on a stainless steel sink. I found that Autosol [linked by editor to product info at Amazon] metal polish did a good job in removing it.
Jack Doughty
- Cullompton, Devon, United Kingdom
---
February 12, 2010
A. Hope's [linked by editor to product info at Amazon]Stainless Steel Polish works very well. Needs elbow grease and patience but it will bring up most stainless sinks very nicely. Hard to find - I order it on the Web.
Cameo, also applied multiple times. On really, really bad stain, made from contact of Tarnish liquid silver polish wash, I had to use Brasso, again repeatedly.
Mary E. Robinson
- Lake Worth, Florida
---
February 25, 2010
Q. Last year we put up tile in our kitchen as a backsplash and the grout residue was cleaned off the sponges in my stainless steel sink. After this I noticed that the side that was used to clean the grout filled sponge has a film/haze on it. Can you tell me if there is a product or way for me to remove this film from my sink?
Lisa Sides
homeowner - Maryland Heights, Missouri
---
March 18, 2010
A. Most all grout cleaners on the market today contain corrosive acids which will damage the appearance of Stainless steel.
adv.
Scratch-B-Gone (just using our gray pad and Ultra Shine proprietary chemical will quickly and permanently remove this discoloration.

Barry Feinman
BarrysRestoreItAll
Carlsbad, California
---
April 5, 2010

Your commercial showing a parent lying in front of her child shows poor judgment.

Kay Benjamin

,

Los Angeles, California

---

Ed. note: Hi, Kay. Google serves ads based on geography, bids, the reader's profile, and other factors, so I can't see that ad. Was the parent "telling a falsehood" or "in a prone position" (immodestly clothed?)
Students visit this site, so we block all ads of a sexual nature and keep the site child-friendly. If you can tell us the advertiser or any further info, we can block them; otherwise we're kind of stuck on what to do. Thanks.

---
June 30, 2010
Q. I used Lime-Away on my fridge water/ice dispenser and it dripped down the front and left drip stains on my stainless steel. Can I use Car Polish to get rid of it?
Vanessa Gionis
- Sugar Land, Texas, USA
---
October 6, 2010
A. Vanessa, the harsh chemicals like CLR should never be used on stainless steel as they will compromise the chromium barrier of stainless and result in staining.

adv.
Scratch-B-Gone will restore the finish of damaged stainless. Best

Barry Feinman
BarrysRestoreItAll
Carlsbad, California
---
November 22, 2011
Q. I have been finding small black spots on my new stainless steel sink. They are surrounded by a brown stain which gets bigger the longer the brown stains remain. I have scrubbed off the brown (frankly it looks like rust but is smooth) and the black spots remain. I thought I did something but last night I found more black dots with the brown rusty rings. I didn't do anything but put water in a dog bowl.

Does anyone know what causes these spots?
Eileen Mckenna
new home owner - Gardiner, New York
---
February 8, 2012
Q. I spilt limescale remove on my stainless steel sink and Brasso wadding got rid of the black marks. Takes a bit of elbow grease - have to keep using the wadding to polish the stainless steel (until it goes black) then wipe the surface clear and start again with a fresh piece of wadding. No sign of any black marks now and I've got a very shiny sink!!
Deb Flynn
- Sunderland, Tyne and \'Wear, UK
---
April 21, 2012
Q. I have a bathroom vanity with a "brass" colored metal sink and faucets. Because of the hard water, the sink how has some green spots, and hard water deposits.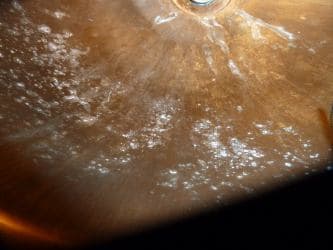 Click thumbnail for high resolution photo
What can I use to first, clean the spots and second, "finish" it so this will not occur in the future? Thanks.
Cynthia Edwards
- Houston, Texas
---
May 2, 2012
A. Cynthia, what you have is corrosion due to reaction with the copper base metal (brass contains copper) which results in 'green' staining. BarrysRestoreItAll specializes in DIY cleaning solutions for Stainless and copper based materials. Just give us a call to discuss

Barry Feinman
BarrysRestoreItAll
Carlsbad, California
---
June 26, 2012
Q. I just purchased a house and the ring around the drain in the stainless steel sink where is shows the brand name of the sink was blackened/ dark in color so I used Bar cleaner for stainless steel and now it's turned blueish. Any ideas as to why and what I can do? Have I ruined the stainless steel? Thanks. Cindy
Cindy Greenslade
- Long Beach, California, USA
---
December 6, 2012
Q. I used Lime-A-way on my tile floor grout and some got on the tile and left a sticky film. How do I get it off?
Audrey Maes
- Antelope, California
---
December 7, 2012
A. Hi Audrey. Lime-A-Way is designed to be a tile cleaner, not something you must avoid getting onto your tile. I think there is something else going on.
Regards,
Ted Mooney, P.E.
finishing.com
Pine Beach, New Jersey
---
February 20, 2013

I came to this site looking for a answer to my problem with Lime Away on Stainless Sink. Well, someone recommended car compound, so I bought Meguiars Compound in a bottle and could not believe it worked! I have tried so many things but this took out the stain, you can see the black on the rag, and it's so shiny! I hope this helps someone else because I thought I had to buy a new sink. No more Lime Away near the sink.
Sharon Risley
- West Palm Beach, Florida, USA
---
March 17, 2013
Q. I have tried 5 popular stainless steel cleaners, lime away, fantastic ,vinegar water and vinegar baking soda mix for my drip stains from the ice maker on my new stainless steel fridge . . . nothing has worked. Would silver polish be an option? Very stubborn . . . not even a little better after spending so much on these possible solutions. Thanks for any thoughts.
Celeste Fasone
- Woodland Park, New Jersey, USA
---
August 4, 2013
Q. I spilled powdered pool shock on my stainless steel sink
now it is badly discolored with what looks like giant bleach spots. is there any help for this sink

It is a double undermount sink with a granite countertop
replacing it would be a lot of work and money.
Lisa Nueberg
- Freehold, New Jersey, USA
---
September 17, 2013
A. For water stains on the stainless fridge, use WD40. Yep ... I tried EVERYTHING and this works great. I now clean all stainless steel products with WD40.
Billie Dias
- Kapaa, Hawaii
---
February 23, 2014

I am so grateful for the tips on the car polish and the Nevr Dull -- it saved my brand new stainless steel sink that was damaged and turned black when I used Zap to spray some other glass item over my sink. Both worked like magic to erase and shine my sink back. It took some elbow grease but worked great. I had a previous sink stain and did not know what did it and could not clean it until this happened again with my new sink.
mona samaan
- foxboro Massachusetts usa
---
June 13, 2014
A. I had the same problem..."Lime Away" residue on my stainless steel sink; I used "Cape Cod"
metal polish [link is to product info on Amazon] ... worked like a dream ... no more dark stain. Does require a little elbow grease. Hope this helps someone.
Tina Strong
- Las Vegas, Nevada
---
June 15, 2014
Q. I used OxyClean to get rid of stains in the sink, and it has stripped off the coating. Is there any way to fix this?
Des Cooper
- Vancouver, Canada
---
June 2014
A. Hi Des. Stainless steel is solid all the way through, rather than coated. What kind of coating do you have or think you had on a stainless steel sink?
Regards,
Ted Mooney, P.E.
finishing.com
Pine Beach, New Jersey
---
September 22, 2014
Q. I read on Pinterest that I could rub a cut open lemon to erase water streaks on my stainless steel. I did this a few times and it worked great. I rubbed the lemon on the areas and promptly wiped off the appliances with warm soapy water. It shined like new.
Recently, I had several water lines running down my refrigerator door. I used my lemon technique and it didn't come off completely, only took some of it away. I thought I should let the lemon sit on the fridge a little longer ... got distracted, FORGOT about it and noticed it dried on the spots the next day. When I cleaned with warm soapy water, the stainless steel now appears as one big light circle on the door (lighter than the original stainless steel color). The fridge is only a year or so old. Have I ruined it? Is there any way to clean it with something that will make the color look even throughout? I want it to appear as dark as the rest of the stainless steel. HELP! Can't afford to buy a whole new fridge (Whirlpool Gold). I have a photo but the link to send it would never open?
Rebecca Nielsen
- Mechanicsville, Virginia, USA
----
Ed. note: We aren't seeing the problem with the link, but please e-mail the pic to . Thanks.
---
October 30, 2014
Q. How can I get marks off of my stainless steel hob? It was cleaned by mistake with cillit bang and this has left marbling marks.
Eileen miller
- London, England, United kingdom
---
---
March 2, 2015
Q. Hi, I used Barkeepers Friend on my oven racks and left it on overnight, now my new SS sink has white blotches all over. Any suggestions to get it looking new again?
Michelle Perl
- Atlantic Beach, New York
---
February 2015
A. Hi Michelle. On this page you'll see recommendations for brands a, b, and c; and if you read other threads you'll see recommendations for brands x, y, and z --which will include Barkeepers Friend as the solution to the problem you describe :-)
Actually, many of these cleaners are combinations of abrasives and mild acids which, if used as scouring agents, will clean stainless steel ... but if allowed to sit in one spot for hours, the acid will discolor the same stainless steel.
Cleaning the whole sink with a scouring action, whether you use Barkeepers Friend or a different cleaner, will eventually even it out. But if that's too much work, you may need help from a buffing pad on a battery operated drill, or a stronger abrasive like the Scratch-B-Gone. Good luck.
Regards,
Ted Mooney, P.E.
finishing.com
Pine Beach, New Jersey
---
April 2, 2015
A. This is the perfect solution. I have found the perfect product that does not harm hard surfaces/fixtures (non porous) and just melts away hard water deposits: it's called "descale it". You just spray it on or wipe it on and let it set as long as needed to dissolve it. It's non abrasive. I have removed the aerators on my bath faucets that were crusted with hard water deposits and let them soak in a bowl with "descale it" for a while periodically working the deposit off and looks brand new now without harming the finish. I originally discovered this product in a pool supply store as a cleaner for fiberglass spas which is very scratchable service with most other cleaners. It's available in hardware stores in the cleaners section (just ask the attendant). You can't go wrong with this product. Just polish to a shine when you're done. I periodically treat all areas where I have water contact as part of my maintenance. I also use in my rentals to bring them back to new condition.
Dee Demarest
- Peoria Arizona
---
June 8, 2015
A. Bar Keepers will clean stainless. All the over the counter cleaners are useless and leave residue. So you may need to do this twice. With a damp cloth just touch the top of can and tip upside down. Wipe down stainless and rinse off with water. Yes water it is the same as your sink. Black will come off try a second time until all the black is gone. ALWAYS WITH THE GRAIN! Then polish with soft clean cotton towel. If you mess up try again. Get all the Bar Keepers off. . if you have a really dirty surface get it good. After once a month or little touch ups should do. On my sink I use more always with the grain. If you use your sink a lot it will eventually have a wonderful patina like your rings. If you put racks and rubber etc on it you will never see this only the few scratches. NEVER USE ABRASIVES ON ANYTHING. THROW THEM OUT. YESTERDAY.
CLR for lime deposits is good try a qtip. Don't squirt or pour it on. They took the acid out. But sadly, if you have hard water you need to wipe off that granite. Try CLR first on one of your granite scraps or under the lip.
If all else fails call the installer and ask to be resealed; they will not come for the small job. BUT MY ADVICE IS USE YOUR KITCHEN LIKE YOUR MOM DID ... HARD ... BECAUSE THIS LIFE IS NOT A DRESS REHEARSAL.

carole S
[last name deleted for privacy by Editor]
- los gatos California usa
---
December 16, 2015
A. In response to the black stainless steel as a result of lime remover. I THINK I HAVE THE ANSWER!!! Long story short, I thought I wrecked a $150,000 commercial dishwasher. I rushed to the local Ace Hardware and brought back several metal cleaners and polishes. The one that worked...FLITZ Polish and Tarnish Remover. Small grey tube. What a miracle worker!
Rob Prestwood
- Sparta, Wisconsin
---
January 15, 2016
A. Yes, I used an alkaline drain cleaner and it destroyed our stainless steel sink. AND it did not unclog the drain. We used 3 chemical bottle to try and nothing.
We plunged. We got the snake and not even a drop was going through.
We only were in this home for a couple of months.
1st. Chemical drain openers don't work on grease, especially deep down.
2nd. If it's not in the trap call a plumber, they saved us flooding our home and well worth the money!
3rd. Now we are using enzymes that eat the little grease that will get down there and no more nasty chemicals that almost did us in!
Okay now the drain is cleared but the sink is an ugly grey, black and dull. I tried Fantastik, Vim, Baking Soda, Easy Off Oven cleaner. NOTHING worked. then I read this website in desperation.
COMPOUNDING CAR POLISH WORKED A MIRACLE! My sink is shiny again, not dull grey but shiny! The brand I found in the garage was Turtle and it's easy to use. It's the rubbing compound kind.
Hope this helps someone else like it's helped us!
Thanks everyone!
Sammi Wiebe
- Vancouver, BC, Canada
---
July 15, 2016
A. Toothpaste also worked on my black stained sink :)
nooshin akbarzadeh
- tehran iran
---
February 12, 2017
A. I had some Flitz and thought: if it cleaned silver, it might help my sink that I had etched with LimeAway. Worked like magic.
Janice Carlson
Mrs. - Holcomb, Illinois
---
April 24, 2017
A. So I'll just add my experience to this thread, which is a little different than most I've read here. My toilet has bad lime under the rim that looks dirty. I have tried everything, but this time I used stainless steel pad on porcelain while there was LimeAway in the bowl, and it discolored the porcelain. Some kind of stainless steel plating. Don't do this! ;)
Deni Boardman
- San Bernardino, California, USA
---
August 31, 2017
A. Hey guys.

I had the dull stains on my stainless steel sink and after seeing a few posts here, thought that I would try something I have at home. I have Cape Cod cleaning/polishing cloths.

I bought it specifically to polish the steel parts of my watch but can confirm that it worked on my sink, with a bit of effort!
Rob Levy
- Valencia, Spain
---
---
March 5, 2018
Q. Hi, I wrongly used my toilet cleaner in my stainless steel sink now there are patches in the sink which is dark black color and I don't know what to do. Tell me how to get rid of these?
Eraiarul Vajravel
- Edmonton, Alberta, Canada
---
March 18, 2018
A. Lime out stained stainless steel sink. I used harleydavidson metal polish; came out looking like new. It's not just for bikes.
Flora Rose-Phillippi
- new york, USA
---
---
April 20, 2018
Q. My stainless steel kitchen sinks are over 30 years old and are now causing a grayish tint to white towels when I dry them. What's happening? How can I make this stop? I tried baking soda and vinegar to clean them and it didn't help.

Sandy Martinez
- Los Alamos, New Mexico, USA
---
August 2, 2018

Thank you for answering my question. Our Stainless steel sink in our 2 year old motor home seemed to have some build up of lime or calcium as well as did the porcelain sink and toilet. I had used Lime Away at home and so bought some and it worked well on the bathroom sink and toilet. So I headed to the kitchen and after cleaning with a bleach spray and rinsing (I know now, no bleach), I used the Lime Away. I know now that I used too much and left it longer than needed and the stainless dulled and smells like steel. So, then I read the bottle (Hindsight is 100%), and small white print says "Toilet cleaner! " I think it is a different formulation than the old Lime Away.
So I am off to buy my Bar Keepers and polish and getting rid of all the caustic cleansers in my motor home!
Wish me luck!

Rosalie Jensen
- East Wenatchee, Washington, USA
---
August 2018
! Hi Rosalie. Thanks for reminding other readers that something that happens all the time these days is that if a manufacturer achieves name recognition for one of their products, they then put that name on their whole product line. So, if you hear a recommendation about a product, you have to be really careful that they're talking about the same thing because the tradename will be on all sorts of products.
I recently bought "Vicegrip" brand channel lock (style) pliers. I've read that confusion between traditional generic tool names vs. tradenames has caused some problems for fire departments finding themselves with the wrong equipment on hand.
Regards,
Ted Mooney, P.E. RET
finishing.com
Pine Beach, New Jersey
Striving to live "Aloha"
---
August 7, 2018
A. Cleaning a stainless steel sink:
Mix 1 cup of distilled white vinegar with 1/4 cup cream of tartar. Be sure to mix this in a glass or plastic container (no metal). Use the mixture as a scrub for your stainless steel sink and rinse with warm water. Your sink will shine! I also use this mixture on my pressure canner, stainless steel bowls and stainless flatware. It even removes the dark tomato stains from my stainless steel canner.

Jan Bose
- Grand Island Nebraska


If you have a question in mind which seems off topic, please Search the Site