topic 30186
Lime-Away destroyed stainless steel sink
A discussion started in 2004 but continuing through 2018
(2004)
Q. I used Lime-Away on the "crust" around my sink faucets, and got some on my stainless steel sink. Now the stainless steel has turned black, and stainless steel cleaner does nothing for the problem. Is there a product that will restore my new sink?
Tim H
[last name deleted for privacy by Editor]
homeowner - Fort Scott, Kansas
---
(2004)
A. Try to clean it with a cleanser like Bon-Ami [linked by editor to product info at Amazon].
Simon D
[last name deleted for privacy by Editor]
- Roseville, Minnesota
---
(2004)
A. Lime Away is very hard on stainless steel. I think they have a warning on the bottle about this.
You can get rid of the lime stains with a citric cleaner safely, but once you have the black surface from the LimeAway it is very hard to fix. Best solution most people find with safe materials is to refinish the steel with ScotchBrite (TM) or similar non-iron containing abrasive. It will be some work. You can use an electrical polisher, of course. This all depends on whether your sink surface is capable of doing the mechanical process.
Lee Kremer
Stellar Solutions, Inc.
McHenry, Illinois
---
(2004)
A. Use car polish (not wax), a good amount of clean cotton rags, effort and a lot of patience. It will shine again.
Guillermo Marrufo
Monterrey, NL, Mexico
---
(2004)
Q. I have a question regarding stainless steel sinks. I have a new Elkay sink that was installed in my home during a recent remodel. Shortly after we finished construction, I noticed some deep scratches in the finish. I was told to use water proof metal sandpaper w/ a cleaner/polish as an agent to remove the scratches. In the process, I actually created some hazy areas in the sink and I am unable to recapture the original finish. Is there anyway to refinish or buff out this hazing and the scratches?
Dan E
[last name deleted for privacy by Editor]
homeowner - San Mateo, California
---
(2006)
Q. I used Lime Away to clean a hot glue gun (long long story) & when I was done I rinsed out the sponge, put it in the stainless steel sink and forgot about it till about 18 hours later when I hear my mom scream. Where the sponge was laying is discolored; apparently I didn't rinse it out well enough. I didn't know it would hurt the sink so didn't rinse it out that much. A little of the discoloration is dull medium-gray but most of it is only slightly dull gray.

I read the responses to the first/starting question and was wondering if anyone knew what brand of car polish (if it matters) should be used.
Katie S
[last name deleted for privacy by Editor]
- Lutz, Florida
---
(2006)
A. I don't think the brand will matter nearly as much as that you want polish (abrasives, cutting action), not wax.
Ted Mooney, P.E.
finishing.com
Pine Beach, New Jersey
---
(2006)
-- this entry appended to this thread by editor in lieu of spawning a duplicative thread
Q. I used Don Aslett's shower and stuff for my stainless steel sinks. It contains phosphorus and acid as far as I remember. Forgot the stuff on the sinks and let it dry. Now my sinks are discolored. One worse than the other. I used fine 0000 steel wool [linked by editor to product info at Rockler] and Barkeepers Friend [linked by editor to product info at Amazon], which made it better. I can still see some black streaks. Is there anything I can use. I know that it is in the metal. Am I causing more problems using abrasives?
Joan S
[last name deleted for privacy by Editor]
housewife/ cleaner - St Martinville, Louisiana
---
(2006)
A. Don't use steel wool on stainless steel, Joan! I know it is hard to believe, but even the tiniest traces of plain steel will cause stainless to rust; stainless steel items receive a special chemical treatment called "passivation" before leaving the factory to dissolve any traces of plain steel left on them from contact with steel tooling during their manufacture.
If those green scotch brite look like they scratch the stainless and you don't want to use them, please try bronze wool =>
rather than steel wool. Good luck.
Ted Mooney, P.E.
finishing.com
Pine Beach, New Jersey
---
(2007)
Q. Hi,

Stainless Steel Black / Gray discoloration stains from Drano/ lemon juice/ hot water/ clogged drain cleaning process. We had a recent clogged drain in our kitchen sink. Like everyone, proceeded with several home remedies like hot water and lemon juice, Drano MAX, baking soda etc.

As the drain was clogged, it started fuming. Put a towel on it and called the plumber. 2 hours later, the drain was unclogged and the sink clear.

But now the sides of the sink (above water level) are badly discolored. I have tried Barkeepers friend, Vinegar etc to little and no effect. Cameo [linked by editor to product info at Amazon] seems to have limited success in making the stains a bit lighter.

Any suggestions? I read stuff about using Car polish. Will that help in this case?

Thanks so much
Bobby R
[last name deleted for privacy by Editor]
Consumer - Aurora, Illinois
---
(2007)
Q. Thanks for reading. While cleaning the water/ice dispensing portion of the fridge with Lime A-way, she failed to recognize that some of it had dripped off both edges, running the entire three feet down the front of the door to the bottom of the fridge. The fridge is a Whirlpool Stainless steel; Needless to say, two distinct lines running 3 ft each on the same door doesn't look great. Could somebody please give me some step by steps on how to repair this without settling for replacing the door. Thanks again.
Matthew C
[last name deleted for privacy by Editor]
hobbyist - O'Fallon, Illinois
---
(2007)

Q. Does anyone know if you can use lime away on granite - calcium buildup from hard water? I have very hard water - there is a calcium buildup around the bottom of my faucet on the
granite. Does anyone know if I can use lime away on granite. Does anyone know what I can use to remove this crusty build up? Thanks!

Donna C

[last name deleted for privacy by Editor]




consumer - Florham Park, New Jersey





---

June, 2007

A. I wouldn't try it if it were my granite counters, Donna! Not unless the supplier said it was okay. The color patterns in granite are from varying chemical compositions in the rock, and pending assurance from the manufacturer, I'd be concerned that some areas might have enough calcium and other light metals to be soluble in a calcium dissolver.

Letter 6901 includes an inquiry from a homeowner who now has a haze on her granite after using Lime-Away.




Ted Mooney, P.E.




finishing.com




Pine Beach, New Jersey




---
(2007)
Q. Adding a stainless steel coat to kitchen sink ? There was a chemical reaction in my kitchen sink which caused the stainless steel lining to be damaged. It appears the chemicals ate right through the top lining. Now the sink looks dull.
Derek Smith
contracting - Bergenfield, New Jersey
---
(2007)
A. Cameo [linked by editor to product info at Amazon]brand aluminum and stainless steel cleaner and lots of elbow grease almost made the discoloration marks disappear that were left behind from the Lime A-way.
Micca Wootten
- Blue Hill, Maine
---
(2007)
Q. Stainless Sink Bleach damage. I had some cleaner that leaked onto my stainless steel countertop. It's now all blotchy and cloudy. Is there any way to repair the damage? Will it wear away?
Cindy Strickler
consumer - Aldergrove, BC, Canada
---
January 12, 2008
Q. I put limescale remover into my stainless steel sink and now the sink has become discoloured. Is there anything l can do to restore the sink? Thanks so much.
Ciara Conneely
hobbyist - London, UK
---
February 13, 2008
A. Hi all, leaving chemical cleaners, which contain chlorine such as bleach and CLR, in the sink or counter for prolonged period will 'stain' Stainless steel.
adv.
Scratch-B-Gone will remove this easily and effectively.
Thanks and good cleaning.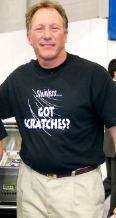 Barry Feinman
Restore It Yourself, Inc
Carlsbad, California
---
April 9, 2008
Q. I have used bleach on a stainless steel splash back which has scratched it how do I remove it please?
Mandy Palin
stainless steel splash backs - Crewe, UK
---
July 25, 2008
-- this entry appended to this thread by editor in lieu of spawning a duplicative thread
Q. My 5-year old building has lousy drains - the bathroom sink & tub need constant snaking, but the super always has something else to do.

So I recently tried a "clog blaster" that contains sodium hypochlorite and sodium hydroxide. It cleared the drain, but turned the metal drain ring gray and black. Is there any way to restore the metal shine? Would chrome polish work? (The sink is porcelain-covered cast iron and is OK).

Any suggestion are most welcome.
Karen Pesavento
consumer - New York, New York
---
July 30, 2008
-- this entry appended to this thread by editor in lieu of spawning a duplicative thread
Q. I have a stainless steel spoon that was used at work for eating yogurt. It has turned black. What causes this and is there any way to get the original color to return.
Toni Ryan
user - St. John's NL Canada
---
August 6, 2008
A. There is a product which will clean the sinks with less effort than most. It worked great for me. Look up cleanroot on the web.
Michael Butler
- Nashville Tennessee
---
October 9, 2008
Q. Well, I went and did it. I put lime away in my toilet. Then the phone rang and a minor emergency came up and yes... I left it in my toilet. Now I have big black etched marks which I have worked on to try and get rid of. Is there hope?
Sharon Lee
house wife - Northeast, New York
---
October 20, 2008
A. Wow! Here is a SOLUTION and it is FAST! I put Lime-Away in my sink and came back after working all day and my stomach felt sick! Brand new house,granite counter and stainless undermount sink! Well thank goodness my husband has something to fix everything so here you all and anyone new can do!

USE THIS PRODUCT.......from select hardware stores...."Nevr-Dull [linked by editor to product info at Amazon]" Magic Wadding Polish(small dark blue tin container, label white letters). It is a cotton that you tear off a small piece that has the polish on it. Go in the direction of the grain! Very important! Be sure the sink is dry. Rub very lightly and let the product do the work or it won't work! You will honestly see the black/gray drab area go away. Rinse with warm soapy water and dry the sink. My husband fixed this in about 15 minutes...I can't believe it and now I wish I would have taken a before and after to prove it. I hope this helps all who read! This was a miracle for me....
D. Allen
- Albany, Wisconsin
---
February 4, 2009
A. I have been cleaning homes professionally for over 6 years now, and 10 years prior to that was supervisor for Retirement home. I have used Limeaway to clean stainless steel sinks of a variety of ages and craftsmanship. I have never had this occur. What I wonder is, are the folks having trouble leaving it on the surface for any length of time? When I used Limeaway on anything, I apply it and promptly rinse it off. The only surface I have damaged happened to be a marble countertop, I assumed to be granite. It was easily repaired by sanding and buffing. Now I ask what countertops are made of. But one thing to remember about any cleaning product if you have not used it on a surface before, always do a test spot first. Also read the product instructions for use is a absolute must when using any product. Good Luck
Brenda Rupel
housekeeping - Sequim, Washington
---
March 4, 2009
A. Perhaps I can help. Without question - the best all-purpose cleaner I have found is Simple Green [linked by editor to product info at Amazon]. A gallon bottle will last for years and can be purchased at a discount club store for approx. $10.00. I use it to clean just about all surfaces (stainless steel, cooking grills, stove tops, etc...). It has many uses - just read the bottle. If I have a big build up of grease etc... I use a Scotch Brite pad (lightly) and that does the job. This is a concentrate - read the bottle for light, medium or heavy applications. It is also great on porch furniture (even the pads). After cleaning stainless steel - apply a polish.
By the way - I mix light, medium and heavy solutions in 32 oz. spray bottles - so I always have a ready supply. There are many other uses.

For those of you that have "hard water" like me. The way to clean mineral deposit build-up on fixtures is with distilled vinegar. Apply the vinegar with a Scotch Brite pad. I just cleaned my bathtub fixtures. I had a heavy build-up on the spigot, and now it looks new. It took me about 2 mins. to clean the spigot. I tried vinegar based on a recommendation from a friend, and because some of the commercial cleaners may cause damage.

I hope I have been of some help.
Tom Olson
- Bethel Park, Pennsylvania
---
1 2
---


This public forum has 60,000 threads. If you have a question in mind which seems off topic to this thread, you might prefer to Search the Site