Where the world gathers for
plating, anodizing, & finishing Q&As since 1989
Lime-Away damaged stainless steel sink

-----
Current postings:
I saw online that you clean the kitchen sink with lime-a-way & they say leave it for a few minutes. I leave it for 15 min. Now my sink changed to a little bit clean silver & black line. What do I do or use to change back my silver color?
Trisha Dao
House Cleaning - Anaheim,Ca
June 13, 2022
---
I did the same thing. I've scrubbed with comet and it looks terrible. I hope you get an answer and I'll be able to see it. It's a bummer because I just got a new faucet.
Good luck!
Wandie Rees
- Shawnee, KS
June 29, 2022
---
July 23, 2022
Q. @Sammi Wiebe I'm using the turtle rubbing compound like you did. I rubbed it on, so how long do you leave it on? Because you didn't say. Can you let me know?
Cheryl walton
- Nebraska
---
---
---
Closely related historical Q&A's, oldest first:
2004
Q. I used Lime-Away on the "crust" around my sink faucets, and got some on my stainless steel sink. Now the stainless steel has turned black, and stainless steel cleaner does nothing for the problem. Is there a product that will restore my new sink?
Tim H
[last name deleted for privacy by Editor]
homeowner - Fort Scott, Kansas
---
---
2004
Q. I have a question regarding stainless steel sinks. I have a new Elkay sink that was installed in my home during a recent remodel. Shortly after we finished construction, I noticed some deep scratches in the finish. I was told to use water proof metal sandpaper w/ a cleaner/polish as an agent to remove the scratches. In the process, I actually created some hazy areas in the sink and I am unable to recapture the original finish. Is there anyway to refinish or buff out this hazing and the scratches?
Dan E
[last name deleted for privacy by Editor]
homeowner - San Mateo, California
---
2006
Q. I used Lime Away to clean a hot glue gun (long long story) & when I was done I rinsed out the sponge, put it in the stainless steel sink and forgot about it till about 18 hours later when I hear my mom scream. Where the sponge was laying is discolored; apparently I didn't rinse it out well enough. I didn't know it would hurt the sink so didn't rinse it out that much. A little of the discoloration is dull medium-gray but most of it is only slightly dull gray.

I read the responses to the first/starting question and was wondering if anyone knew what brand of car polish (if it matters) should be used.
Katie S
[last name deleted for privacy by Editor]
- Lutz, Florida
---
---
2006
Q. I used Don Aslett's shower and stuff for my stainless steel sinks. It contains phosphorus and acid as far as I remember. Forgot the stuff on the sinks and let it dry. Now my sinks are discolored. One worse than the other. I used fine 0000 steel wool [affil. link to info/product at Rockler] and Barkeepers Friend [affil. link to info/product on Amazon], which made it better. I can still see some black streaks. Is there anything I can use. I know that it is in the metal. Am I causing more problems using abrasives?
Joan S
[last name deleted for privacy by Editor]
housewife/ cleaner - St Martinville, Louisiana
---
---
2007
Q. Hi,

Stainless Steel Black / Gray discoloration stains from Drano/ lemon juice/ hot water/ clogged drain cleaning process. We had a recent clogged drain in our kitchen sink. Like everyone, proceeded with several home remedies like hot water and lemon juice, Drano MAX, baking soda etc.

As the drain was clogged, it started fuming. Put a towel on it and called the plumber. 2 hours later, the drain was unclogged and the sink clear.

But now the sides of the sink (above water level) are badly discolored. I have tried Barkeepers friend, Vinegar etc to little and no effect. Cameo [affil. link to info/product on Amazon] seems to have limited success in making the stains a bit lighter.

Any suggestions? I read stuff about using Car polish. Will that help in this case?

Thanks so much
Bobby R
[last name deleted for privacy by Editor]
Consumer - Aurora, Illinois
---
2007




Q. Does anyone know if you can use lime away on granite - calcium buildup from hard water? I have very hard water - there is a calcium buildup around the bottom of my faucet on the
granite. Does anyone know if I can use lime away on granite. Does anyone know what I can use to remove this crusty build up? Thanks!

Donna C

[last name deleted for privacy by Editor]




consumer - Florham Park, New Jersey





---

June, 2007




A. I wouldn't try it if it were my granite counters, Donna! Not unless the supplier said it was okay. The color patterns in granite are from varying chemical compositions in the rock, and pending assurance from the manufacturer, I'd be concerned that some areas might have enough calcium and other light metals to be soluble in a calcium dissolver.

Letter 6901 includes an inquiry from a homeowner who now has a haze on her granite after using Lime-Away.




Ted Mooney

, P.E.




Striving to live Aloha




finishing.com - Pine Beach, New Jersey




---
---
2007
Q. Adding a stainless steel coat to kitchen sink ? There was a chemical reaction in my kitchen sink which caused the stainless steel lining to be damaged. It appears the chemicals ate right through the top lining. Now the sink looks dull.
Derek Smith
contracting - Bergenfield, New Jersey
---
---
2007
Q. Stainless Sink Bleach damage. I had some cleaner that leaked onto my stainless steel countertop. It's now all blotchy and cloudy. Is there any way to repair the damage? Will it wear away?
Cindy Strickler
consumer - Aldergrove, BC, Canada
---
January 12, 2008
Q. I put limescale remover into my stainless steel sink and now the sink has become discoloured. Is there anything l can do to restore the sink? Thanks so much.
Ciara Conneely
hobbyist - London, UK
---
---
April 9, 2008
Q. I have used bleach on a stainless steel splash back which has scratched it how do I remove it please?
Mandy Palin
stainless steel splash backs - Crewe, UK
---
July 25, 2008
Q. My 5-year old building has lousy drains - the bathroom sink & tub need constant snaking, but the super always has something else to do.

So I recently tried a "clog blaster" that contains sodium hypochlorite and sodium hydroxide. It cleared the drain, but turned the metal drain ring gray and black. Is there any way to restore the metal shine? Would chrome polish work? (The sink is porcelain-covered cast iron and is OK).

Any suggestion are most welcome.
Karen Pesavento
consumer - New York, New York
---
July 30, 2008
Q. I have a stainless steel spoon that was used at work for eating yogurt. It has turned black. What causes this and is there any way to get the original color to return.
Toni Ryan
user - St. John's NL Canada
---
---
October 9, 2008
Q. Well, I went and did it. I put lime away in my toilet. Then the phone rang and a minor emergency came up and yes... I left it in my toilet. Now I have big black etched marks which I have worked on to try and get rid of. Is there hope?
Sharon Lee
house wife - Northeast, New York
---
---
---
March 19, 2009
Q. I have a polished stainless steel sink and there are workers in my home that have made scratches on it. The scratches go in a circular motion. I have received numerous tips on products. They all say to go in the direction of the grain. Does that mean go in the direction of the scratches? Or against the scratches?
Jean Cavallari
- Brooklyn, New York
---
March 24, 2009
Q. I NOTICED SOME BODY/FACE PAINT ON MY STAINLESS STEEL COUNTER TOP & WHEN I WENT TO WIPE IT UP WITH WATER, I WAS LEFT WITH A DISCOLORED SPOT THAT APPEARS BRIGHTER, AS THOUGH I BLEACHED IT. IS THERE A WAY TO REPAIR THIS?
EVA HICKEY
DESIGNER, HOMEOWNER - METAIRIE, Louisiana
---
---
February 25, 2010
Q. Last year we put up tile in our kitchen as a backsplash and the grout residue was cleaned off the sponges in my stainless steel sink. After this I noticed that the side that was used to clean the grout filled sponge has a film/haze on it. Can you tell me if there is a product or way for me to remove this film from my sink?
Lisa Sides
homeowner - Maryland Heights, Missouri
---
---
April 5, 2010




Your commercial showing a parent lying in front of her child shows poor judgment.

Kay Benjamin

,


Los Angeles, California





---

Ed. note: Thanks for the suggestion, Kay. Students visit this site, so we've been blocking all ads of a sexual nature for years, and we work hard to keep the site child-friendly. But people always push the envelope and apparently someone squeezed something in at the margins :-(
Google serves ads based on geography, bids, reader's profile, and many other factors, such that I can't see the ad in question. But we can block it if we know about it! Was the parent "telling a falsehood" or "in a prone position" (immodestly clothed maybe)? Any idea who the advertiser was or what was being advertised? Thanks.

---
November 22, 2011
Q. I have been finding small black spots on my new stainless steel sink. They are surrounded by a brown stain which gets bigger the longer the brown stains remain. I have scrubbed off the brown (frankly it looks like rust but is smooth) and the black spots remain. I thought I did something but last night I found more black dots with the brown rusty rings. I didn't do anything but put water in a dog bowl.

Does anyone know what causes these spots?
Eileen Mckenna
new home owner - Gardiner, New York
---
February 8, 2012
Q. I spilt limescale remove on my stainless steel sink and Brasso wadding got rid of the black marks. Takes a bit of elbow grease - have to keep using the wadding to polish the stainless steel (until it goes black) then wipe the surface clear and start again with a fresh piece of wadding. No sign of any black marks now and I've got a very shiny sink!!
Deb Flynn
- Sunderland, Tyne and \'Wear, UK
---
April 21, 2012
Q. I have a bathroom vanity with a "brass" colored metal sink and faucets. Because of the hard water, the sink how has some green spots, and hard water deposits.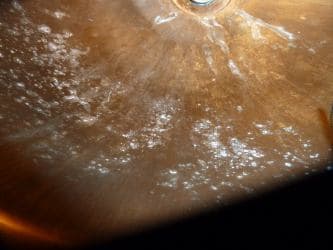 Click thumbnail for high resolution photo

What can I use to first, clean the spots and second, "finish" it so this will not occur in the future? Thanks.
Cynthia Edwards
- Houston, Texas
---
---
June 26, 2012
Q. I just purchased a house and the ring around the drain in the stainless steel sink where is shows the brand name of the sink was blackened/ dark in color so I used Bar cleaner for stainless steel and now it's turned blueish. Any ideas as to why and what I can do? Have I ruined the stainless steel? Thanks. Cindy
Cindy Greenslade
- Long Beach, California, USA
---
December 6, 2012
Q. I used Lime-A-way on my tile floor grout and some got on the tile and left a sticky film. How do I get it off?
Audrey Maes
- Antelope, California
---
---
August 4, 2013
Q. I spilled powdered pool shock on my stainless steel sink
now it is badly discolored with what looks like giant bleach spots. is there any help for this sink

It is a double undermount sink with a granite countertop
replacing it would be a lot of work and money.
Lisa Nueberg
- Freehold, New Jersey, USA
---
---
June 15, 2014
Q. I used OxyClean to get rid of stains in the sink, and it has stripped off the coating. Is there any way to fix this?
Des Cooper
- Vancouver, Canada
---
October 30, 2014
Q. How can I get marks off of my stainless steel hob? It was cleaned by mistake with cillit bang and this has left marbling marks.
Eileen miller
- London, England, United kingdom
---
---
March 2, 2015
Q. Hi, I used Barkeepers Friend on my oven racks and left it on overnight, now my new SS sink has white blotches all over. Any suggestions to get it looking new again?
Michelle Perl
- Atlantic Beach, New York
---
---
March 5, 2018
Q. Hi, I wrongly used my toilet cleaner in my stainless steel sink now there are patches in the sink which is dark black color and I don't know what to do. Tell me how to get rid of these?
Eraiarul Vajravel
- Edmonton, Alberta, Canada
---
---
April 20, 2018
Q. My stainless steel kitchen sinks are over 30 years old and are now causing a grayish tint to white towels when I dry them. What's happening? How can I make this stop? I tried baking soda and vinegar to clean them and it didn't help.
Sandy Martinez
- Los Alamos, New Mexico, USA
---
August 2, 2018

Thank you for answering my question. Our Stainless steel sink in our 2 year old motor home seemed to have some build up of lime or calcium as well as did the porcelain sink and toilet. I had used Lime-A-Way at home and so bought some and it worked well on the bathroom sink and toilet. So I headed to the kitchen and after cleaning with a bleach spray and rinsing (I know now, no bleach), I used the Lime-A-Way. I know now that I used too much and left it longer than needed and the stainless dulled and smells like steel. So, then I read the bottle (Hindsight is 100%), and small white print says "Toilet cleaner! " I think it is a different formulation than the old Lime-A-Way.
So I am off to buy my Bar Keepers and polish and getting rid of all the caustic cleansers in my motor home!
Wish me luck!

Rosalie Jensen
- East Wenatchee, Washington, USA
---
August 2018




! Hi Rosalie. Thanks for reminding us that something which happens frequently is a manufacturer achieves name recognition for one of their product lines, so they slap that name across their whole product line :-)

As an amateur mechanic, for 60 years the word "vicegrips" has been used generically to describe a tool that looks halfway between an adjustable wrench and pliers, and that locks in place.



And "channel locks" has always meant a tool sort of like pliers but with a long slide for the pivot point.



But I recently bought channel lock style pliers with the Vicegrip logo prominent :-)

I've read that confusion between traditional generic tool names vs. trade names has caused problems for fire departments finding themselves on site with the wrong equipment on hand ... so your complaint has support :-(

Regards,




Ted Mooney

, P.E. RET




Striving to live Aloha




finishing.com - Pine Beach, New Jersey




---
August 7, 2018
A. Cleaning a stainless steel sink:
Mix 1 cup of distilled white vinegar with 1/4 cup cream of tartar. Be sure to mix this in a glass or plastic container (no metal). Use the mixture as a scrub for your stainless steel sink and rinse with warm water. Your sink will shine! I also use this mixture on my pressure canner, stainless steel bowls and stainless flatware. It even removes the dark tomato stains from my stainless steel canner.
Jan Bose
- Grand Island Nebraska
---
---
June 20, 2020
*I FIXED IT!!*
I applied Lime-A-Way in my stainless steel sink to remove the grime buildup just under the granite countertop. I let it sit for 15 mins, washed it off and discovered it stained the sink where it had dripped. Horrified, I found this thread and felt better that I wasn't the only one who had done this... as dumb as it was!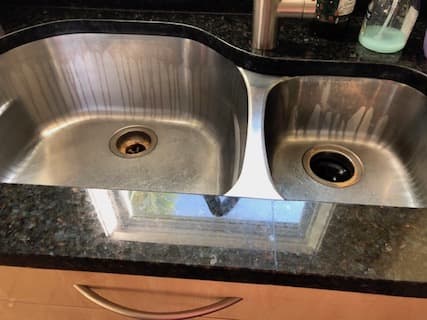 I tried what I had on hand first, Comet, stainless steel cleaner, vinegar, bleach, NOTHING worked. So I decided to take a trip to Ace to get Brasso after a friend suggested it. NOPE, DIDN'T WORK. Went back to Ace to pick up NEVR-DULL (someone on this site suggested it) and the lady at Ace showed me a different product Bio-Clean Products Hard Water Stain Remover and said it was guaranteed to work so if it didn't I could return it and get my money back! My husband & I both started scrubbing, I used NEVR DULL and he used the Bio-Clean.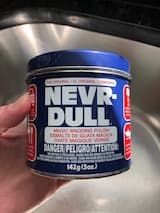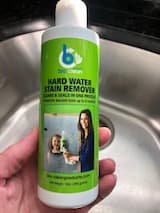 After lots of elbow grease and using BOTH products I am proud to say it worked! My sink is prettier now than it was before I destroyed it.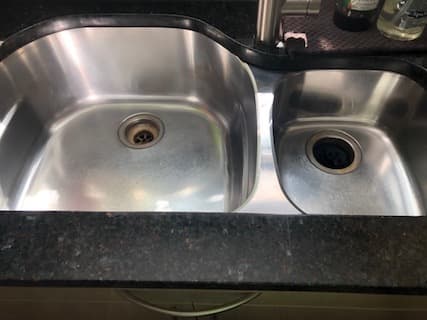 Betsy Power
- Sarasota, Florida USA
---
June 25, 2020
A. A hardwater cleaner (with sulfamic acid) left horrible black marks on my stainless steel sink. I used a liquid scouring product with oxalic acid (suggested after a google search to this site and watching a You Tube video) and then a ceramic cook-top cleaner and stainless steel spray cleaner (of the same brand) to alleviate the mess. I scrubbed 2 or 3 times with the scouring agent with a small brush, as well as a"scrubbie sponge". It helped quite a bit. The ceramic stove top cleaner seems to have worked to remove hard-water deposits as well as staining. I applied and used paper towels rubbing briskly in the direction of the "grain". I could see the black marks being removed on the paper towel. The stainless steel cleaner removed more of the spots and left a nice shine. I used a terrycloth shop towel with lots of pressure for this part of the process. I may need one more round of each but it is so much better.
Hint: read all directions AND consult the product website when using cleaning products.
L Garcia
- Tucson, Arizona
---
July 5, 2020
A. I was happy to find I wasn't the only one who had "ruined" my stainless appliance with lime remover. Also thankful to everyone who posted possible solutions. I was cleaning the drip tray of the fridge's water in the door area & it dripped down on the stainless. When I wiped it off, it only made the stained area bigger! I decided to try what I had on hand at home first. Brasso did not work. Before trying car polish I pulled out a very old jar of a Shaklee product which I hadn't used in years but should probably use instead of the white paste for stove tops! It was once called "At Ease"---a dark pink, cherry scented paste. And it worked! It's now called "Scour Off." One little jar will nearly last you a lifetime!
K LaGambina
- Orlando, Florida
---
October 15, 2020




Q. Can I use this product to clean rust scale off of the inside of a 3000 gallon cistern tank?

Lance Halingstad




- Chinook Montana





---

November 2020

A. Hi Lance. Assuming your cistern is steel, I don't know why Lime-A-Way [affil. link to info/product on Amazon] or CLR [affil. link to info/product on Amazon] would be inappropriate. But depending on the use of the water (drinking water?) you should rinse it off/out well. Good luck.

Luck & Regards,

Ted Mooney

, P.E. RET

Striving to live Aloha

finishing.com - Pine Beach, New Jersey