Where the world gathers for
plating, anodizing, & finishing Q&As since 1989
Surface coatings for carbon fiber gun barrels
(
-----
)
2004
I am the holder of patents relative to carbon fiber gun barrel construction and looking for coating options for consideration. The barrels have a steel liner as the bearing surface and then are built up to finish diameter with carbon fiber mat material as specified. I would like to know what coating options exists for both cosmetic and practical applications.

Thank you.
David S
[last name deleted for privacy by Editor]
firearms consultant - Vancouver, Washington
---
2004
From my experiences with carbon fibre it doesn't need a coating, the bonding resin gives it good mechanical qualities. For appearance maybe try an epoxide with pigment added to change the color. A final layer of woven carbon to give it the hologram/cats eye effect (I can't for the life of me spell the technical term for that effect), dyed kelvar for a final coating? Lately I've been looking into an abrasion resistant coating for a project I'm working on..the search has led me to epoxy-siloxane resins, and crosslinked polysilicate resin. used for high gloss and scratch resistant coatings. I've never worked it so I don't know much about it, have some on the way and will know more soon.

I don't' know exactly what you are looking for so I'm just throwing ideas out there. We have a carbon fibre barrel on our little .22 used for plinking, I love it.
Jason Aube
- Flint, Michigan
---
January 26, 2008
Two-part sports car or speed boat or custom motorcycle varnish exists, and one company even offers the clear two-part stuff in a special "spray paint" can in which you have to push a bottom plunger to mix two ingredients, then you get about six hours until the contents solidify in the can. The company is "Alsa Corp" which also sells all manner of thin decorative laminates for motorcycles and show cars (too thin to be durable, indent-resistant, or corner-peeling resistant etc.).

One other option that I have little experience with, but which should also be heat resistant is "Water Glass" which upon evaporation gives a true glass layer. It would not likely wet out into a smooth coating on plastic carbon fiber, but surface treatments exist (such as made for making glue stick to hydrocarbon plastics or nylon). These materials are available from McMaster-Carr. They also sell clear Teflon heat shrink tubing.
Future Acrylic floor wax is actually pretty good stuff [Ed. note: The "Future" name is no longer used per J&J; "Pledge Revive It" is its new name] and goes on so thin that you needn't worry much about how thick it goes on. It is removable with ammonia. It's used as an old model airplane canopy anti-scratch or scuff-coverup trick. Again, if it won't wet the surface, add some soap or pre-treat the surface with "Nylon" or "Polypropylene" adhesion promoter liquids first. They are surface oxidants that quickly evaporate, leaving no residue.

A good car wax is Buffalo Milke, which comes in a spray-on/wipe-off bottle. One of those late night TV infomercial products, but it really works well to retain gloss and resist finger prints after a very easy (non-buffing) application and cotton rag wipe or two.

A dip-coating in very thin yet eventually very hard silicone rubber indeed sounds like a good idea, after plugging up the ends of the barrel. Silicone can handle very high temperature compared to other rubbers. It's also good stuff since although when wet it sticks to most anything except good Teflon or wet cardboard, it then, when crosslinked into a hard solid "sheds" both grimey dirt and hydrocarbon-based oils as well as water, and resists scratching (since it "gives" momentarily then pops back flat).

Heat build-up compared to a fully metal gun barrel is an interesting topic to ponder, since less heat would get transferred to a thin metal tube surrounded by low heat conductive composite graphite/resin in the first place compared to the huge heat conductivity of solid steal.

A coating on top of what you already have though, is one more thing to go wrong by yellowing, becoming brittle, de-laminating, etc.
Mike Matterson
- New York, New York
---
February 11, 2008
David
People buy carbon fibre because they like the "high tech" look.
They also buy because it is very light for its strength. I suggest that you research the Winchester 59 shotgun which had a fibreglass wrapped barrel. It was very light and the recoil was horrendous.
There is also the question of the pressure wave following the shot which expands the barrel. I would want to see a lot of testing for possible de-lamination before I was tempted to buy anything bigger than .22.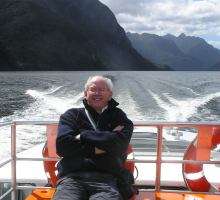 Geoff Smith
Hampshire, England