topic 3091
Adhesive Use on Conversion Coated Aluminum Surfaces
(1999)
The Handbook of Aluminum and Aluminum Alloys states that, "Because of their low strength, conversion coatings should not be used on surfaces to which adhesives will be applied". Is there any information that supports or contradicts this statement? We have gone through extensive testing of 3M TS-230 Hot Melt on an Alodined aluminum surface and have seen no problems. I would like to be able to proceed based on our testing, but I don't want to violate proven industry practices. Is bonding to Alodined aluminum acceptable?
Jeff Groce
- Dallas,Texas
---
(1999)
At one of the companies I worked for, we applied an adhesive primer to a chem-filmed, (chromated) 1100 alloy 5 mil thick aluminum foil surface. We qualified the foils by lap shear testing at cold, ambient and elevated temperatures. The results were as good as FPL etched, adhesive primed lap shear coupons which were bonded as controls.
Ward Barcafer, CEF
aerospace - Wichita, Kansas
---
(1999)
Dear Jeff Your statement show that DO NOT BELIEVE EVERY BOOK, especially books in surface finishing. The developments and innovation in this area is so fast that from the beginning time of writing the book to the end of period there are changes . This what is making our occupation so fascinating and interesting a branch. You are doing the same as thousands of factories are doing and give step elevation to the quality of your products . Yours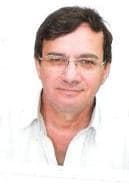 Yehuda Blau
YB Plating Engineering and Quality - Haifa Israel
---
(1999)
It sound like we're all saying, "if it works, don't try to fix it." We recently had a "think outside the box" training program in our R & D Dept., where we essentially learned not to assume that many of those "cast in stone" rules can't be broken. One thing I like about this business is that most successful finishers use very little exact "cast in stone" science and a lot of logic and common sense. Considering that there are probably a zillion types of adhesives out there with varying amounts of adhesive strength from Post- its to holding rocket parts together in outer space, making a blanket statement like the one in the handbook is naive and close-minded on the part of whoever made it. The statement may be true for some very high strength adhesives where anodize may be superior over conversion coating, but conversion coatings should work with many adhesives.
As long as your successful tests are representative of the actual real-life application of the product, then you've proven that it works, so why not go for it?

Phil Johnson
- Madison Heights, Michigan




This public forum has 60,000 threads. If you have a question in mind which seems off topic to this thread, you might prefer to Search the Site