topic 3022
Durable,"Lifetime" outdoor brass finishes
(1999)
I am interested in finding information on the durable brass finish that is being used on high-end brass outdoor fixtures. The type finish that I am referring to is the "Lifetime" finish used by Baldwin Brass. This is the finish that is demonstrated by rubbing it with 0000 steel wool [linked by editor to product info at Rockler]. Is this a proprietary finish? Can the finish be applied to other base metals? Are there alternative finishes that are just as durable and hard?
Skip Ross
- Danboro,PA 18916
---
(1999)
I don't know who (if anybody) owns trademark to "lifetime finish" but there are two competing technologies that seem to bandy about terms something like that.
The first technology is a transparent electrophoretic (e-coat) finish that is licensed from Hawking International, and possibly others, and is applied on top of brass parts or brass-plated parts. It is used on some door hardware but I wouldn't know whether Baldwin Brass uses it or not.
The second technology is a vacuum PVD process where a ceramic is deposited onto the parts. I believe that the part needs to be electroplated first for corrosion resaistance as well as appearance. I don't know for sure that this is used on door hardware but it is used on plumbing fixtures.
Ted Mooney, P.E.
finishing.com
Pine Beach, New Jersey
---
June 9 -
The coating is ZrCN applied by cathodic arc deposition. It is about 150 nm thick. The process is not proprietary, several companies are involved in making equipment. Vapor Technologies, owned by Masco which also owns Baldwin, uses patented deposition equipment. Masco also owns Delta Faucets, so if you want to coat door hardware or plumbing fixtures you can't work with Vapor Technologies, you have to go to Hauzer in Holland for the equipment. Goldstar is offering the coating on a toll basis. The coating does require a plated base, usually of electroless nickel.
Jim Treglio

PVD Consultant - San Diego, California
---
June 14 -
Can anyone verify the coating is ZrCN and not TiN? TiN or Titanium Nitride coloring is another Physical Vapor Deposition (PVD)process for depositing a thin .3-1.0 micron ceramic "lifetime" coating. This coating is currently used in the signage industry as ti-gold. Brass or gold looking channel or dimensional letters that will withstand the weather elements. In my opinion PVD technology was developed by the Russians, perfected by the Japanese and now marketed by many. This is not a propietary technology. Sincerely, Michael Liu Taylor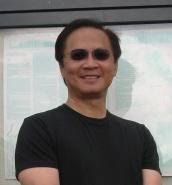 Michael Liu Taylor
specialty stainless steel distributor
Dallas, Texas
---
June 17 -
TiN looks like gold and ZrN looks like brass. the basecoat is either electroplated nickel or nickel-chromium for corrosion protection and to seal in the zinc from the brass. PVD is also now being used apply nickel as a basecoat. The titanium nitride and carbonitride and other nitride and carbonitrides have been used as hard tool coatings for longer than they have been used as decorative/functional coatings. The coatings are either deposited by arc vapor deposition or sputter deposition. Don Mattox
Donald M. Mattox
Society of Vacuum Coaters
Albuquerque, New Mexico
Ed. note:
Mr. Mattox is
the author of -->
---
June 17 -
Mike, physical vapor deposition (PVD) is a broad term used for any method by which a material is converted to vapor and condensed on a part as a coating, including thermal spray. In another form called sputtering, the atoms are knocked out of a surface and deposited on another surface. In concept it is as simple as that but not in practice! Materials can be metals, alloys, polymers or ceramics. The process of vapor transport is easier in vacuum so most processes are conducted in vacuum. There are a dozen or so methods by which this vaporization is done. And cathodic arc (e.g. mercury arc lamp) is one of them which was accidentally discovered when engineers saw metal being sprayed near contacts by arcing in vacuum switches. But Russians exploited it as a coating method in the 70s for the nuclear industry. Anyway, the TiN, TiCN, ZrCN, etc can be deposited by sputtering, ion-plating as well as cathodic arc (all PVDs). The cathodic arc is becoming more popular because of its simpler nature, I assume.
Mandar Sunthankar
- Fort Collins, Colorado


This public forum has 60,000 threads. If you have a question in mind which seems off topic to this thread, you might prefer to Search the Site