topic 3018
PAINTING ALUMINUM FOR OUTDOOR EXPOSURE
(1999)
I am building a saguaro cactus like sculpture using 1/8" aluminum fins which are approx. 4" wide X 10 ft long. I need to find a way of painting the mill run aluminum black. What kind of preparation, primer and finish coat(s) should I use so that the paint will stay on in an outdoor environment for at least 25 years?
Any help you could provide would be most appreciated.
Stan Price
---
(1999)
I am not exactly understand your phrase mill run black but I believe chromate conversion coating by any kind of application (brush, spray , or dip) will solve your problem. If you need more details please don't hesitate to ask.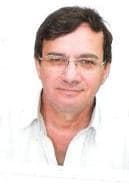 Yehuda Blau
YB Plating Engineering and Quality - Haifa Israel
---
(1999)
I really doubt if black chromate would last 25 years, even in Arizona. Probably the best guess is a highly UV resistant powder coat paint. Black chrome plating is another option, but not many "black" shops have huge tanks.
James Watts
- Navarre, Florida
---
(1999)
It really depends on what outside wear the aluminum will have. I use a variety of high-end urathane enamel car paints with the UV protectors built in, and I use a number of clear coats on bare metal as well. For blacking, you can also use a product from Birchwood Casey (Aluma Black) for blackening, and a clear over the top. This is all assuming that the sculpture would not have anything other than the normal wear of a car surface. I would be interested in what you decide on. Thanks, Tom
Tom Brumm
Blue Rock Studio - F.H., Washington
---
(2005)
-- appended to this existing thread by editor.
I have a lawnmower type pulling tractor which I am repainting for a friend. It has an aluminum hood and grill. How do I prepare the surface so primer and paint will adhere to it?
Leo Fronczkiewicz
Motorcycle painting - Douglas, GA, USA


This public forum has 60,000 threads. If you have a question in mind which seems off topic to this thread, you might prefer to Search the Site