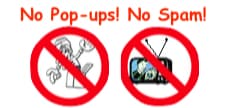 World's top finishing resource since 1989
Chime right in - No login req'd
topic 29961
Submersible clear coating or plating over bronze
A discussion started in 2004 but continuing through 2018
2004
Q. I have a bronze baptismal about 3 ft. sq. that needs a clear coating that will stay clear when submerged in water.
I have tried a product called Incralac but it has turned white.
thank you JHW
James W
[last name deleted for privacy by Editor]
Job shop metal fabrication - Columbus, Ohio, America
---
2004
A. Hello James,
Clear lacquers will typically turn white when submerged in water. I'd coat the basin with a paste wax found in any hardware store, and tell the church to apply wax once a month or so to maintain the finish.
Jake Koch
G. J. Nikolas &Co.,Inc.

Bellwood, Illinois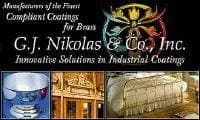 ---
2004
I have a copper table fountain that consists of a 15 inch copper basin and other copper parts that distribute pumped water through a copper tube over a vertical piece of shale before the water flows over another copper dish of pebbles and back into the basin. This system became extremely tarnished with blue oxidation and dark tarnish many times (to the point that the surface is slightly pitted in a few places)and each time I have cleaned with various cleaners. Here is a picture:

Now that I have it fairly clean I am wondering if there is really a way to protect the copper from tarnishing and oxidizing in this continuous moist environment. It is really quite a chore to clean it over and over. The manufacturer says "apply Pledge." Is this the best fix? I have a hard time believing a furniture polish will stand up to the continuous flow of water. Would appreciate any advice on how to "permanently" protect the finish to avoid repeated cleanings.
Thanks,
Tobin C
[last name deleted for privacy by Editor]
- Arlington, Texas
---
2004
A. I have seen CLEAR powder coat over brass over nickel over steel. That should stand up for a while with room temp water dipping.

Robert H Probert
Robert H Probert Technical Services

Garner, North Carolina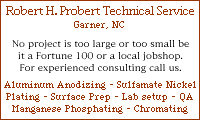 ---
2004
A. A friend of mine applies a two-part urethane topcoat for cars, onto ceramic tile used on the sides of swimming pools. It is baked to fully cure. So it should hold up to your immersions for a good long while. It has a reasonable chance of sticking to the brass or copper, too. If you don't have a large oven, a hair dryer pointed into a hole in a cardboard box with the object inside can substitute.
Clear epoxy coatings can work even better. Some cured cationically by UV are particularly chemical-resistant, including resistance to water.
Dr. Bill L
[last name deleted for privacy by Editor]
- Chula Vista, California
---
---
November 29, 2017
Q. I have an exterior door unit that is about 25 years old. I cleaned them and need them sealed so they won't tarnish. The inside of the doors are made of chip board and bronze coating on the outside. These doors are very ornate with lots of groves and crevices. I live beside a river so lots of humidity. Can you recommend clear coat product that will hold up to UV rays and protect the doors in high moisture areas? Thanks TJ
Theron Jones
Contractor - Huntington, West Virginia US
---
December 26, 2017
A. Hello Theron,
This idea sounds dicey to me. I suppose if one were to attempt such a feat, very thorough yet delicate cleaning must be done otherwise the clear coat might trap a lot of contaminants and seal in future stains. I would recommend a small scrubbing brush like a toothbrush. Once the metal is very, very clean it must be let to completely dry then apply glossy clear acrylic lacquer.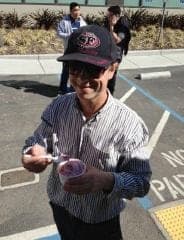 Blake Kneedler
Feather Hollow Eng. - Stockton, California
---
January 24, 2018
A. Try Incralac. Everbrite [a finishing.com supporting advertiser] may be useful too. Hope it helps and good luck!
Goran Budija
- Zagreb, Croatia