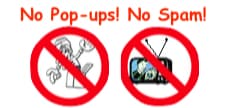 World's top finishing resource since 1989
Chime right in - No login req'd
topic 29886
Bare spots after anodize
2004
Material: Aluminum 356 Jig Plate
Problem: Bare spots after anodize visible.
Is part protected and die just not penetrating into cells? Any compromise to quality Why does this happen?
Thank you,
James Polidori
Medical Equipment Manufacturer - Rochester, New York
---
First of three simultaneous responses -- 2004
Well, a bare spot with no anodize is normally the result of inadequate cleaning/activation. A spot of little or no dye would normally be an improperly run anodize cycle or an improper dye cycle. Lots of possibilities as to which parameter is out of tolerance.
James Watts
- Navarre, Florida
---
Second of three simultaneous responses -- 2004
356 has all kinds of junk on the surface, especially around thin walls - the main culprit being silicon. Most "job shops" do not know how to remove the silicon from the surface and they just use their wrought prep line. Well, you only anodize aluminum. The silicon must be removed from the surface. Processes are available to do this.

Robert H Probert
Robert H Probert Technical Services

Garner, North Carolina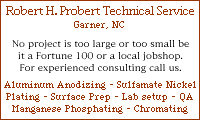 ---
Third of three simultaneous responses -- 2004
First thing that comes to mind is dirty/oily surface preventing anodize from occurring. Could it be from where the electrical contacts were attached? Is it on a sharp corner(were anodize doesn't form well)? Could the part be exposed to excessive heat/steam or a cold sealer before the dye step causing the pores to seal up before dying? If most of the part dyes well and the electrical contacts were not attached there...then I would say its probably a contaminated surface causing your problem. Maybe try a better cleaning of the part to check if the anodize layer grew, just use a voltmeter/multimeter and set it on the continuity setting..stick both probes on the "bare" surface and see if it registers differently than the rest of the part. If it does than you have a non-anodized surface.
Jason Aube
- Flint, Michigan