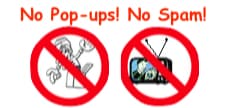 World's top finishing resource since 1989
Chime right in - No login req'd
topic 29747
Painting motorcycle engine caused overheating
2004
I just painted the engine of my 1987 Yamaha Virago motorcycle. Basically, being the extreme novice that I am, I bought some over-the-counter engine paint (rated at 500 degrees) and sprayed it on. It looks great, but the engine gets really hot now. Why is this happening?
Sean Huddleston
hobbyist - Southfield, Michigan
---
2004
You sprayed an insulator on the engine, therefore it can not cool itself as well as an unpainted engine. OOPS.
James Watts
- Navarre, Florida
---
2004
Aluminum does not cool very well when painted, the paint, if there was paint on your engine is a special paint that is put on very thinly (3 mil), and still allows the metal to cool somewhat. If you have just painted over your engine with additional paint, you have actually thickened the paint and are experiencing the heating problem. remove the paint and the overheating will go away. Generally speaking you should only use paint to touch up your engine. They make black paint engine cleaner, I think S100 makes something like this.
Michael Messer
US Navy - Milton, Florida, USA
---
2004
Dear sir,
the paint also may get charred or ignited; be careful.
dinesh
- chennai India