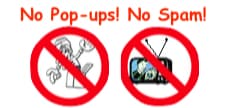 World's top finishing resource since 1989
Chime right in - No login req'd
topic 29635
Recommended usage of stainless steel passivation process
2004
Q. Hello,
I work as a Chemical Engineer in a metallurgical research center. We have a customer who has a quite important problem with corrosion in some stainless steel items and in order to provide him a solution for his problem we are really interested in knowing in which cases is recommended to use or can be used the passivation process, specially in 304 and 316 SS.
Thanks in advance.
Janire Pagai
Chemical Engineer - Durango, Bizkaia, Spain
---
2004
A. Hello Janire Pagai,
The passivation process is always recommended for Stainless Steel in order to preserve the integrity of it. The passivation process should be done periodically to avoid corrosion problems. When the atmosphere is really corrosive like salt areas and high humid it is really important to passivate, eliminating the free iron that promotes the corrosion. Do you speak Spanish, Janire? adv. We have a lot of experience in passivation of stainless steel and we can help you.
Regards,
Rosina Gómez
Stellar Solutions, Inc.

McHenry, Illinois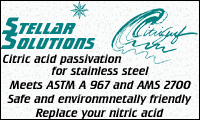 ---
2004
A. Just to add that the grades of stainless steel you mention are considered low alloy, low corrosion resistant. They will be attacked in presence of chlorides, stray galvanic currents or strong oxidizing environments even if properly passivated. In order to avoid this a high nickel alloy would be appropriate.
Guillermo Marrufo
Monterrey, NL, Mexico