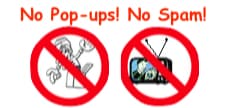 World's top finishing resource since 1989
Chime right in - No login req'd
topic 29621
EN plating on KOVAR needle parts
2004
Q. I am working on high phosphor electroless nickel plating on a KOVAR needle-like part. The peel strength failed (bending test), I found the plating layer was divided into 2 layers, the outside layer failed in peel strength test, instead of the interface between the substrate and the plating layer. what is the reason for the 2 layer separation? since the thickness is just 3-4 micro.
Haidong Cheng
Plating engineer - Singapore
---
2004
A. Assuming that the failure is within the electroless nickel layer (and not between the EN and a strike layer), then the coating somehow became passivated while plating. This could occur if the bath became too low in hypophosphite or nickel, if the temperature dropped to below 60C, if the pH dropped below 4.2 or 4.4, or if the parts came out of solution and were exposed to air.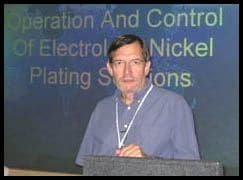 Ron Duncan
- LaVergne, Tennessee
It is our sad duty to note Ron's passing on Dec. 15, 2006. A brief obituary opens Episode 13 of our Podcast.
---
2004
A. First guess, you did a nickel strike and then took too long to get it into the EN tank and it passivated. Second guess is the operator took it out of the tank to look at it or measure a part and it passivated. A third thought is that the operator made an addition directly on top of the parts. Otherwise, it should have failed at the substrate as you proposed. I would blame this one on the plater, if the tank is within specifications.
James Watts
- Navarre, Florida
---
2004

Thanks for your advice!
Haidong cheng
Plating engineer - Singapore