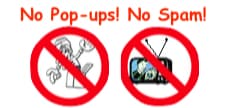 World's top finishing resource since 1989
Chime right in - No login req'd
topic 29570
Sea water couple of SS316 and SS304 and galvanic corrosion
2004
Q. I would like to know whether SS316 and SS304 will form a galvanic couple in sea water slow velocity service. If the corrosion protection is by means of cathodic protection, is it correct to assume that the less noble material will be corroded to the extent of irreparable condition within very short interval of time i.e few months time in case CP fails to operate. Appreciate your answer for any further measures to be taken for other equipments in case CP had failed and takes some time to bring in line.
MAMIDI GOIVNDA RAJU
Mechanical Engineer - Bintulu, Sarawak, Malaysia
---
April 20, 2011
A. 304 Stainless Steel should not be considered suitable for chloride environments and begins pitting immediately. In this condition, SS 304 becomes anodic to SS316. As a rule of thumb, if the potential difference is greater than 0.1 volt, then the galvanic corrosion becomes significant. Typically the corrosion potential difference between corroding SS304 and non-corroding SS316 is approximately 0.3V. Therefore, SS316 will accelerate the corrosion of SS304 by galvanic corrosion cell.
Miki Funahashi
- USA
---
July 1, 2014
A. It depends if for example a 316 anchor is used to hold a 304 plate. in this case electrons flow from the 304 to 316 which is nobler. But the cathodic surface (bolt) is small compared to the plate hence there is no corrosion. In the reverse, i.e., a 304 anchor is used to hold a 316 plate, the cathode area is larger and corrosion would take place. However, it depends on water or electrolyte presence.
William Hooi
- kl Malaysia