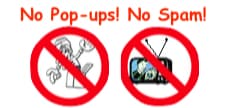 World's top finishing resource since 1989
Chime right in - No login req'd
topic 29536
Steel shot contaminated stainless steel fabrications
2004
We have a shipment of stainless steel 304 fabrications in which steel shot has become trapped, due to the ill-advised blasting of these assemblies with carbon steel shot. The components are for an outdoor structure and are meant to remain uncoated with the satin, shot blasted surface finish. We have passivated the parts in nitric acid, but this does nothing to free visibly trapped shot in crevices of the assemblies. Will electropolishing the parts dissolve this material? Are there any other option beside E.P.?
On a related topic, can anyone recommend a good source for S.S. Shot Blasting? Ideally we would like to find a vendor with automated blast equipment, dedicated exclusively to non-ferrous components and media. Any suggestions would be appreciated.
Thank you.
Jason Podlaski
Furniture manufacturer - Palm, Pennsylvania, USA
---
2004
The following methods may work and are listed from cheapest to most expensive. 1, External vibration similar to concrete wands. 2, Ultrasonic cleaning systems ( make sure your metal is in contact with transducer. This is not normally recommended for life of ultrasonics. 3, electropolishing.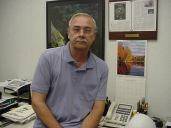 AF Kenton
Hatboro, Pennsylvania
---
2004
I agree with Mr. Kenton in general. If you have rust involved at this stage you will do MUCH better to use a citric based product. Ultrasonics will speed the operation greatly if you can do this, but it is not necessary. Let us know if we can help.


Lee Kremer
Stellar Solutions, Inc.

McHenry, Illinois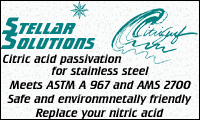 ---
2004
Beside chemical removal of contamination, shot blasting with Glass beads will remove entrapped steel shot, Al- Oxide ( White ) or even more aggressive SiC Shot. For future application just use Stainless Steel Cut Wire made of AISI 310 / or AISi 302.
Herb Gray
- Hagen, Germany