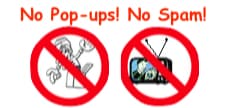 World's top finishing resource since 1989
Chime right in - No login req'd
topic 29418
Co-efficient of Chrome vs. EN
2004
What is the co-efficiency of hard chrome compared to Electroless Nickel? We are rubber molding shop.
Thanks,
Darrell Elkins
user of plating - Elgin, IL, USA
---
2004
What exactly do you mean by co-efficiency? Are you talking about coefficient of friction, or about chemical deposition efficiency? This last will be about the same: less than 20%. If friction is what you look for then the answer will have a lot of "it depends" (lubricated or dry, applied load, type of EN, heat treated or not, etc., but will be somewhat between 0.26 and 0.46.
Guillermo Marrufo
Monterrey, NL, Mexico
---
2004
I assume that you are interested in the coefficient of friction for EN and hard chrome. In the non-lubricated condition, hard chrome is about 0.43, while EN varies from 0.38 to 0.45 depending on its phosphorus content. However, if the rubber you are molding can be vulcanized, EN is not a good choice. The phosphorus in the EN will react with the rubber causing it to stick to the coating. In fact, EN is sometimes used as a bonding agent between rubber and steel.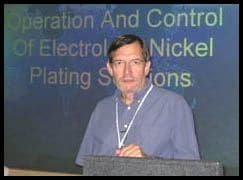 Ron Duncan
- LaVergne, Tennessee
It is our sad duty to note Ron's passing on Dec. 15, 2006. A brief obituary opens Episode 13 of our Podcast.
---
2004
Yes, I am interested in the co-efficiency of friction. I am trying high, med and low phos. EN. Mainly med. phos. I am curing and molding rubber. I have not seen adverse effect with rubber sticking to the EN except rubber with sulfur cure. Thanks for your response. Any other info will be appreciated.
Darrell Elkins
- Elgin, Illinois, USA