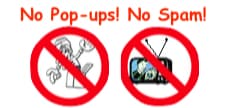 World's top finishing resource since 1989
Chime right in - No login req'd
topic 29295
Rust on AISI 316L
2004
Q. I am an engr. in a private sector. Actually I want to know why is it that stainless steel undergos rusting even though it conforms to AISI 316L material, in fact we have supplied some equipments to our customers with 316L material after 6 months I myself had noticed the rusting. Is there any remedy for this.
GURURAJA
engineering industry - BANGALORE, KARNATAKA, INDIA
---
2004
A. Two solutions, passivation or electropolish. Your problem is not the 316SS, but is the traces of iron smeared on the surface from your machining equipment. This rusts and then spreads. Stainless does not mean stain "proof" or rust proof. It is only "LESS" likely to rust than steel.
James Watts
- Navarre, Florida
---
2004
A. You also need to look at what is the 316L being exposed to. If it is being exposed to bleach or other chlorides even 316L can rust.


Lee Kremer
Stellar Solutions, Inc.

McHenry, Illinois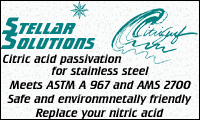 ---
2007
A. We see 316L from many sources used in our boat building industry. I have had 25 years of experience with stainless steel products in this field. European milled metal is very unlikely to "bleed" a stain (rust) without a ferrous catalyst, but eastern sources are more likely to bleed for no apparent reason, sometimes because the 316L standard is loosely interpreted. Installation practices can also be a problem - the use of ferrous tools, contamination with iron filings, fittings left in installer's toolbox for example. Passivation or electropolishing can be very helpful in preventing no-catalyst corrosion in poor quality metals, and also prevent good quality metals from going dull.
Mark Thomson
- North Shore city, Auckland, New Zealand
---
November 30, 2009
Q. The AISI 316L wire cloth is used as electrodes. Information related to AC frequency response from 10 KHZ to 80KHZ with voltage 1 volt current 10 mA is needed.
This is when electrodes are dipped in salt water.

Mr. Ronald Lewis
Medical Equipment & Systems
Ronald Lewis
- Mysore Karnataka India