Live! From beautiful Pine Beach New Jersey: Welcome to the world's most popular metal finishing website
topic 29294, p2
18/10 vs. 18/8 and 18/0 stainless steel for flatware and pots & pans
---
1 2
---
A discussion started in 2004 but continuing through 2018
March 24, 2010
Q. I recently bought two sets of Oneida flatware at Wal-mart. It has 56/9 stamped on the back of the forks. One of the spoons became discolored after being in the dishwasher. Is 56/9 a durable type of flatware for long-term use, or would 18/8 or 18/10 be better?
Rae Buckwheat
homeowner - Ashland, Wisconsin
---
---
January 10, 2011
Q. Has anyone heard of 18/20 flatware? Have been told that Denby is saying you must use this configuration in flatware to avoid scratching and leaving marks on their dishes.
Fran Gallotti
consumer - Edmonton, Alberta Canada
---
March 10, 2011
Q. HI, I WOULD LIKE TO ASK YOU ABOUT CHROME TITANIUM COOKWARE, IF THIS METAL IS THE BEST OR THERE IS BETTER. ALSO WHAT IS THE BEST COOKWARE IN THE WORLD WE CAN USE FOR HEALTHY FOOD.THANKS
FADY LTEIF
working in cookware shop - LEBANON BEIRUT
---
---
March 13, 2011
Q. What is the difference in heat-retention qualities between 18/8 and 18/10 stainless steel in, say, a teapot?
Gary Moore
retired / consumer - Pasadena, Texas
---
---
---
May 16, 2011
Q. I bought a 18/8 stainless steel food thermal lunch box and the instruction says that the salt in the food will pit the container. I read a post above that says companies located near the sea will use 18/10 containers to guard against salt corrosion.

Since most of my cooking contains salt, my question is whether I should stay away from 18/8 material for food storage. I am also wondering whether the pitting will cause the nickel and chromium to leach into my food that's being stored in the container, and later eaten by me.

Thank you and I look forward to your advice.
Many thanks,
Juan.
Juan Rodriguez
- New York, New York, USA
---
---
May 21, 2011
Q. I have a set of pots and pans that are made of 19/9 surgical stainless steel multi-ply metal. I wanted to sell them but since they have been in my family for over 20 years and still look in great condition I'm not sure if they are worth keeping them and pass them on to my children? is this good quality metal?
Selene Rios
housewife - Phoenix, Arizona
---
May 24, 2011
A. Hi, Selene.
In all likelihood 19/9 stainless steel is virtually identical to 18/8. I doubt that the extra 1% of chrome and extra 1% of nickel does any harm, but to assume that it does any good might be a stretch. I personally don't know of any standards writing body that accepts 19/9 as a recognized composition (but I don't claim to know everything; I can only relate my own knowledge).
But it is getting harder and harder to get high quality stainless at any price. If you have stuff that still looks great after 20 years, make them pry it out of your cold dead fingers.
Regards,
Ted Mooney, P.E.
finishing.com
Pine Beach, New Jersey
---
---
June 11, 2011
Q. Thanks for the informative discussion. We are considering purchasing some flatware which the manufacturer claims is made of 18/10 stainless steel with titanium finish. Would the titanium enhance the durability of the product or it just affects its looks?
Val Nya
- Miami, Florida, USA
---
September 20, 2012
Q. How about "316Ti" (Ti - Titanium)? That's the material one of the healthy cookwares is made of (which I'm interested in). Just wondering if it is really that good and doesn't have any leaching problem.
joe j
[last name deleted for privacy by Editor]
- Delta, BC, Canada
---
September 15, 2017
Q. Hello, so 316Ti also contains nickel, right? Not different than 316 or 18/10. Does 316Ti have no reaction from salt and acid, or 316 has less reaction?
liana budi
- bandung, jwabarat, indonesia
---
---
July 12, 2011
Q. Thanks for the good information about stainless steel.

We recently installed a new induction cooktop. Most of our cookware works fine, but our old stock pot (that I use for brewing beer), doesn't work. I've been looking at several large (24+ qt) pots that claim to be 18/8 or 18/10 stainless AND also claim to be "induction ready." I was under the impression that this grade of stainless was non-magnetic and that non-magnetic cookware doesn't work in an induction stove. In fact, most people suggest testing your cookware with a magnet. If the magnet sticks, it will work on an induction stove. Can you shed any light on this? Would a pot made of, say, 18/8 stainless (with an aluminum core) work on an induction stove?

Thanks!
Tres Kutcher
- Cincinnati, Ohio, USA
---
November 1, 2011
Q. Stainless steel grade 18/10 and 403 are they same? if not can we use 403 cookwares? is it safe?
Vidhya kesavaraj
homemaker - Nagercoil, Tamilnadu, INDIA
---
---
November 5, 2011
Q. Could you please explain to me in detail about 403 grade? Is it a surgical stainless steel? For what purpose do they use this type of grade?
Vidhya Kesavaraj
[returning]
- Nagercoil, Tamilnadu, INDIA
---
---
December 23, 2011
Q. Why does there seem to be a nasty metallic taste from a pot that's 18/10? The pot is made in China. Does it make a difference? I've had old 18/10 stainless steel pots that were made in Korea and don't have any such aftertaste.
Tammi Hayes
- Chicago, Illinois, USA
---
February 26, 2012
Q. I wonder if someone would mind drastically oversimplifying this information for me. Ideally, if someone's willing, I'd love a simple recommendation. I thought I'd done my research when I learned about 18/10, but clearly that's just the tip of the iceberg, and I'm overwhelmed.

My daughter's getting married in less than four weeks. She's finishing school and has three jobs, so as of yet, there's no bridal registry. People keep asking. At my suggestion, she's decided to prioritize getting stainless steel. She and her fiance will keep kosher and always have lots of guests, but they won't have much money, and they're leaving the country. Beautiful stainless steel is emotionally satisfying, portable, and too expensive to buy on your own after you get married.

If she decides to ask for place settings of nice stainless that's heavy and durable, then what should she consider? I realize that the answer to this question is embedded in all the posts I just read, but I think I'm getting information overload. If anyone would be willing to oversimplify, we'd be very, very grateful.
Mae Shelton
- Nashville, Tennessee, USA
---
---
March 4, 2012
Q. It is one of the best discussions I ever read, it is very informative and simple . Thank you all for questions and answers which enriched my information :)

I'd like to know which grade of steel is preferred for kitchen knives , because I always buy knives but after few days of using it needs to be sharpened .
Can you please tell me the best grade of SS that I can buy so it doesn't need to be sharpened regularly ?
Mohamed Bekheet
- Alexandria - Egypt
---
---
May 2, 2012
Q. Why is it that I get a weird taste on my tongue when utensil touches my tongue. I use mainstays brand with 18/0 stainless steel? Was wondering if it was because it was cheap at the store or something. Please help and see what I can do to resolve this issue. Thank you,
Luis Jimenez
- Oceanside, California
---
June 22, 2012
Q. Hi
My family uses SS dishware (Two toddlers and 10 year old). We were wondering if it's safe to put in the oven to bake pizza's on.
The bottom of the plate says in a circle 88 STAINLESS STEEL (that's top half of circle)
Then 555
Then bottom half says SHANGHAI CHINA

I looked at several plates, there is no 1 in front of the 8 but there may be a dash between the 8's.
Is this better or worse than the 304 SS?
Is it oven safe?
Thanks
-ron
Ron El
Concerned dad - Saugerties, New York
---
---
---
July 19, 2012

The Silver Superstore (online) has certain brands that are made in the USA with steel from the USA (Sherrill Steel NY). I typed "made in USA silverware" on my internet browser and was taken to their site and specifically to "Flatware Patterns made in the USA". They have silverware sets that are 18/10 stainless silverware sets. I stumbled upon this site and thought others would want to know about this.

Marily McKay




- Edmonds, Washington USA





---

July 20, 2012




Hi, Marily, and thanks. Yes, there is one small on-again / off-again factory making stainless steel flatware in the USA. Please see letter 15689 where we discuss the closing of this last American manufacturer, then the re-opening to some fanfare, then the re-closing in April 2010, but the re-opening again in August 2011. So stay tuned!

opinion! It's a tragedy that our current social system precludes open & intelligent discussion of the many barriers that our country has erected that preclude American success in manufacturing. But those barriers are insuring that low wages and very high unemployment are here for good. Even scarier -- although the bravery of soldiers is legendary and their heroism can make the angels cry -- in the end every war is won by the side with the resources & manufacturing capacity. The Arsenal of Democracy won two World Wars. Now that it has been razed, and been replaced with a gigantic new People's Arsenal, we'd better pray for peace like we mean it :-)

Regards,




Ted Mooney, P.E.




finishing.com




Pine Beach, New Jersey





---

September 24, 2013

-- this entry appended to this thread by editor in lieu of spawning a duplicative thread

USA made stainless steel flatware - after much research I found this company:

https://www.libertytabletop.com/

They have a lot of positive customer reviews as well.

Mariam Halstead




- Sparks, Nevada USA





---

September 2013




Thanks for the nice direct link, Mariam. That's actually the same company Marily was mentioning (Sherrill Steel).

Regards,




Ted Mooney, P.E.




finishing.com




Pine Beach, New Jersey




---
---
February 21, 2013
Q. Getting ready to remodel the kitchen and are replacing our VERY old porcelain sink with a stainless steel one. I'm soooo confused! All I find online is the 18-gauge delineation. Would 18/8 or 18/10 be better? Our home improvement store sells both, but online all I can really find is 18/10. Which is better for a sink?
Holly Johns
- Fayetteville, North Carolina, USA
---
---
March 30, 2013
Q. Hi Mr. Ted Mooney,

You provide us with lot of usefully answers/explanations, could you please tell us what is your professional background? How do you know all this stuff?

Thanks and best regards,
Zoran
Zoran Munich
- Munich, Germany
---
---
April 19, 2013
Q. 1) Why are some pots such as Tefal & WMF pots and pans magnetic all over interior/exterior? Is it because they are using 18/0 and sandwiched in between? Or because of the bending and rolling process?
It is stated 18/10 on the below part.
As far as I know 18/10 does not have magnetic field.

2) Since 18/10 has no magnetic field (could not use on induction hob), then why do many brands of pressure cookers use 18/10 in the below part and stick it to the stainless steel surface?

3) What is the difference between a 3-ply stainless steel (with no stainless steel stick at below) and 3-ply that has one layer of Stainless steel stuck to it.
Which one is better?

Collin Poh
- Georgetown, Penang, Malaysia
---
July 11, 2013
Q. There is a French knife company, Forge de Laguoile producing knives and flatware advertising a 15/10 and 25/10 pieces. The 25/10 are supposed to be of very high quality. Ever heard of these and would they be a superior product?
karen kyle
- san diego, California
---
December 11, 2013
!! Hi, Mr. Mooney, I have several tips to offer on this topic, based on deceptive experiences.

First, please warn people that even quality name-brand companies can fail to state the Whole truth regarding 18/10.

I just bought a supposedly-quality-name-brand kettle online, touted as 18/10 both on its underside, and the packaging. I'm very very upset at their deception because it turns out that while its VERY SHINY sides are indeed Non-Magnetic, yet its underpart IS magnetic. And it's the underpart that's usually most prone to rust from water resting on it. So why on earth did they make the underpart with Zero (or low) Nickel? That's very very deceptive because it's not the Whole Truth!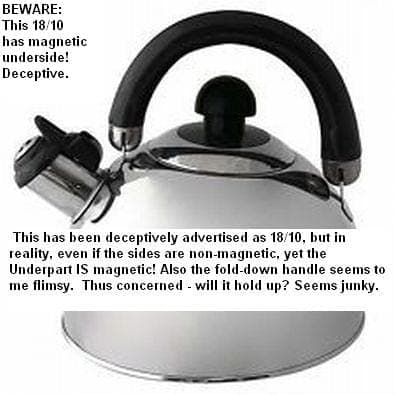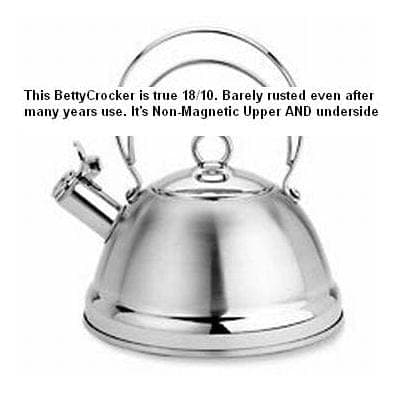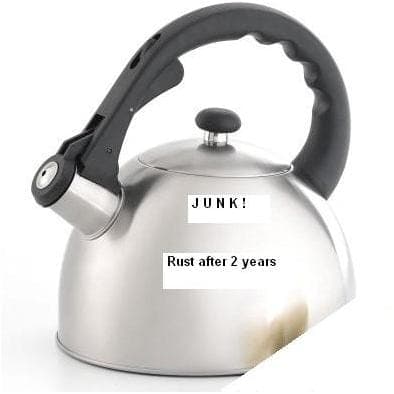 Also, despite your suggestion that sometimes shininess sometimes indicates quality - here's my experience. Years ago I bought a Betty Crocker (mainstays) whistling kettle (18/10) and it remains corrosion-free despite many years of use. The finish on that wasn't even so shiny. By comparison, I'd bought an Off-Brand ""stainless"" kettle in similar size/shape, which had a shinier finish than B.Crocker, yet it rusted after about two years - proof of being a low-nickel grade. Naturally, no specs had been given regarding its grade, but at the time, I'd been ignorant about such matters. Subsequently I educated myself because once bitten, forever wary.

P.S. This thread deserves Five Stars.
Judy Smith
- Wash hts, New York
---
December 15, 2013
Q. Okay, I have been reading about stainless steel cookware and have talked to several people.
From what I have read somewhere between 15%-18% of people in the U.S.,(5-6% of males and 10-12% of females) have to some degree an allergic reaction to nickel. Most of the medical resources on the web as well as other scientific papers have recommended surgical grade stainless or titanium jewelry, cookware, etc. because they say it is generally considered hypoallergenic.
My understanding is that titanium is the least reactive of the metals used in the cookware. Now I have seen two different quotes for the titanium metals used one was 316TI and the other was 19-9. So to boil all this down, is titanium cookware better than regular stainless as far as allergic reactions? If so, which would be better, 316TI or 19-9? I also wonder about the steel mfg. standards in other countries. Do they have the same standards as America made products. Lately we have seen everything from dog food to drywall that made people and animals sick and it was all manufactured in other countries and imported to save money. I have web links for all of these sources if you want them but I am not interested in advertising, just trying to get answers about allergies. :)
Thank you for maintaining this thread. It is a great post.
Tracy Fannin
- Denver, Colorado, USA
---
December 7, 2013
Q. I want to know if 18/8 stainless steel cookware is heavy duty -- as in foods will not stick. For instance, if I want to make fudge in it, is it durable enough that it won't burn, etc.? I am most familiar with 18/10 stainless steel cookware. Thank you.
Beverlee Williams
- Amelia, Ohio, United States
---
December 27, 2013
Q. One vendor has come out with a new line of cookware for induction stoves; it is called 21/0 as it has 21% Chromium and 0% Nickel but claims lower corrosion than 18/10 because of lower carbon .008% and nitrogen .01% plus added titanium .3%, plus .43% copper for even heating. Do you know anything about their claims?
Scott Metcalf
- Shelby Twp, Michigan, USA
---
April 29, 2015
Q. What is the best brand of cookware? Would 3 ply 18/10 All-clad, made in USA be good pots and pans for cooking for children that didn't leach toxins? What is the difference in the All-clad with copper pans? Thank you for your wisdom.
Hi Lee
- NY New York
---
May 31, 2015
Q. I am moving to a new place and have decided to use an Induction Range. I will acquire stainless steel cookware made of 316 grade. I was wondering if stainless steel thickness was a measure of the quality of the cookware?
T. Vaidya
- Short Hills, New Jersey, USA
---
---
June 29, 2015
Q. I am a big fan of stainless steel for its known safety and durability compared to other materials available on the market. I buy any kitchen products I can find that are made from it, including plates, bowls, cups, storage containers, kitchen gadgets, and pots and pans.
I have two concerns which I am hoping someone can help me with:
1) Besides pots and pans, none of the products that I have bought or that I see on the store shelves are marked with a specific composition label for the stainless steel, such as 18/8 or 18/10 (or 304 or 302). They simply say stainless steel. What does this mean about the safety and quality of these products? Is there any regulatory compliance standard regarding stainless steel products made for use with food? Is there anything that I should be concerned about regarding my health, especially if these kitchen items are being used with high salt, high acid or high heat food?
2) I'm noticing more products on store shelves that are labeled stainless steel on the package, but the items inside are not marked at all as stainless steel or simply say stainless. Is this a sure sign of deceptive practices by these companies or are they simply cutting corners by not labeling the products inside?

Many thanks for any replies to my post and for all the previous posts on this thread. I searched numerous websites before coming across this one and can easily say this is the best one by far!
Elisa Zanoni
- Richmond, Vermont, USA
---
---
21/0 Cookware for Induction Cooking
July 6, 2015
Q. I found a cookware set that says it's 21/0 stainless =>
How can this be possible and can you explain if it's better than 18/0 (trying to stay low on the nickel content)? Here's what they claim:

Made from strong Japanese steel, the construction and design of the Induction 21 Steel® cookware line guarantee superior quality. Each piece has copper melted into the steel, which effortlessly conducts heat quickly and evenly. Titanium is also added for strength and durability to endure everyday cooking. To ensure healthy cooking, the steel is nickel free to prevent allergic reactions to nickel. The tempered-glass lid makes it easy to monitor cooking and the dripless pouring rim reduces spillage along the side of the body.

Features:
Made with superior 21/0 Japanese stainless-steel.
The steel includes: Copper for better heat conductivity, Titanium for quick heating and extra strength, and Chromium for added durability.
The steel is also nickel free to prevent nickel allergies and ensure healthier cooking.
Elda Marolli
- streamwood, Illinois
---
---
July 30, 2015
Q. This is a very informative topic! Way up earlier in the topic you said that there is no aluminum in 18/8 stainless. To your knowledge, is aluminum included in any stainless alloys in common use for cookware? If so, what would be its value? Would the answer be different for older stainless alloys - for instance, Wearever Stainless from the 1950's?

Just to be clear: I am not asking about the aluminum layer that may be sandwiched between stainless layers, or on the bottom of an aluminum-disk pot, but in the stainless alloy itself.
Nancy Smith
- Duluth, Minnesota, USA
---
---
August 19, 2015
Q. I plan to purchase a stainless steel lasagna pan. There is $100 price difference between a top name brand 18/10 and an unfamiliar brand using 18/0. I believe, after reading this excellent thread, that if the 18/0 feels really great then I can enjoy the savings. If not, the 18/10 model is to be viewed as a long term investment that will likely outlive me. Anyone have experience or opinion to influence my decision?
Tana Plewes
- Kelowna, BC, Canada
---
---
August 31, 2015
Q. I have flatware that is 18% chromium and 10% nickel. I also recently bought a magnet for them. Some of the flatware doesn't work. Is it because of the percentage of nickel? Can I get a stronger magnet to work with them?
-thanks
Scott Dewar
- Warrensburg, New York, United States of America
---
January 5, 2016
Q. I just purchased some knives from a home shopping tv channel and when they arrived, the carbon forged stainless steel steak knives and the surgical steel cutlery set had stickers on them (required in California) saying that they contained lead and you should wash your hands after handling. My question is, how can these knives be safe to use? Should I return them?

Thanks
Bill Suggs
- Simi Valley, California, usa
---
---
July 17, 2016
Q. Because I just learned the 18/8, 18/10 etc. and now have no idea how to tell the new grades of stainless steel, I sure would love to see a list, that shows the changes. I used wiki but it only shows the new numbers with no reference to them and the old numbers. Thank you, Sheila
Sheila Gilbert
- La Plata, Maryland USA
---
---
August 21, 2016
Q. Hi, AMAZING SITE!! Sorry if its been asked before, I am wondering what the best option for stainless steel lunchbox would be ... 18/10 ? Concerned about sliced tomatoes (acid), etc. ? Many thanks :)
Zoe Tramo
- Mansfield, Nottinghamshire, United Kingdom
---
---
January 2, 2017
Q. The studies I have read suggest that 304 and 316 stainless both leach about the same amount of nickel into food. Saladmaster uses a form of 316 with titanium added, named 316Ti. Unfortunately, I cannot find a single study on Pubmed that documents less leaching of nickel into food from 316Ti than any other form of stainless. This is discouraging because Saladmaster wants to charge $950 for a skillet that would cost $50 in 304 stainless. If their main marketing pitch is on food purity, how can they make this claim with zero evidence?

From what I read, the point of titanium is to stabilize stainless that is heated to huge temperatures, like 800 °F. These are not temperatures used in cooking food, so it is unclear to me what is the point of titanium in stainless cookware?

Would it make any sense to put the food into a ceramic or pyrex container, and then lower than into the stainless cookware, to at least keep the food off the surface of the metal? My objective is to minimize absorption of nickel, for which I test very high levels in hair, urine, etc.

It should not be this difficult to cook food without metal contamination. It feels like no cooking method is completely safe, and that is discouraging.
W Estes
- Cupertino, California USA
---
January 2, 2017
Q. 18/0 stainless uses no nickel. The good news is that it cannot leach nickel into the food you cook. The bad news is the lack of nickel means it is more corrosive and can rust, particularly if you have an acidic sauce.

My questions:

* What are the other metals used in 18/0 stainless other than chromium, and about what percentage of the total composition are those other metals?

* If you leave an acidic sauce in an 18/0 skillet, this is going to leach more of the metals on a percentage basis than would a 304 or 316 stainless? So effectively you would be getting large doses of chromium (which might be good for you) and large doses of iron (which might be bad for you depending on your iron status)?
W Estes
[returning]
- Cupertino, California USA
---
January 2017
Hi. 18/0 is not a particular stainless steel, it's a class of stainless steels with, as you imply, 18% chrome, no nickel, and the rest mostly iron. To be able to determine the composition you would need to know specifically which stainless you were speaking of; for example type 410 has <0.15% C, 11.5-13.5% Cr, >0.75% Ni, <1.0% Mn, <1.0% Si, <0.04% P, <0.03% S.
"Large doses" is a relative phrase. Stainless steel cookware and flatware can last many decades of cooking and scrubbing. I don't know whether more chrome leaches from 18/0 that 18/8 or under what conditions, but you could study
https://www.ncbi.nlm.nih.gov/pmc/articles/PMC4284091/
and its references. Good luck.
Regards,
Ted Mooney, P.E. RET
finishing.com
Pine Beach, New Jersey
Striving to live "Aloha"
---
---
Making whistle pressure cookers out of mild steel
January 30, 2017
Q. Dear sir,
Now, I am producing whistle pressure cookers in 202 Stainless steel Material. But I want to produce from mild steel material. So I produced a pressure cooker in mild steel. Now what should I do for plating? But the plating should be such that it should be corrosion resistant, and it should be certified for food products.

Hiten Ambaliya
- Rajkot Gujarat India
---
---
Are some stainless steels more resistant to yellowing when heated?
April 23, 2017
Stainless steel cooking pans may become colored yellow after use with high fire.
Are there some stainless alloys that get "colored" less than others? Alloys which need more fire before changing color?
Baeng Soucy
IQC - Pai, MHS, Thailand
---
---
September 13, 2017

Thank you so much for all this information. Thank you for taking the time to educate many of us on stainless steel and other things like deceptive sales and manufacturing practices. There is indeed so much more that we don't know than what we do know. Its nice to learn something from someone who is willing to teach and explain and share knowledge.
S Barton
- New York State
---
---
She sells sea salts simmered in stainless alts
September 22, 2017
Q. Hello and thanks for this wonderful thread. I've read the entire thing, and feel like I learned a lot. I am writing on behalf of my girlfriend who has a tiny business producing sea salt in various flavours from the local ocean, here on the North Coast of British Columbia. it's a low tech operation to say the least- usually involving Pyrex pots of ocean water boiling on the woodstove for days on end.
Since we haven't found any Pyrex type pots that are much larger than a gallon, we're looking at stainless stock pots to find something in the 5- 10 gallon range. There's been reluctance to go this route because of the possibility of corrosion. Aside from the steel itself, many of these pots have an aluminium layer within the base which we would obviously wish never to be exposed.
Do you think 18/10 steel up to such prolonged torture by salt? And I know that this thread isn't about naming specific manufacturers but of course we would be delighted if you did have any recommendations :) Thanks again for the knowledge gained here and all the best to you.
Tyson

Tyson Nehring
- Port Clements, BC, Canada
---
---
February 26, 2018

Just a simple thank you very much for your informative and valuable information, from one Australian architect of many, some of whom have been querying why almost all of the supposedly Type 316 stainless steel building components supplied here and used for handrails and posts and wires for balustrades, RUSTS after a few years in the rain or even when dry outside. It appears that they are probably not what is specified, so tests are probably required to confirm correct materials. Thanks, Chris
Chris Kennedy
- Lilyfield, NSW, Australia
---
---
April 9, 2018
Q. Hi there. Can you please help me to understand what "premium quality stainless steel" means? I could find nothing on the internet. Thank you in advance.
Angie Hayr
- Glendale, California


If you have a question in mind which seems off topic, please Search the Site