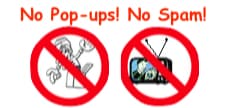 World's top finishing resource since 1989
Chime right in - No login req'd
topic 29247
Will Teflon withstand 1400 °C?
A discussion started in 2004 but continuing through 2019
2004
Q. I'm looking for a "non-stick" coating that can be applied to a stainless steel rod, that can withstand a 1200-1400 °C temperature. The rod is 2 mm dia., round, and is inserted into molten glass, approximately 5 mm to test the top layer temperature. Unfortunately, the glass then sticks to the rod.
I have experimented with a teflon coated frying pan in a 1600 degree polypropylene torch flame and it appeared to survive the high temp quite well. Additionally, molten glass would did not adhere the pan at that temperature. This lead me believe that a teflon or other similar fluoropolymer coating could be applied to my "molten glass temp sensor" and could withstand the temperature I will be subjecting my to, without the molten glass sticking to my t-rod. But the Dupont literature indicates the maximum temp tolerance of teflon is approximately 275 °C, which, at least in my simple experiment, indicates a very conservative Dupont t-tolerance. So my question is... can/does teflon withstand 1400 °C?
Thank you,
Bill Harrison
student - Corpus Christi, Texas
---
2004
A. Why would you second guess Dupont? They invented Teflon and they seem to have a pretty clear understanding of its limitations. I have stripped various fluoropolymers with temperatures as low as 700F. Do not forget that under extremely high temps, Teflon degrades into a form of Hydrofluoric Acid.

Daryl Spindler
, CEF
decorative nickel-chrome plating - Greenbrier, Tennessee
---
2004

A. Dear Bill,

Teflon will definitely not survive at a temperature of 1400 °C , are you sure you had an teflon coated frying pan in your test, or has it probably been one with a Titanium oxide coating ?

Regards,

Marcus Hahn




- Lucerne, Switzerland





---

2004

A. I will be extremely surprised if teflon withstands 1400 °C. It starts to break down at much lower temperatures than that and indeed if you heat teflon to only 375 °C and inhale the fumes, you may suffer from "PTFE flu" - this is an illness that has all the symptoms of flu but is caused by the PTFE fumes given off when it starts to break down. You say that the glass did not adhere to the teflon coated vessel, but have you tested its adherence to the same substrate that has not been coated with teflon? There are a few articles on the internet about the thermal decomposition of PTFE (of which "Teflon" is one trade name).




Trevor Crichton




R&D practical scientist




Chesham, Bucks, UK




---
2004

Daryl - Thank you. Not trying to second guess, just didn't know what I didn't know. Assumed it was "teflon" but didn't reduce as I expected.
Marcus - Thank you! I must be something other that "teflon" possibly the titanium oxide you suggest. Will require more research on my part.
Trevor - Thank You. This is truly a case of dumb luck. I did not even consider the reduction byproducts. Fortunately (for me) it was some other coating than "teflon".
To all. Thank you very much for the input. I am off to check out titanium oxide... Bill
Bill Harrison
student - Corpus Christi, Texas
---
---
Teflon coated hangers acceptable for continuous use in heated area
August 18, 2019
Q. Good Morning all,
we are using metal hangers which will have a component (three types in total) we use powder coating for painting the components and send them into oven with 215 °C for powder to settle on component.

Due to this the hanger is also getting painted in between and which is effecting the component painting as the paint on the hanger is not allowing the negative charge to transfer to the component and powder absorption is reducing to the component.
For this we have to get it clean often. So I want to try Teflon on the hanger and provide a charge to the component separately so painting doesn't get attached to hanger and we don't need to get hanger cleaned frequently.

My question is can Teflon stand 215 °C every day for two - three times use and will the Teflon reduce the amount of powder absorption on the hanger? After heating the hanger will be force cooled.
Kiran Kumar
process owner - India