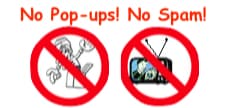 World's top finishing resource since 1989
Chime right in - No login req'd
topic 29035
Iron release from aging passivated 304 steel
2004
We passivate stainless steel type 304 with 37 % nitric acid 40 °C if we take 2 items and test 1 after passivation it shows nearly no release of iron, if we after some try the other item there is suddenly iron release. Does anybody know why ?
Bo Kønig
Food industry - Odense, Fyn, Denmark
---
2004
You should get excellent passivation with this. What test method are you using to determine free iron on the surface? What is the second part subjected to between the time of passivation and the time of testing? Even your first sample should show NO free iron on the surface after this passivation in nitric.
Any carbon steel being worked on in the same shop anywhere? If so, it is likely that you are getting iron dust from the air.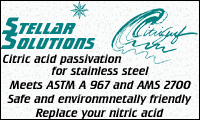 ---
2004
The item is a tube with a valve in one end, so my test method is to fill the tube with 1 % phosphoric acid, leave it for 3 minutes and then measure the rise in iron content in the acid. First test shows very little iron release, like 1/10 of my costumers demand. I believe you are right to think that item get polluted with iron during the storage. I have started test, where I wrap the item in plastic after passivation and then leave them in storage for 2 month; only problem is, my costumer wants answer now.
Bo Kønig
Food industry - Odense, Denmark
---
2004
Phosphoric acid is not a viable test for free iron on the surface, as it tends to etch into the steel. I realize that your customer may be demanding this test. It might be better to ask him to use one of the tests in ASTM A967 / A967M [affil. link to spec at Techstreet] . You may want to consider a better passivation method, also.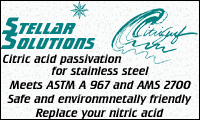 ---
2004
You are right Lee, costumer demands this test, because the liquid is acidic (pH between 4 and 5) and would get taste of iron if possible to dissolve from tube. So in costumers mind this kind of test is closest to real world. What better passivation method would you suggest ?
Bo Kønig
Food industry - Odense, Denmark
---
2004
There is a couple of excellent German reports that shows how much better citric acid formulations are for removing iron than nitric is. One of these is an old study by Adolph Coors. The other one is by NMI Research:
NMI
Naturwissenschaftliches
und Medizinisches Institut
an der Universität TÃäbingen
MarkwiesenstraÃÔe 55
D-72770 Reutlingen
Attn: Dr. Reichl
If you need copies of these contact us. Is the acidic nature of the product in the tube in end use an organic or mineral acid?