Where the world gathers for
plating, anodizing, & finishing Q&As since 1989
-----
How to restore discolored stainless steel cookware
Q. I have stainless steel cookware. A friend burned one quite badly and it is now discolored. Is is possible to restore it by removing the discoloration? I tried baking soda and salt, baking soda, salt, and vinegar [affil links to item on Ebay & on Amazon], and Ajax [affil link on Ebay & Amazon] scouring powder. It now has flecks of silver showing through the discoloration.
Judith JoAnn Karr
missionary - Bucurest, Romania
2004
---
2004
A. First, I would boil water in this pot and loosen any burnt on debris.(Scrape with metal spatula while boiling) Then I would make a paste with cream of tartar and vinegar [affil links to item on Ebay & on Amazon] and try to remove any remaining baked on stain. Use a steel wool [affil link on Amazon] pad. Finally to brighten the pot soak tomato juice, sauce, puree, ketchup, any tomato acid base. Hope that works for you!
DJ Voller
- Strongsville, Ohio
A. To clean our stainless cookware of such 'accidents', my wife uses a scouring powder containing oxalic acid [affil link] (chemical formula C2H2O4) as the active ingredient. Some brands here in the States are Barkeepers Friend [affil link], Bon-Ami [affil link], and Zud [affil link] . Also, products sold for bleaching wood often use oxalic acid; they are found here in marine supply stores. If all else fails, you could try making an extract from the leaves of the rhubarb plant (they contain a fair bit of the acid) and mixing it with your scouring powder. Have Fun!
Tom Gallant
- Long Beach, California
2004
A. I burnt my best stainless steel saucepan really badly but managed to restore it by first soaking the burnt food off with enzyme washing powder for a couple of hours. After removing the remaining particles of food with a scourer I cleaned it with Astonish [affil link] paste and the result is perfect, good as new.
Ann Legg
- UK
2007
---
June 6, 2008
Q. What does it mean when a "supposed to be stainless steel" pan has 10188 etched into it?
What does 10188 stand for, and is it safe for cooking?
Victor Desa
employee - Huntington
---
June 6, 2008
Hi, Victor. It's probably a model number or a run number for that brand of pan. But if I found a pan somewhere with no history I don't think I'd be comfortable using it. More like "Eww, who knows where it's been" than concern about metals leaching out of it :-)

Regards,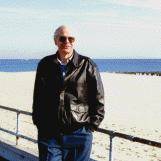 Ted Mooney
, P.E.
Striving to live Aloha
finishing.com - Pine Beach, New Jersey
A. "10188". This is the quality of the stainless steel used in the manufacturing of the pans. 10188 is not as high a quality as 101810.
Robert Pugno
- Stanthorpe, Queensland, Australia
November 29, 2014
---
November 2014
? Hi Robert. You seem to be implying that a pan stamped 10188 is made of 18/8 (18% chrome / 8% nickel) stainless steel; and that a pan made of 18/10 stainless steel might be marked 101810. Do you know the origin of such a stamping code, and what the initial "10" means?
Regards,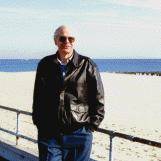 Ted Mooney
, P.E.
Striving to live Aloha
finishing.com - Pine Beach, New Jersey
---
January 28, 2009
Q. I let a stainless steel pan boil dry for an hour or more. I've cleaned it with Barkeepers Friend [affil link]. The bottom has a dried and greyish look to it - no shine - with a few spots of rainbow coloration.

Is there a way to know when a pot is no longer safe to use?

Thank you.
Beverly Hughes
- Dallas, Texas
---
June 6, 2009
A. Hi, Beverly. I'm not sure that a solid stainless steel pan ever becomes unsafe to use. But if chemical cleaners can't polish it, it needs to be mechanically buffed with an abrasive polish and a buffing machine (or at least a buffing wheel on an electric drill). Good luck.

Regards,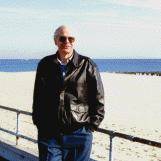 Ted Mooney
, P.E.
Striving to live Aloha
finishing.com - Pine Beach, New Jersey
---
Q. I have a Stainless fry pan that I used to saute some steaks. The pan turned amber gold everywhere EXCEPT where the oil and steaks were (bottom, lower sides). And that everywhere includes the outside of the pan, all over. I'm guessing this pan just didn't enjoy high heat. Part of a Calphalon set, none of the other pans have behaved this way. Any idea what I can do?
Duffy Hawes
- Kingston, Washington
January 22, 2010
---
January 24, 2010
A. Hi, Duffy. The answer to your question is probably exactly the same. Try a good made-to-purpose stainless steel cleaner like Revere copper cleaner , and if it doesn't work then mechanical polishing is required. Good luck.

Regards,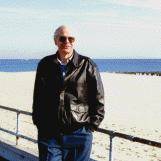 Ted Mooney
, P.E.
Striving to live Aloha
finishing.com - Pine Beach, New Jersey
---
Q. Somebody used a de-limer on the inside of my oven at work and it has since baked on and is black smears. How do I get the black off of the stainless steel inside my oven and the racks. We use it frequently and needs to be safe as we are a restaurant.
Barb MacPherson
restaurant manager - Toronto Ontario Canada
June 3, 2013
---
Wenol


(Affil. Link - as an Amazon Associate, finishing.com earns from qualifying purchases)

December 18, 2016
Q. Is it safe to use Wenol [affil link] metal polish on the inside of my all-clad stainless steel pan? I would like to remove minor scratches done with a low abrasive grade sponge.

If I do use it will it have a mirror finish or similar to the one it currently has, but without the scratches.
Luis Surez
- M. Hidalgo, CDMX, Mexico
A. Hi Luis. When a pan is manufactured, all sorts of strong and dangerous materials are used, from cutting oils to polishing compounds to highly concentrated acids. So it's not a case of whether those materials and metal polishes in your food are innocuous, they're not; what is relevant is whether you can 100% trust yourself to remove any traces of it before cooking in that pan :-)

Generally a consumer grade "metal polish" removes tarnish to make a surface shinier, but unless you scrub with it for hours and hours, it's probably not going to remove significant scratches.
To understand polishing, imagine trying to dig the foundation for a skyscraper with a teaspoon. It can theoretically be done but would take the best part of eternity. Instead, a huge derrick removes the bulk of the soil, then smaller earth-moving machines level things up and clean up the edges, and finally workers will use a shovel for fine adjustments as they set the concrete forms. Polishing is like that: you can't get to a smooth shiny finish unless the final abrasive is extremely fine, equivalent to the teaspoon; but if it is, it's power to actually move enough metal to polish out scratches is very limited. When raw metal is taken to a mirror finish, this usually involves 5 to 7 steps with ever finer abrasive. So your metal polish dissolves and removes tarnish, but its abrasive power is very limited.
Regards,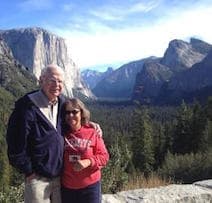 Ted Mooney
, P.E. RET
Striving to live Aloha
finishing.com - Pine Beach, New Jersey
---
June 11, 2018
silly :-) I have a good stainless steel set and, at one time or another, I have burned food to a crisp in every pot & pan drinking while I cooked (not too clever) and falling asleep. All my pots are golden outside and have black bottoms inside, I tell my friends it is a special gold edition set; but now having read the tips on this page, I will get on with cleaning them.
Peter Kennedy
- Vancouver Canada.
---
July 25, 2018
Q. I accidentally set my stainless pot lid on a turned on electric stove burner for 10-15 minutes.
When I realized that I turned on the wrong burner the lid turned a goldish color. Please I need help to restore to original silver color! Thank you
betty weiss
- pacific Missouri usa
---
---
Can a delaminated cooking pan be dangerous?
Q. Can a stainless steel pan have aluminum inside and make it unsafe to use after scorching so bad a layer of metal came off of it?
Myra Greenwood
- California USA
May 26, 2019
A. Hi Myra. Sorry but there are so many potential ways to construct a pan that I don't think anyone could hazard a guess as to whether yours had a stainless skin over aluminum (which I think some do) or over copper (which I think some might) or was perhaps a "clad" stainless with a very high grade interior skin for corrosion resistance but a lower grade 'magnetic' stainless to make it useable on induction burners. Apologies: I think only the manufacturer can tell you how the pan was made; but I don't think I'd use a pan which a layer of metal came off of :-(
Regards,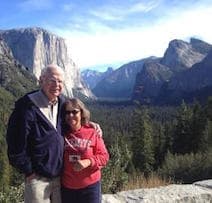 Ted Mooney
, P.E. RET
Striving to live Aloha
finishing.com - Pine Beach, New Jersey
May 2019
---
---
Q. I cleaned a metal (maybe stainless steel) pot with a clorox-ed sponge by mistake -- now it has a bluish rainbow coloring in it. Is coloring possible to remove and is pot safe to cook in health wise?
Fern Hammond
- NYC New York USA
April 10, 2020
---
April 2020
A. Hi Fern. People disagree on what is safe even when they know what something is; sorry, but you'll certainly not get agreement that some unknown film on a pot of unknown metal is nothing to be concerned about :-(
But I'd guess the bleach or the caustic soda [affil link] in it oxidized some film of oil on the pot and that neither that film of food nor the remnants of disinfecting bleach is hazardous. I'd scrub it with a 00 steel wool [affil link on Amazon] pad, and I'd bet it goes away. Good luck.
Regards,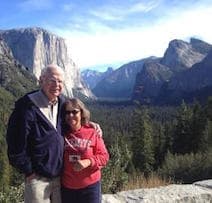 Ted Mooney
, P.E. RET
Striving to live Aloha
finishing.com - Pine Beach, New Jersey
---
Q. What about the slight pitting it caused?
Fern Hammond
[returning]
- New York New York USA
April 15, 2020
---
---
Q. The water dried on the pot on the stove and it is dark gray now. I have used everything: vinegar [affil links to item on Ebay & on Amazon], baking soda, ketchup and lemon. So, neither alkaline nor acidic products has worked at all. What next?
Carol Lopes
- Miami, Florida USA
April 16, 2020