topic 28849
How to clean and seal a large exterior piece of copper
(2004)
Q. I had a copper hood (approx. 4' X 8') made for an exterior part of my house and want it to stay bright copper. How do I clean and seal it to keep it from changing and weathering? Thank You.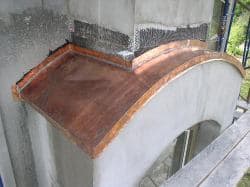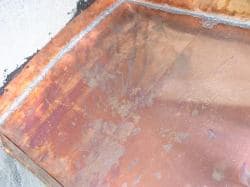 Linda H
[last name deleted for privacy by Editor]
- Reddick, Florida, USA
---
(2004)
Q. Saw your question re the copper preservation. Have same problem. Did you ever get any answers?
Thanks,
John Wall
---
(2004)
A. Yes I contacted the manufacturer of two copper cupolas I purchased for my barn and they were able to give me the process. It worked great except for a seam that had been soldered. The next day, of course after sealing the copper, a chemical reaction occurred at the seam and it turned black! Tried to redo a small area and what a pain.
Linda H
[returning]
- Reddick, Florida, USA
---
(2004)
A. Hi Linda,
An excellent cleaner for copper is chromic acid. 10 seconds in this cold juice makes it look like new. Chromic acid is not kiddy stuff; mac value is 0.001 ppm. Personally I would remove the copper part of your house and to take it too a company that is equipped for working with chromic acid. Companies that work with chromic acid are the "pop" companies...."plating on plastics"
Alternative: try another oxidizing substance like hydrogen peroxide [linked by editor to product info at Amazon], add a few drops of acid like vinegar or a few drops of car battery acid. Test the substance on a piece of copper. Keep the copper clean: coat it with a clear coat, vapor tight.
Have fun.
Ruud Kooijman
- Venlo, The Netherlands
---
(2005)
A. The best finish to use is Incralac. It is a lacquer that contains a chelating agent that prevents oxidation under the lacquer finish, keeping your bright finish for years.
Josh Parker
- Kalispell, Montana, USA
---
(2006)
Q. Hello. Our bay window copper top is approx. 40 yrs. old and covered with layers of paint. We would like to strip it down, clean it and preserve it, don't know which products to use. Can you tell us? Thanks.
Brenda W
[last name deleted for privacy by Editor]
- Detroit, Michigan, USA
---
(2006)
A pic of the work we've done so far.
Linda Hartman could you please post the info on the company who advised you on the copper cleaning process? Thanks.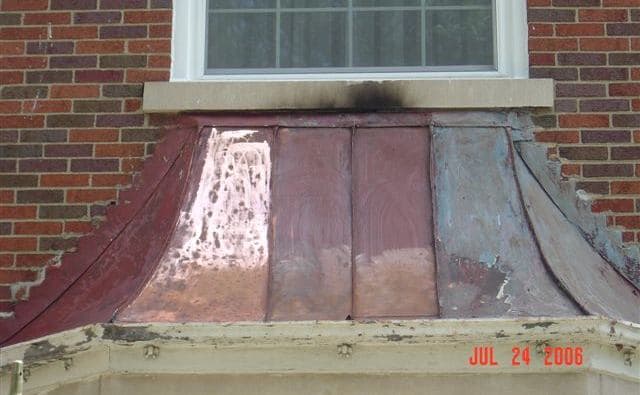 Brenda W
[returning]
- Detroit, Michigan, USA
---
March 18, 2008
A. In a pinch, you can use hot sauce. We have around fifty square feet of copper sheets to clean and have been using hot sauce from a supplier which sells it by the gallon.
Kelly Craig
- Olympia, Washington, USA
---
September 29, 2008
Q. I recently moved into a home that is 20 years old. The front bay window is topped with a beautiful copper cupola top. Unfortunately it wasn't taken care of and it has turned completely brown. I have heard of many different ways to clean it and am almost afraid to try anything (I have priced copper replacements) I do like the greenish patina color. I think the top has been sealed and am not sure how to remove that (if it is still even on)

Appreciate any help in this matter. :)
Pam Uhrman
hobbyist, homeowner - Brentwood, Tennessee, USA
---
September 8, 2009
Q. I want to put copper shingles on two bay windows. However, I do not like the shiny bright finish of new copper. I would like it to be duller more darkened. I also do not want the greenish color it ends up being. Can I stain the new copper and then seal it and if I can what do I use to do that?
Carolyn Hall
designer - Puyallup, Washington


This public forum has 60,000 threads. If you have a question in mind which seems off topic to this thread, you might prefer to Search the Site