Where the world gathers for
plating, anodizing, & finishing Q&As since 1989
-----
Steel plating of copper etchings/engravings
Q. I am an artist printmaker who specializes in making etchings on copper plates. I have found that I can improve the durability of the copper by plating it with a thin layer of steel. This plating also helps with the printing. The steel facing seems to make the plates surface a bit "slicker" which facilitates the wiping of ink from it. Another artist, living near me, knows how to steel plate and was plating my etchings for me. This was discontinued recently when he had to close and move his studio. I have heard that it is not that difficult to do. I am interested in setting up the necessary equipment to plate my own etchings. Can you provide me with any advice or steer me in a direction? I am reluctant to send the plates "away" since they are fragile and represent a large amount of labor on my part. Thanks for any input that you can provide me!
Sincerely,
Larry Welo
artist/printmaker - Mount Horeb, Wisconsin
2004



A. Nomenclature may be a problem. Iron can be plated relatively easily but steel is an alloy and they are very difficult to control. I have never heard of a commercial "steel" plating bath. See if you can get the plating process from him and someone may be able to help, once they have "the rest of the story".
James Watts
- Navarre, Florida



A. Perhaps it's possible that the plating looked like steel, in contrast to copper, but wasn't. Maybe it wasn't even iron plating? Maybe you never paid really close attention to that part of the project, and it was actually nickel plating?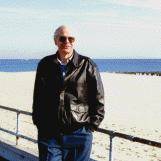 Ted Mooney, P.E.
Striving to live Aloha
finishing.com - Pine Beach, New Jersey



---
Q. Greetings,
Thank you Mr. Mooney (NJ) and Mr Watts (FL) for responding to my previous question about "steel facing" of copper plates. I contacted the individual who was plating my copper etching plates and he informed me that the metal used was indeed iron ... a low grade and low carbon iron. He was reluctant to give me too many details since it was a service that I was purchasing from him ... $100 per copper plate. However, he is not sure when, if ever, he will begin plating again. I never saw his plating facility, but was told by others who did see it, that it appeared to be quite simple. He told me, when we spoke, that it was a complicated process, and very difficult to get the correct results. I am thinking that it is possibly not so difficult to do, and that with a little guidance, some experimentation and the correct tools, I could be plating my copper plates on my own. If you are able to provide any feedback, I would be most appreciative!
Sincerely,
Larry Welo [returning]
artist printmaker - Mount Horeb, Wisconsin



"A Complete Treatise On The Electro-Deposition Of Metals ..."
from Abe Books
or
(a reprinting of a 1924 book)

(Affil. Link - as an Amazon Associate, finishing.com earns from qualifying purchases)

A. Old style iron bath
&lt= (according to Langbein, 1920.):
4,5 ozs iron sulphate
3,5 ozs ammonium chloride
1 quart water
10 cm electrode distance
1 V, 0,2 A, iron anode
Goran Budija
- Cerovski vrh Croatia



A. Hello Larry - Goran from Zagreb is correct. The metal used for so called "steel facing" of copper printing plates is iron of the lowest carbon content possible. Other metals used in various printing houses were nickel and chrome, but the 'steel' is the most faithful to the minute textures in the plate. Well done, it makes no change to the image.
Two books which cover the subject for the artist-printmaker are:
1. Photographic Printmaking Techniques [affil link on Amazon] by Deli Sacilotto (My edition of the book was printed with serious formula errors in the chapter on photogravure. As I was new to the process in 1985 when I bought the book, it took me many expensive and frustrating hours of struggle with failures before I picked up the error. But I still recommend reading the notes on 'steel facing'.), and
2. The Mezzotint [affil link on Amazon] by Carol Wax.
Cheers,
Kevin Parratt
- Oslo, Norway



---
---
Q. I set up a steel-facing unit 6 months ago and have recently been experiencing problems in plating. We have a plastic container (500 L), a mild steel plate (1,6 mm in thickness),a solution of ammonium chloride mixed with water @ 210 g per liter and are using a rectifier set at a voltage of 5 initially, attach to the plates and set the amperage to 3,5 and the volts fall anywhere from 0.07 - 0.10. I am inexperienced in the science of the process, but everything was going well until recently. What I am now finding is a dark maroon, almost black coating on the plate preventing the steel to adhere. Can rust cause problems? Temperature? and if the solution was low in ammonium chloride - would this happen? We are using the process also for copper etching plates. If anyone could help it would be greatly appreciated.
Thank you.
Jillian Ross
- Johannesburg, South Africa
2004



A. In the book Magical Secrets about Aquatint by Emily York of Crown Point Press.
you will find a very good description of the steel facing process as well as well illustrated pictures.
I visited Crown Point Press and viewed their very successful steel facing unit.The owner of Crown Point Press, Kathan Brown, was very helpful and generous with her knowledge. I run the Griffith Studio and Graphic Workshop in Australia and I have been frustrated that I have had to go elsewhere to plate my work. I am now building a kit the same as the one I saw demonstrated at Crown Point Press.
Pamela Griffith
- Sydney Australia
July 14, 2009



---
---
Q. I have several etched copper plates which were plated with a shiny silver metal which now appears to be rusting. I want to preserve the copper plates if I can since I have the Artist's Proof prints from them.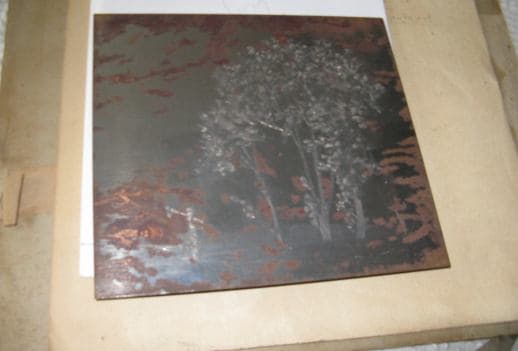 Any ideas how to either remove the plating and rust or else have the copper completely replated? Thoughts about where such work might be done?
Jim Davison
- Dover, Pennsylvania, USA
July 20, 2013



A. That is job for professional metals conservator. Try American Institute for Conservation of Historic and Artistic Works (they have good online tool: find a conservator) .
Hope it helps and good luck!
Goran Budija
- Cerovski vrh Croatia




Thanks for the recommendation. I will look to see who is not too far from here.
Jim Davison
- Dover, Pennsylvania, USA



A. I'm responding to the thread about steel-facing removal. According to Deli Sacilotto, referenced earlier in the thread, steel face can be removed either with Brasso [affil link] metal polish or by immersing the steel-faced copper plate in a solution of water and 5% nitric acid. I built a steel facing unit for my college, using Sacilotto's directions, and with additional tips from Emily York at Crown Point Press, San Francisco. I've successfully removed steel facing, reworked plates and refaced them myself. In short, it is possible to remove facing from a plate yourself. I'd practice on test plate, however.
Good luck!
LISA SWEET
Printmaking Professor/Artist - OLYMPIA, Washington, USA
July 22, 2016



---
A. Do not use nitric acid, that attacks the copper! Use muriatic acid instead.

Full information on steel plating in http://www.casanellas.com/varis/Steel_facing.pdf
Francesc Casanellas
- Barcelona
November 18, 2022



---

Thanks Francesc! Our site attempts to be a permanent reference and has been online since 1989. We generally don't like to post links because virtually all break over the decades and maintaining them has been a very time-consuming game of whack-a-mole -- but very important because, when URLs go defunct, bad actors buy them up to put malware on them :-(
But your page looks good and we'll take a chance! We hope you maintain it over the long term :-)
Luck & Regards,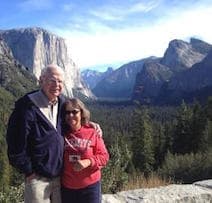 Ted Mooney, P.E. RET
Striving to live Aloha
finishing.com - Pine Beach, New Jersey