Not a lecture hall but a roundtable with a seat for you!
60,000 topics spanning 36 years. Education, Aloha, & Fun
topic 28013
Decorative chrome process
2004
I represent a company making Hummer accessories. These accessories are hogged out from solid T6061 alum. What is the difference in normal chrome plating and decorative chrome. I received this explanation and wanted your professional input. The manufacture has stated: The first step in the plating process is a dip in a copper or electroless nickel tank. Copper or electroless nickel acts as a primer by providing a bond between the base metal and the bright nickel and to prevent corrosion on the Aluminum. The second layer is Bright Nickel. When you see a chromed piece of metal, you are actually seeing the nickel. It gives the silver color and it also provides corrosion resistance to the part. Chrome is the third and final layer of the plating process. But why do we need chrome if what we see is the nickel? Because the chrome acts as a clear coat for the nickel, it gives the part the classic mirror finish and also prevents the nickel from tarnishing. Please advise if this info sounds correct.
Ed Gonzalez
- Phoenix, ARIZONA, USA
---
2004
The explanation you received is basically correct Mr. Gonzalez. There are two basic types of chrome plating, hard (engineering) chrome and decorative chrome plating. Hard chrome is put directly onto the substrate, not on top of nickel plating, and is put there as a very heavy coating essentially for wear and friction reduction. People don't usually see too much of this because it's on internal machine parts. It is metallic in color, but more matte than reflective, and is usually not considered highly aesthetic or decorative. Decorative chrome plating is probably better called nickel-chrome plating because it always consists of a relatively heavy layer of nickel followed by a very thin flash of chrome. The chrome is abrasion resistant, and slightly bluish in color. Without the chrome flash, the nickel would be slightly yellowish and would grow more so as the nickel tarnished.
In candor, though, copper-bright nickel-chrome is not a very rugged finish for exterior use. OEMs would use a minimum of two layers of nickel and as many as four, carefully engineered such that the outer most layer galvanically protects the interior layers so that corrosion spreads laterally instead of penetrating down into the aluminum.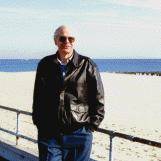 Ted Mooney, P.E.
finishing.com - Pine Beach, New Jersey
Striving to live Aloha