Where the world gathers for
plating, anodizing, & finishing Q&As since 1989
Protection for outdoor steel sculpture
-----
1999
Q. I need to find a protective coating to apply to an outdoor sculpture. The piece is being installed in fairly high altitude and will go to temperature extremes from 90-100 in summer and as low as the 30's in winter. It has rusted steel as a center piece and brass with various patinas bolted on in the center. The outside ring is wirebrushed steel, and it is held up on three rough textured forged shafts.I was advised to use G.J. Nikolas [a finishing.com supporting advertiser] #11565 OD brass lacquer by a company with 30 years experience with outdoor sculpture. I applied at least 10-15 coats with the first 3 coats thinned to penetrate the rust. It failed to provide much if any protection at all and failed in less than a month. When peeled loose, the lacquer is less than 3 sheets of notebook paper thick and has dry rust scale stuck to it.I am thinking of applying 4-5 coats of Minwax [affil. link to info/product at Rockler] but don't know if it will hold up.
T.W.
[last name deleted for privacy by Editor]
- flagstaff Arizona
---
1999
A. Dear T.W
From your question I understand that you are in the US. It is not obvious that you want to protect clean steel or rusted steel. Rusted steel cannot be protected; you have to remove the rust by acidic paste (ask your local chemical finishing supplier or in DIY shops). In case you want to protect the steel and improve adhesion of the lacquer you have to accomplish process called anhydrous phosphating. Henkel Surface Technology has product called KEPHOS 253 which is preparation of steel or brass before paint for increasing paint adhesion and corrosion resistant under paint or lacquer. This layer is obligatory before paint and it is transparent layer. Yours,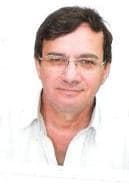 Yehuda Blau
YB Plating Engineering and Quality - Haifa Israel
---
2000
A. To your problem with the piece that you are mounting up high like that you may wish to use a Polane A for metals... We use this regularly on all types of metals from steel to copper etc. Often it is used to seal pieces that we have added age to with rust and the Polane works best and seals very very well. Sherwin Williams carries it and it is expensive and requires a three part mix. Do several heavy coats and allow them to dry and cure each time. The time lost will prove to be worthwhile as you will find that it will work well.
Jeffrey McPhee
- Seattle Washington
---
2004
Q. Rust as patina on steel sculpture. I have just started making large welded steel sculptures. I am not satisfied with paint or powder coating. I would like to have rust as a patina. What steps do I need to take to rust the metal, get beautiful deep brown colors and then protect the surface so that someone does not get rust on them if they touch the sculpture.
Robert Hillman
Rusting steel sculpture - Santa Fe, New Mexico, USA
---
2004
A. Dear R.H.
The most successful rust patinations I have found come from applying Muriatic Acid [affil. link to info/product on Amazon] . It is made for concrete purposes and can be bought for a cheap price. After the application, apply Linseed Oil [affil. link to info/product at Rockler] or a paste wax. I think you'll be pleased w/ the array of browns, reds, and oranges.
Robert Alsobrook
- Humboldt, Tennessee, USA
---
2005
A. Perhaps Cor-ten steel would solve your problem. As I understand it, Cor-ten develops a rust on the surface, but that oxidation doesn't go any deeper.
Art Zoller Wagner
- Pasadena, Maryland
---
March 14, 2012

A. Hello all, Colin here ... first post!
Interesting comments. That is also my understanding with Corten steel, also called rusting steel. I think shipping containers are made from it.
I have made a variety of outdoor pieces in cast and forged steel/stainless steel, cast bronze, etc. and currently having a few issues with a silicon bronze plaque that needs to remain bright to distinguish some relief etched detail. So far I've tried a patina or two, "Renaissance Micro-Crystalline Wax" [affil. link to info/product on Amazon], and now a clear coat called Incralac from a can (made for copper and brasses). We'll see?
I've since found there are good products on the market that are used for marine applications, i.e., aluminium boat hulls. The one I will try next is called Magnum by Altex coatings here in NZ. Having a chat with the tech, it sounds like it is so far good for 6 years in testing -- dulling but impervious.

Cheers
Colin
Colin Howard
- Auckland New Zealand
---
May 24, 2014
A. Regarding Corten steel, it does hold up better than other rusted steels, but some sculptors have found that it still continues to degrade over extended time.

Regarding bolting bronze to steel, you will have an increase in corrosion much like the problems they encountered with the Statue of Liberty where copper plates were bolted to iron brackets. You need to somehow insulate the the two or use stainless steel, but then you will not have rust as a patina.

We've used Incralac on our bronzes as far back as the 1980's, but were dissatisfied with it's lack of staying power. For about 20 years now we have been using Permalac made by Peacock Labs. it is a synthetic lacquer made specially for copper alloys (and it works great on many other surfaces as well). Outdoors it seems to last for a good ten years or more depending on conditions and is easy to re-coat.
Kim Tefft
Tefft Terra Studios / KT Goldsmithing - Lawrence, Kansas
---
---
December 17, 2017
Q. Hi, I am a sculptor from india. I've made a sculpture with scrap parts. All parts are uneven thicknesses.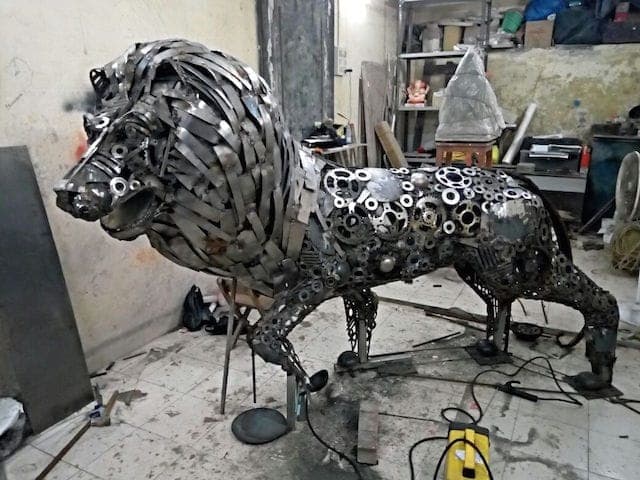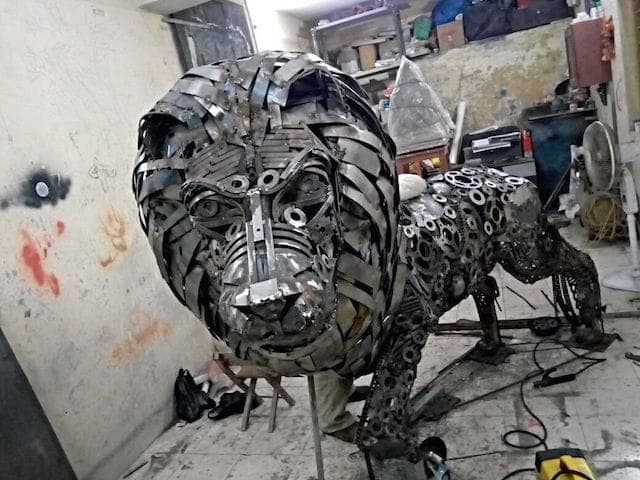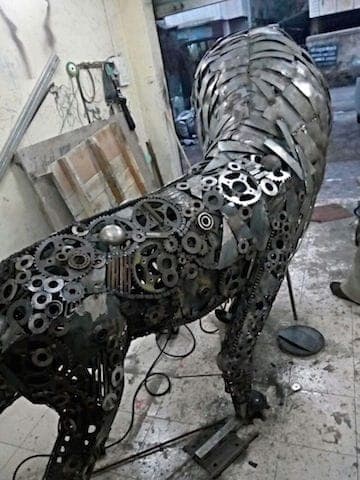 I want to protect it from rusting because it will be placed outside. Big problem is I can't galvanize it because of very complicated design. What should I do to prevent it from corrosion and rust?
Jaydeep Apte
Artistry - Kalyan , maharashtra, India
---
December 2017
A. Hi Jaydeep. That's a very impressive artwork :-)
Obviously, if it could be displayed indoors, clear coating should be quite acceptable. If it must be outdoors and you must retain the metallic look, your only choice is a good clearcoat, which has been previously discussed on this thread -- but I feel this might be trouble-prone or require maintenance. Some areas look so hard to reach that you might investigate whether clear e-coating is available as a primer coat because it will give complete coverage.
If it can have a painted finish it's possible to do a much better job, with zinc phosphate, followed by electrocoating, followed by powder coating or spray paint which should last a couple of decades.
Regards,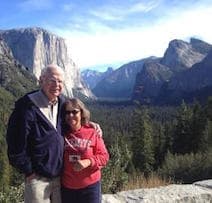 Ted Mooney
, P.E. RET
Striving to live Aloha
finishing.com - Pine Beach, New Jersey
---
December 18, 2017
A. Try SST Perma-Protector. That is special nanotechnology-based coating (sst-oberflaechentechnik.de/en/Products/). Very expensive and very durable (up to 20 years of protection). Hope it helps and good luck!
Goran Budija
- Cerovski vrh Croatia