60,000 Q&A topics -- Education, Aloha, & Fun
topic 27674
Cylinder bore hard anodizing questions
A discussion started in 2004 but continuing through 2019
2004
I am currently fighting with a design project involving an aluminum master cylinder. I specified hard anodize on both the machined aluminum casting and the aluminum piston for wear resistance. The main problem is that the surface finish goes straight to hell after hard anodize. I expected the surface finish to get "worse" but not to the extent I encountered (roughness increased from 16 µinch to 64 µinch and beyond).
project details:
1) aluminum alloy = A319 (permold) - I know that A319 is not an ideal alloy due to relatively high silicon content but I currently cannot change the alloy, A356 may be a future option.
2) Bore = 3/4" ID
3) Bore is not a blind hole - there are large cross holes
4) Hard anodize thickness = .002
5) I would love to use electroless nickel but it is too costly for this project
6) So far it is looking like I need to investigate secondary operations to reduce the final surface roughness.
questions:
1) Do "thinner" hard anodize coatings result in lower increases is surface roughness? I would like to limit the increase to approximately 2X the original machined surface.
2) Do PTFE hard coating combination fill in the gaps? Will this process result in a slightly better surface finish?
3) Does anyone else out there have any experience with similar situations?
Thanks in advance for your help!
Joe Kott
design engineer - Lodi, Ohio
---
2004
A. You only anodize "aluminum". All that other stuff (including silicon chunks) on the surface does not anodize and does contribute to roughness.
Casting are always going to be rougher than wrought following anodizing.
Thin walls have more silicon (non-aluminum) in the surface than thick walls. This is because of faster cooling.
True Hard Coat done at 32 F does not "throw" well into recesses. 50 F so-called "Hard Coat" would get down into your deep recesses better.
Proprietary additives are available which keep the anodizing smoother than without additives - however, no one is going to guarantee to meet your RMS on castings. I would like to connect you with such an additive.

Robert H Probert
Robert H Probert Technical Services

Garner, North Carolina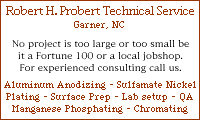 ---
2004
A. Hardcoating significantly increases the surface roughness on castings. I suspect it is due to the coating exposing metal discontinuities and subsurface porosity. The finish can be improved somewhat by honing or polishing after hardcoat. Better finishes can be achieved with resin impregnations after hardcoat but before honing.
Chris Jurey
, Past-President IHAA
Luke Engineering & Mfg. Co. Inc.

Wadsworth, Ohio

---
---
2005
Q. So what would be considered optimum surface finish range for hard anodized aluminum master cylinders? Is there a min and max that's preferred?
Michael Menta
- Colmar, Pennsylvania
---
November 17, 2010
A. Hi Joe,

I to have been working on a master cylinder project.
I'm using 6061-T6 aluminium sand castings and have been experimenting with bore finishes for both 9.0mm and 10.5mm bore diameters.
I have been roller burnishing the bores to achieve the desired surface finish.
I believe the process can be applied to a hard anodized surface. The burnishing tool should roll the rough hard anodized peaks into the soft aluminium below and produce the smooth bore finish you require.
The Engles Single Pass Method is another way to finish the bore, This is process that I am endeavoring to look into. This is a process where by a rotating diamond bonded mandrel is passed through the bore. The results from this process are outstanding.

I hope I have been of some assistance, Good luck with the project.

Cheers.

Brett.

Brett Vincent
[returning]
- Brunswick, Victoria, Australia
---
June 26, 2012
A. I am working on a project where the part material is 7075-T6 and is of internal diameter 50 mm. The surface finish Rt=4max is required after hard anodizing (coating thickness is 45~55 micron ) in this internal dia. This is a blind hole and the length of this ID is 12 mm. The finish is coming equal to Rt=7.-8.0 micron after hard anodizing. However, we maintained this finish approx. half (Rt=1.5 to 1.8 micron) in machining.
Vikas Rana
- India
---
---
August 3, 2019
-- this entry appended to this thread by editor in lieu of spawning a duplicative thread
Q. I have problems with hard anodizing in a diameter with 12 mm. After anodizing the part looks OK, but after honing operation the coating is breaking.
Thickness around 65 microns
Temperature around 2 °C
Current density 4 A/dm2

What can I do?
ELAINE BASSANELLI DIAS
Liebherr Aerospace Brasil - Guaratingueta (Sao Paulo), Brazil
---
August 2019
A. Hi Elaine. Although I don't know much about this myself, I moved your inquiry to a more-closely related thread so you can read some ideas as a starting point:
- 65 microns is probably too much if this is an I.D.,
- You probably should hone before anodizing as well as after,
- You probably should impregnate before honing.
Luck and Regards,
Ted Mooney, P.E. RET
finishing.com - Pine Beach, New Jersey
Aloha -- an idea worth spreading
---
August 9, 2019
? Elaine

Is the bore through or blind?

What alloy is the aluminum?

Where is the anodize breaking on the bore?

Is underlying aluminum exposed?

Maybe send Ted (<>) a photo of the problem.
Willie Alexander
- Green Mountain Falls, CO