Where the world gathers for
plating, anodizing, & finishing Q&As since 1989
-----
Problems with stainless steel cut wire media in magnetic tumbler
Q. I only clean gold & silver and I am getting the black stuff, and it is staining the jewelry and I don't find a way to get rid of it. Anyone with a solution?
Ernie del castillo
professional jewelry - CUTLER BAY, Florida
April 11, 2022
---
April 2022
A. Hi Ernie. Cynthia suggested spinning your stainless cut wire media in Coca-Cola to clean it. Have you tried that? And Annie followed up with a warning to make sure there is no aluminum in your media -- have you assured yourself of that?
Luck & Regards,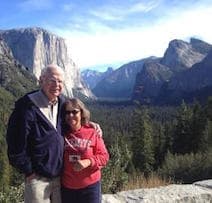 Ted Mooney
, P.E. RET
Striving to live Aloha
finishing.com - Pine Beach, New Jersey
---
April 13, 2022

Thank you very much, just yesterday I did that with the coca kola. And the result was amazing I know now what to do if it happens again. Also someone tipped me about adding a little bit of pickle compound powder to the mix. That will give a brighter yellow to the gold. I appreciate your comment thank you again.
Ernie del castillo
[returning]
professional jewelry - CUTLER BAY, Florida
---
---
↓ Closely related postings, oldest first ↓
---
---
2004
Q. Hello,

I manufacture small square-threaded aluminum parts that are used in professional music amplifiers. I am having problems with the polishing media prior to hard anodizing. The aluminum is 6061 and the grooves are .040 by .040. I first use a vibratory tumbler with plastic media, and that works OK for deburring the non-threaded areas, but does very little for the grooves. I have now built a magnetic spinning tumbler, and am very encouraged with the almost uniform polishing action using .035 cut wire media. The problem is a fine black residue apparently generated from the rubbing of the stainless steel wires against each other. The residue persists even using clean water without any detergents, and actually gets pounded into the parts. I used type 410 stainless for the cut media, primarily for its magnetic properties, and the fact that I could heat treat harden it. I have not hardened the media yet, however. My next step is to cut some type 304 wire, but I know it will be inferior magnetically, even if I work-harden it. I really need to know the best steel media to use in magnetic tumblers, and would like to know what the black residue is.

Thanks,
William Herzog
electronic engineer - Rogue River, Oregon, USA
---
2004
A. Well, the black stuff is iron, and the best media is the lowest sulfur, phosphorus and carbon containing alloy stainless steel. However, those particular alloys are not magnetic at all. Magnetic tumblers are for silver and gold, and other noble metals that generally will smut up the steel media, not the other way around.

You should really be vibratory tumbling, as the parts are less likely to become cold worked, and any residues won't be hammered into the surface of your aluminum as badly. Even rotary tumbling can be fashioned to your needs given the correct media and compound are used. Sounds like if you were to harden your 400 series media, you may likely be on the right track.

Good luck!
Jeff Swayze
- Kelowna, B.C., Canada
---
2004
A. The S.S. media that you are using right now, i.e. S.S.410 is the most suited for your purpose. The black residue formed could be the reaction of the chemical that you use for deburring, polishing or radiusing with water. Also if the parts have oil before processing then the oil can also react with chemicals. So you are requested to put oil-free components in the machine. After processing do you find any media marks on the components? If not, then at what speed does the entire mass rotate?

Regards,
Niranjan S. Kulkarni
Finishing Machines - Thane, Mah, India
---
2004
A. Supposedly, the black residue or debris is carbon which is used in the making of SS. It is surprising the amount that is generated and yet there appears to be no deterioration of the SS wire. I am told that the properties or composition changes from mfr. to mfr. Not sure how accurate this info is, but it is a common problem with magnetic systems. Fortunately this problem cleans up very well with a secondary clean or rinse.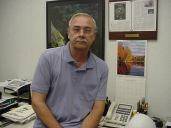 AF Kenton
retired business owner - Hatboro, Pennsylvania
---
2004
Q. Hello,

I appreciate the answers, and questions. I would like to report progress, since I first posted the problem. I hardened and citric passivated the 410 SS media. I had very bright and clean SS after doing this. At best it seemed to slow the problem down a little. The water solution was opaque after about an hour, as opposed to 15 minutes before. I let it run for about 2 hours without changing solution, just to see how bad it would get. The water, media, and parts got as black as before. To calibrate you on what I am calling black look at a computer monitor that is turned off. I know that magnetic tumblers are normally used for jewelry, as that is what inspired me to try this approach. I figured if they could polish their intricate filigree my threaded parts would be a cinch. I admit I didn't give the vibratory system an equivalent comparison because It will take so much SS media to fill my vibratory tumbler.

I am confident the parts are oil free. I also don't see how the detergent could be reactive, because I have the same problem with pure water. Yes there are media marks as evident by the very good polishing I am getting. In fact the uniform polishing, even in the grooves is why I am encouraged to persist in trying to get rid of the black (dark Grey) pollution. The mass rotates about one cycle per second. Carbon residue makes sense. That is exactly the color! I should measure the diameter of some fresh media and track the wear. I guess I am learning that stainless steel isn't as stainless as I thought.

Thanks,
William Herzog
manufacture of music amplifiers - Rogue River Oregon USA
---
2004
A. It is interesting that when you passivated the 410ss parts with the CitriSurf you got much longer life from it before it started turning black. What this says it is that the black IS probably coming from the 410, which is NOT a very corrosion resistant steel, but good for this kind of operation. The thing you have to realize is that the passive layer is only 25-30 Angstroms thick! This is only a few molecules thick, which will wear off in this kind of operation in a short time. Repassivation of the media could give you a problem free system, but it seems a bit much to repassivate after every hour of operation.

If your cleaner is alkaline, of course, you could be getting some reaction with the aluminum.


Lee Kremer
Stellar Solutions, Inc.

McHenry, Illinois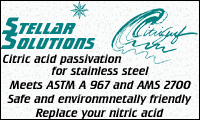 ---
2006
A. In the jewelry trade we get rid of the black residue by spinning our media in coca cola. It works great for cleaning your steel media, however I don't know what it will do to your items. I only work in silver and high karat gold.
Cynthia Brown
- Arlington Virginia USA
---
2007
Q. I am having the same problem with my magnetic tumbler finishing sterling silver pieces. I noticed that there was more black stuff when I used a piece of wire (I think it is aluminum...some kind of cheap white metal) tied to my pieces to keep them from sticking together in the tumbler because they were flat. However, I got a little of the black stuff even when I only had silver in the bowl. I will definitely try the coca cola thing to clean the media. Any suggestions on getting the black off of my silver pieces though? It didn't come off with simple soap and water. I had to hand polish to get it off ... not something I want to have to do with every piece.
Annie Moran
- Brooklyn, New York
---
December 13, 2008
A. I have been researching magnetic tumblers as I wish to have one for jewelry making. One manufacturer advises cleaning SS shot with Oxalic Acid [affil link].
Alice Norman
- Boise, Idaho, USA
---
November 12, 2010
A. I don't think you will EVER get away from the media turning black if you are tumbling aluminum. I believe that the discoloration is from the parts themselves. Whenever I have hand polished or machined polished aluminum pieces there is ALWAYS a black residue that forms. I'm no expert, but I think your issue is in the part material, not the media material.
Mike Holland
- San Diego, California, USA
---
January 4, 2011
A. Have you tried running the machine without any of your parts in it? This will tell you if the media or solution is the problem, or the aluminum parts themselves...
Anthony Cash
- Atlanta, Georgia, USA
---
January 26, 2013
A. The origin of the black on the aluminium is a chemical process. You get the same when you clean aluminium parts in a dishwasher with normal dishwasher soap.
So get yourself some special cleaning solution for aluminium cooking equipment.
Eric-Jan de Jong
parts & tools instrument maker - Losser Twente Holland
---
May 17, 2012
Q. When using a magnetic finisher what is the best speed to run my machine at so that I get the best results?
Brady Olson
- Mankato, Minnesota, USA
---
May 24, 2013
Q. I am having similar problems but it is that when I magnetic finish jewelry, the diamonds turn black on occasion, not always. Also I found that any soap that can give properties of an electrolyte mixed in with iron filings and a collapsing magnetic field is bad.
I changed to a liquid soap containing no detergent and it rid me of the milk diamonds. I suspect the magnetic field rising and collapsing in a acidic environment was creating heat by induction in the center of the stone and burning the stone from the inside out.
As far as the black soot that is well attached on, the soot is likely an oxide that is deposited on the stone; this one has being a mind bender, anyone know how to solve the black color? It does seem to be reduced if the pieces are heated up' sometimes acid bath can undo it somewhat.
Frank Fiume
- Pan Yu ,Guanghzou, China