Serious Education ... plus the most fun you can have in metal finishing.
Gold stripping with Muriatic Acid
(2004)
Hello
My father told me that Muriatic Acid can strip gold as he was also adding some other 2 or 3 chemicals and then he adds only 5 drops of acid then it was stripping. it used to get uniform color of gold this is for any gold jewellery. Still in India goldsmiths are using this old method b'coz it is cheap & gives good color but it is harmful to use in an enclosed area it should be used in open area. Fumes are very bad for health.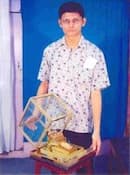 Dipen Pattni
jeweler/goldsmith - Dar-Es-Salaam, Tanzania
---
(2007)
what we are trying to do is remove the stone material while leaving the crystalline gold from quartz and carbonite rock. any helpful hints? thanks. geoff
geoffrey smith
teacher - del mar, california