Live! From beautiful Pine Beach New Jersey: Welcome to the world's most popular metal finishing website
topic 26936
ANALYSIS OF A ZINC CYANIDE PLATING BATH
A discussion started in 2004 but continuing through 2019
2004
Q. I AM A FOREMAN IN ELECTROPLATING. MY PROBLEM IS THE ANALYTICAL TITRATION OF A CYANIDE ZINC BATH. TO FIND HOW MUCH SODIUM HYDROXIDE IS PRESENT IN THE BATH WE HAVE TO TITRATE A SAMPLE SOLUTION AGAINST N SULPHURIC ACID. AS CHROME RED IS UNAVAILABLE WHAT OTHER INDICATOR CAN I USE. KEEP IN MIND WE ARE TITRATING SULPHURIC ACID AGAINST A SOLUTION HAVING SODIUM HYDROXIDE AND CYANIDE.
Malcolm Kaviratne
ELECTROPLATING FOREMAN - Albuquerque, New Mexico, U.S.A.
---
2004
A. When analyzing the Cyanide Zinc bath, I will suppose that you are using a full strength cyanide system. After pipetting the sample into a 125 ml. Erlenmeyer Flask, I add 10% NaCN solution and a few drops of Sulfo Orange Indicator. Then, titrate with Standard 1.0 Normal Sulfuric Acid until you achieve an orange > yellow endpoint. The pH of the finished titration will be above the point whereby hydrogen cyanide is generated. Mls. of 1.0N Acid X 1.07 = oz/gallon Sodium Hydroxide.
Good luck,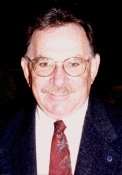 Ed Budman
- Pennsylvania
With deep sadness
we announce that
our friend Ed passed
away Nov. 24, 2018
---
2004
A. Try 10 mls bath solution in a nessler cylinder add 10 mls KCN(10%)and 8 drops troepelin O indicator dilute to 25 mls with demin. Titrate with N sulphuric and match colour with a blank containing no bath solution but containing indicator and KCN add water equally to both (colour initially orange on adding acid will turn yellow matching your blank) and your titre multiply by 8.0 to give Gram per litre of NaOH in your zinc bath.
Best of British
Ian Jones
Wrexham Clwyd
ian jones
- wrexham wales
---
2004
A. I prefer to use indigo carmine solution as an indicator. This will give a sharp endpoint (green). I have found many people to have trouble seeing the color change using LaMotte Sulfo Orange.
Gene Packman
process supplier - Great Neck, New York
---
2004
A. Like Gene Packman, I dislike Sulfo Orange. I have tried various alternate indicators in order to find the best method. What I ended up deciding is that I achieve the best and most consistent results by titrating to a pH 11.0 with a pH meter calibrated with 11.0 buffer solution. This takes the question of the correct color out of the equation. If you decide to do it this way, I have found that it is critical to purchase the 11.0 buffer and not rely on the 10.0 buffer to give you a consistent value at 11.0.

Jon Barrows
, MSF, EHSSC
Springfield, Missouri
---
---
June 13, 2013
Q. Hi, is it possible to use indigo carmine in copper cyanide baths, to detect potassium hydroxide in the bath, what is the procedure? Thanks.
Nilufer Ulgudur
- Ankara, Turkey
---
June 17, 2013
A. I agree wholeheartedly with Jon.

You can make your own pH 11 buffer. Just look in the CRC for the formula.

Dave Wichern
Consultant - The Bronx, New York
---
November 22, 2018
Q. Dear All,

Would you like to inform us about determination of zinc oxide (ZnO), sodium cyanide (NaCN), and sodium hydroxide (NaOH) in a cyanide zinc bath solution with titration method? Thanks for your help.
Anis anis
- Sunter, Jakarta, Indonesia


If you have a question in mind which seems off topic, please Search the Site