Not a lecture hall but a roundtable with a seat for you!
60,000 topics spanning 36 years. Education, Aloha, & Fun
topic 26918
Removing concrete from aluminum finish
A discussion started in 2002 and continuing through 2020 so far.
Adding your Q. / A. or Comment will restore it to the Current Topics page
2002
Q. Dear Sir,
We are into Anodizing of Extrusions for Architectural applications. At one of our sites Extruded sections Matte finished in Light Bronze (Tin Electrocolor) were supplied. At the site the contractors have used White cement. When dried up cement spillage was removed from the anodized surface there seams to be some stains remaining on the surface. Similar stains did not remain on anodized sections supplied by another anodizer some 3 to 4 months ago.
We have a standard sulphuric acid anodizing bath. The applied parameters are as follows. (1) Acid content 160 gms/ltr. (2) Current density 13 - 14 amps/sq.ft. (3) Time 50 mins. (4) Coating thickness 20 microns. (5) Temp. 17 °C. Our coating was supplied only some 3 weeks ago. Cold sealing used Passes dye test. Can you tell me the coating which did not stain was due to aging. If yes how do I convince the customer that the coating supplied by us is good.
Expect an urgent reply.
Hrishikesh M
[last name deleted for privacy by Editor]
- Vadodara, Gujarat, India
---
A. Hi, cousin Hrishikesh. If you need an urgent reply, please retain an anodizing consultant from our Directory of Finishing Consultants or anywhere. This page is NOT a consulting service but merely a public forum where readers participate if & when a topic interests them, while feeling no sense of obligation at all let alone to offer an "urgent reply" :-)
You seem to be implying that the reason your competitors' extrusions did not stain was that they had time to "age" before being exposed to the cement, whereas yours did not. And that for that reason, you feel that yours are acceptable even though they are stained.
I see many flaws on all sides of the argument:
First, do you have a reference that suggests that aged extrusions do not stain as readily? It may be true, but I haven't personally heard of it. The mere fact that your extrusions stained and older ones didn't does not prove a causal relationship.
Second, the present condition of the extrusions is either acceptable or it isn't. The construction sequence and whose "fault" it was should have no bearing on whether they are acceptable. Before discussing whose fault it is, get the owner to sign a statement that the extrusions are unacceptable and he will therefore pay to replace them if it is found that he is at fault. If he won't sign on, then perhaps he is just nitpicking.
Third, I'm confident that nothing in the spec requires that the extrusions not stain if cement is spilled on them, and I don't think it would be a reasonable claim that "fitness to purpose" implies this. Cement is very caustic, and neither aluminum nor an anodized coating will stand up to it. A search of the site will reveal dozens of comments about aluminum damaged by cement, concrete, lime, caustic cleaners and other materials. Good luck!
Regards,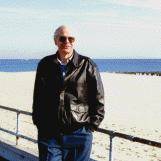 Ted Mooney, P.E.
finishing.com - Pine Beach, New Jersey
Striving to live Aloha
---
---
2004
Q. I recently purchased a commercial property. The building is a 1929 gas station with a lot of style. I have been in the process of restoring the building for my wife to use as a retail shop for selling quilting services and supplies. I have had new dark bronze aluminum store front windows installed. The crew that was pouring the concrete around the front of the building did not protect the aluminum and I have a small amount of concrete splatter on the metal portion of the windows. I would like some advice concerning how to remove the concrete without damaging the aluminum finish.
Thanks,
Steve Clark
consumer - Floyds Knobs, Indiana
---
2004
A. Wet concrete is very caustic, and one thing that aluminum can't bear is caustic. So if you remove the concrete spatter, you'll probably find discoloration and destruction of the anodized finish beneath it. Try dilute hydrochloric acid (observing the safety precautions like Rubber Gloves [affil. link to info/product on Amazon] and goggles [affil. link to info/product on Amazon] ) on a small inconspicuous area and see what you've got.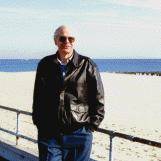 Ted Mooney, P.E.
finishing.com - Pine Beach, New Jersey
Striving to live Aloha
---
---
To minimize search efforts and to offer multiple viewpoints, we combined previously separate threads onto this page. Please forgive any resultant repetition, failures of chronological order, or what may look like readers disrespecting previous responses -- those other responses may not have been on the page at the time :-)
---
---
Discoloration of commercial bronze aluminum window frames
2004
Q. We have been experiencing discoloration of a number of dark bronze anodized window frames set into precast concrete wall panel window openings. The discoloration is occurring mainly on the sills, though a small halo of the same discoloration is showing up on the glass immediately above the discolored sill. The discoloration takes on a "hazy rainbow" appearance with a somewhat chalky look at the perimeter of the discolored area. These discolored areas are about the size of a softball. The rainbow haze can be removed by washing but you can still see an area colored somewhat differently than the adjacent metal.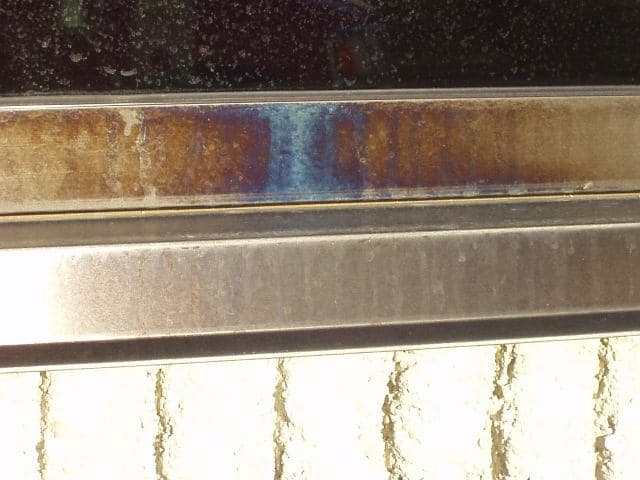 The window supplier/installer points the finger at the precast concrete wall panel supplier saying that some chemical running of the concrete is causing the problem. The precast supplier says they have never seen this before and it must be a problem with the aluminum finishing. We have seen this show up on two different jobs, but both jobs had the same precast and window suppliers. Any help that you could lend us would be appreciated.
Thanks.
Ed Sorgatz
Olson General Contractors, Inc. - New Hope, Minnesota, USA
---
---
Stopping aluminium window frame corrosion
2004
Q. I would like to find a way to stop spot corrosion of my powder painted aluminium window frames. The corrosion is occurring at spots on the sills, often near the cement between the bricks. The bricks are a limestone type. The corrosion has been taking place over a number of years and is still current.
Christine Corcoran
homeowner - Bunbury, W.A, Australia
---
2004
A. Lime from mortar is extremely aggressive towards aluminum. Frequent repainting may be the only practical solution, I'm afraid.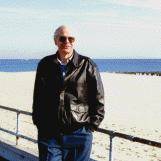 Ted Mooney, P.E.
finishing.com - Pine Beach, New Jersey
Striving to live Aloha
---
---
Concrete splashed etched anodized aluminum finish
2006
Q. Hi there, I have a problem which involves the light splashing of concrete on a clear anodized finish. I do not want to take the chance to further destroy the finish. Can anyone suggest a cleaner and a spray on surface topping to make the repair.
Mitchell James Sheltraw
architects - Long Beach , California
---
2006
A. The alkaline (lime) content of concrete can dissolve aluminum, and the aluminum oxide coating that anodizing is. I don't think there is a way of restoring it short of re-anodizing. But a thin coating material like Everbrite [a finishing.com supporting advertiser] will offer some corrosion protection to the etched area, while hopefully smoothing the surface sufficiently to reduce the etched look.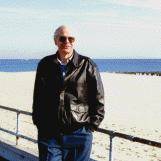 Ted Mooney, P.E.
finishing.com - Pine Beach, New Jersey
Striving to live Aloha
---
---
To minimize search efforts and to offer multiple viewpoints, we combined previously separate threads onto this page. Please forgive any resultant repetition, failures of chronological order, or what may look like readers disrespecting previous responses -- those other responses may not have been on the page at the time :-)
---
---
2007
Q. Hi, we live in Sydney and are currently in the midst of a major renovation. We are keen to use clear anodized aluminium frames for our house, however our builder has advised us against this, as he says they mark easily and the marks are impossible to get off. Has anybody any advice on a way of treating them prior to install to avoid the problem with marking? He wants us to powder coat them a different colour but we would prefer to use the clear finish if possible. Hoping for some useful advice. Thanks for your interest. Elizabeth and Guy.
Elizabeth Foster
home owner - Sydney, New South Wales, Australia
---
2007
A. Properly anodized aluminum is a fine finish, Elizabeth. It is, however, very susceptible to mortar stains and acid and alkali damage; so if the house will be brick or concrete, your builder is right. If it's a wood frame house, and the windows come with protective packaging and plastic wrap on them, I'm not seeing the problem the builder is foreseeing. It is agreed that a cosmetically attractive repair is a problem since you can't touch-up paint anodized aluminum like you can touch up powder coating.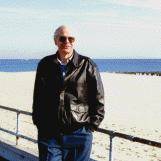 Ted Mooney, P.E.
finishing.com - Pine Beach, New Jersey
Striving to live Aloha
---
2007
adv.

HI THERE,
I HAVE A PRODUCT CALLED SHARKHIDE METAL PROTECTANT. ALTHOUGH WE USE IT FOR MANY DIFFERENT APPLICATIONS, IT WAS ORIGINALLY FORMULATED TO DO EXACTLY WHAT YOUR DOING. IT WAS USED TO PROTECT RAW, POLISHED, OR ANODIZED ALUMINUM DOOR AND WINDOW FRAMES FROM ETCHING AND STAINING. ONCE IT'S APPLIED THE ITEM WILL BE PROTECTED FOR YEARS. TO MAINTAIN YOUR PROTECTION, YOU SIMPLY WIPE A NEW COAT OVER THE EXISTING ONE EVERY COUPLE OF YEARS.
I HOPE THIS HELPS,
Clint Bland
O'Fallon, Illinois
---
---
April 1, 2009
Q. I would like to remove concrete particles bound in the used Aluminium centering sheets.
This has to be done in huge volume on regular basis. Can any one suggest a feasible , cheaper method for cleaning the used aluminium centering sheets for removal concrete residue.
Ravi Shankar C
engineering consultant - India
---
May 18, 2011
A. Try cleaning with acetic acid (vinegar)
Also suggest you cover aluminium with a petroleum jelly as protection prior to exposure to concrete.
Ziza Lupini
- South Africa
---
---
October 28, 2013
-- this entry appended to this thread by editor in lieu of spawning a duplicative thread
Q. After 13 years of enduring the local conditions, my aluminum window sills are starting to corrode along the bottom and side plates. The bottom sill sits on brickwork with lime in the mortar, and little pockets of grey corrosion power have erupted through the top surface of the aluminum sill.

What can I do to stop the aluminum corrosion/ What can I paint it with to protect the illumination sills in future.

Any advice is appreciated.
Graham Spencer
Home owner - Port Kennedy, Western Australia
---
November 2013
A. Hi Graham. Aluminum readily dissolves in the alkalinity of mortar, cement, and concrete. The best you can do is clean it as well as practical, and then paint it well. There are primers designed for use on aluminum =>
Regards,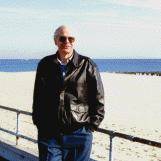 Ted Mooney, P.E.
finishing.com - Pine Beach, New Jersey
Striving to live Aloha
---
November 10, 2013
Q. Ted, Thanks for your response. Can you follow-up with a suggestion of a good Aluminium primer to use before repainting, as suggested.

Cheers Graham.
Graham Spencer
- Port Kennedy, WA. Australia
---
November 2013
A. Hi Graham. Maybe you have Javascript disabled? My previous response already linked to a primer for aluminum on Amazon.
Regards,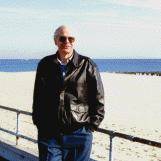 Ted Mooney, P.E.
finishing.com - Pine Beach, New Jersey
Striving to live Aloha
---
October 3, 2015
Q. Ted,

Thanks for your advice. I have cleaned, physically removed the obvious corrosion, coated with a corrosion inhibitor and finally painted with a spray can. Despite the window frames being relatively close to a saltwater pool, which generates chlorine to add to the mix on the aluminium, the repair appears to be holding the corrosion at bay. However other window sills around and down the side of the house are also starting to corrode. I am applying the same treatment to these sills and that appears to be working, although the sills are stating to look like "Swiss Cheese" as I take chunks of corroded aluminium out before treating and painting.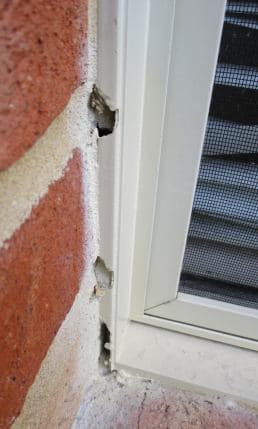 Cheers

Graham.

PS: My Java script was/is on but just couldn't get the recommended paint to open.
Graham Spencer
[returning]
- Port Kennedy, Perth Western Australia
---
October 2015
A. Hi again Graham. Wow! I've seen corrosion like that on aluminum outboard motors on saltwater boats, but I've never seen such aggressive corrosion of aluminum caused by mortar :-(
Best of luck in dealing with it, but it looks bad! The link was to aluminum primer [affil. link to info/product on Amazon]; and I've checked it on three different computers with three different browsers and a smart phone. If anyone else is having difficulty with it, we'd like to hear, but my guess is you've installed some "ad blocker software" that prevents you seeing the links to the product and its reviews on Amazon ... or maybe Amazon is chopping off your access because there's a different site serving Australia? Good luck.
Regards,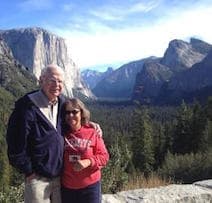 Ted Mooney, P.E. RET
finishing.com - Pine Beach, New Jersey
Aloha -- an idea worth spreading
---
---
January 20, 2014
Q. New commercial office building constructed in Virginia Beach,Virginia with lots of exterior aluminum frame store front windows with aluminum sills.

The sills only (not frames) have developed white staining. The flat sloped top of the sills have large white stains and the vertical front edges (approx. 4") have white vertical drip line staining.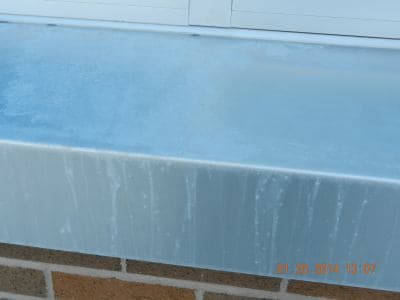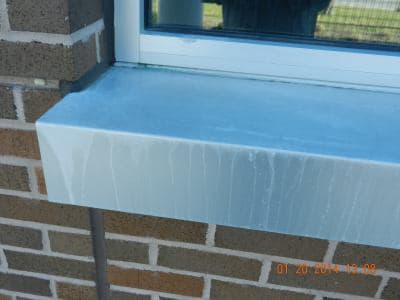 Some opinions are that when adjacent face brick was chemically/solvent cleaned the cleaning agent stained/etched the aluminum surface. Others contend that the staining is a natural chalking of the aluminum.

Looking for possible suggestions regarding testing to determine cause.

Looking for possible suggestion as to cleaning to remove staining? Attempts have been made with conventional cleaning products with not success.
John Swann
project manager - Virginia Beach, Virginia
---
January 22, 2014
A. The drip marks indicate to me that a cleaning solution may have etched the aluminum, so I can see why it wouldn't clean off. I'm assuming there is no coating on the sills, which probably would have prevented this from happening. Aluminum in itself is very susceptible to corrosion, which is why you'll typically find it coated, especially for outdoor applications.

As to a fix? It doesn't appear that removal of the sill(s) is a viable option, but they will most likely have to be refinished, either by sanding or using an abrasive pad, if they are etched by the mortar cleaning chemical. Applying a clear paint after refinishing will help prevent any further corrosion, which will be inevitable with the outdoor exposure.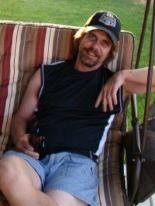 Marc Green
anodizer - Boise, Idaho
---
January 22, 2014
Hi, John. I agree with Marc that it is etching; but my experience is that it's more likely caused by alkaline run-off from the mortar than a defect that slipped through the anodizing shop. I've seen this before (and worse). Good luck.
Regards,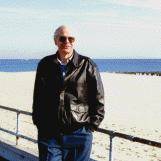 Ted Mooney, P.E.
finishing.com - Pine Beach, New Jersey
Striving to live Aloha
---
January 23, 2014
A. Agreed Ted, I didn't mean my response to sound like it was coating defect. When I said cleaning solution, I was referring to the solution that was used on the brick and mortar.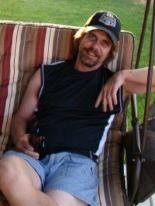 Marc Green
anodizer - Boise, Idaho
---
---
January 20, 2017
Q. What is the white powdery substance that is creeping in beneath the window frame. Could it be the rock salt causing the corrosion? Any ice melters that you recommend to avoid corrosion?
David Mark
- Toronto Ont Canada
---
February 5, 2017
A. Hi David,
Yes, it could be the rock salt. One could try priming and painting the problem areas with high quality products. Be sure to use an appropriate primer considering the target material. Keep the snow shovel handy.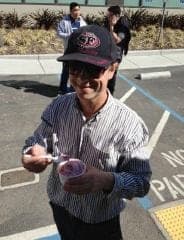 Blake Kneedler
Feather Hollow Eng. - Stockton, California
---
---
Unmixed concrete mortar stuck to anodized aluminum/
October 28, 2017
Q. Unmixed concrete mortar was accidentally shaken All Over a mostly glass and dark brown anodized aluminum house for a week by Masons rebuilding a huge concrete chimney near the Coast with salt water in air. Unmixed mortar collected everywhere in the anodized double hung window tracks, sills, on Window frames, sliding doors, door sills. Now all doors and windows are so difficult to open or close and I've already tried vacuuming and water clean on first floor but still aluminum is still covered with little white bits piles of the mortar mix inside tracks and stuck to surfaces everywhere on the dark bronze aluminum. Should I have kept it dry? Tried using alcohol? I need to start on the second floor . How can I remove it without damaging the aluminum? Already it has eaten holes in the brown Al frames of screens when mixing with fog and dripping down on them. Please need to clean this properly the first time. I won't get Second Chance probably. All the doors and windows many custom made long ago. Do I need to remove them to get all of this unmixed mortar out? It seems chemically stuck. I am trying to get the right chemical reaction to try to remove it in proper order steps and not further damage the anodized aluminum. I need to get going if I can save it. It is only my mother and myself here and this may have damaged the house permanently and masons not taking responsibility even though this aluminum issue seems to be a known one. They did not protect the house and shook bags of concrete into a little hand mixer for a whole week right on the coast and it just blew all over the house. Please someone give me some chemistry! I am a women who needs info! This was an award winning house in its day!
Lizabeth Alexander
Must save house! - Boston Massachusetts
---
October 2017
A. Hi. I think you need to document the problem & the source, and talk to the city if the contractor is unreceptive. You may also need to talk to a lawyer and see if a class action suit is a possibility.
I'm not sure what "unmixed mortar" means -- probably dust from portland cement or RediMix mortar mix? These definitely attack aluminum, and the longer it's there, the worse. I would think that it can be removed from non-critical areas with a pressure washer; water hose pressure may not be enough. But just removing it to limit the damage will not restore it. You may be able to use lime away or diluted vinegar to remove it from areas which can't be pressure washed. Good luck.
Regards,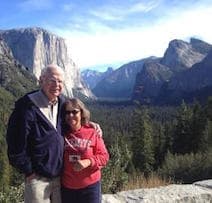 Ted Mooney, P.E. RET
finishing.com - Pine Beach, New Jersey
Aloha -- an idea worth spreading
---
---
Discoloration of Newly Installed Anodized Aluminum Window Sill Flashings
August 28, 2020
Q. Greetings, I am a project manager for a commercial company providing Management services for a County in Minnesota. Anodized aluminum sills are being installed in precast concrete wall panels on a 4 story building in Buffalo,MN. The wall is question is South facing. The sills have been on place a little over a week and at seemingly random locations within the same wall, some of the flashings have discolored as shown in the attached photo. The building is in the process of being enclosed (roof deck on but no roofing) and has a structural steel frame with composite poured concrete floors on steel decks. Some of the sills do not have the "blue" color just caulk-colored spotting.
The sill material specification called for .040" thick aluminum per ASTM B209.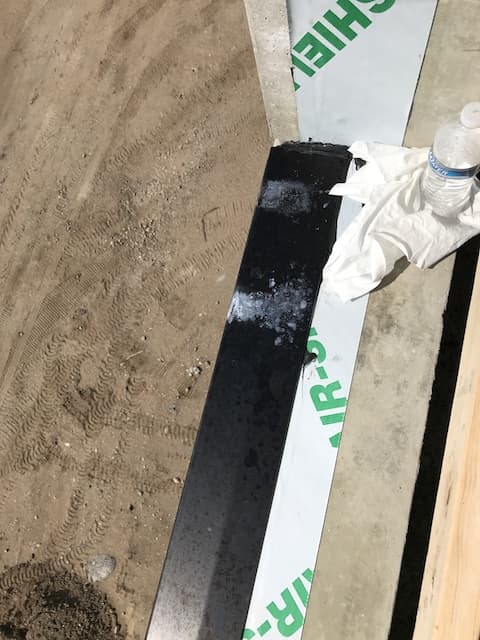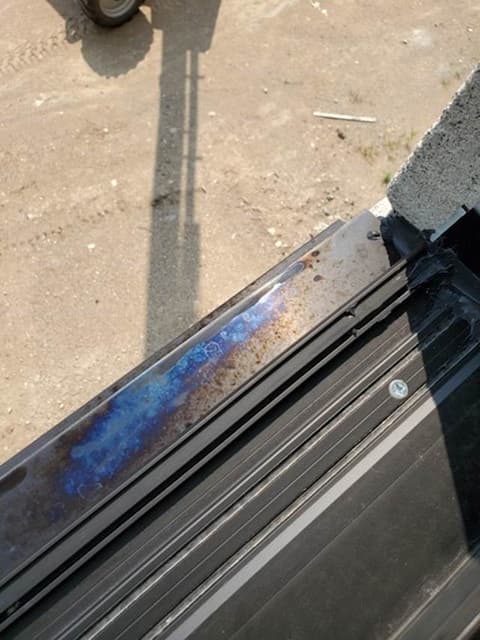 Any insight would be appreciated. -KC
Kevin Currie
- Buffalo, Minnesota
---
August 2020
A. Hi kevin. Hopefully someone in the building business will have a constructive suggestion. My limited experience is that, yes, concrete buildings do tend to experience discoloration of anodized aluminum due to highly alkaline drips and runoff. A clearcoat like Everbrite [a finishing.com supporting advertiser] might be helpful.
But never in my limited experience have I seen a piece of aluminum that looks like your rusty "blue" sill. Have you double checked that some stainless sill covers didn't get snuck in? :-)
Of course, photos are only photos and you may be showing us a brown/black aluminum sill where most of the dye has leached out, that it looks enough like rust to fool me :-)
Luck & Regards,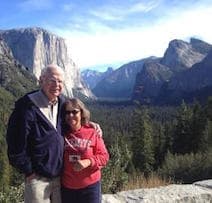 Ted Mooney, P.E. RET
finishing.com - Pine Beach, New Jersey
Aloha -- an idea worth spreading